The housing market is continuing the trend from 2012 with home sales picking up and inventory disappearing into the sunset.  Today I wanted to dig deep into a high in demand area in Orange County, Irvine.  What is useful about this market is that it has a little bit of everything including flippers, foreign money buyers, big money investors, and families looking to buy.  What is incredible is how deep inventory has declined in this and many other similar markets.  A big city like Irvine also gives us solid Census data to dig into to examine incomes and housing demographics.  What is interesting is that the low inventory is adding a tremendous amount of pressure creating a sense that we are back to the early 2000s.  Looking at sales figures shows another interesting side to the current housing market.
Irvine case study of disappearing inventory
The first chart I wanted to examine is total inventory over the last two years: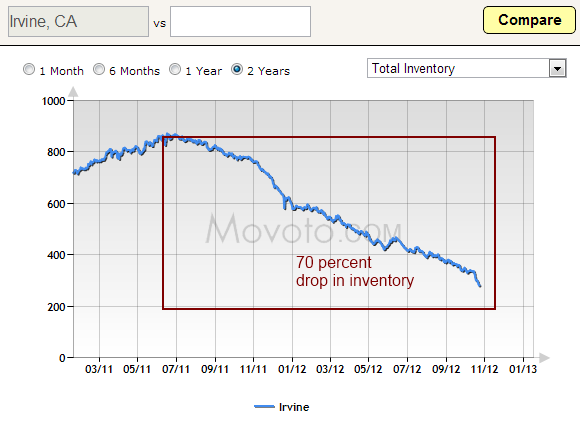 Inventory available for sale in Irvine has fallen by a stunning 70 percent.  This big decline in inventory coupled with low rates and investor demand has pushed prices back up: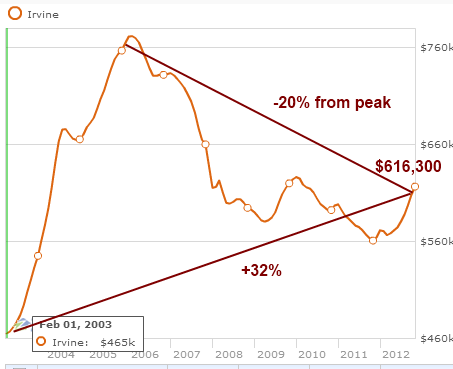 Down by 20 percent from the peak but up 32 percent from 2003.  What is more pronounced here is the lack of housing coming onto the market for sale.  When we look at sales volume, we see a jump from the bottom but in context, we realize that most of the pressure is coming from the supply side: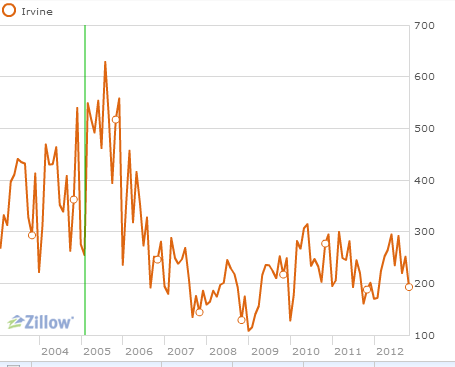 In 2005 there was a month with over 600 sales.  Today we are at roughly 290.  Of course when compared to the last few years you will see a massive jump upwards in Irvine: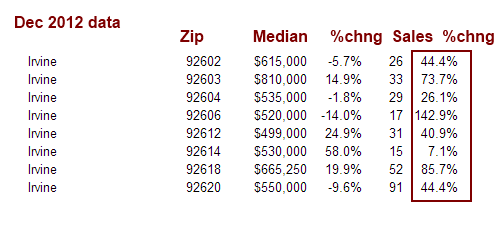 The dynamic is interesting when Zillow puts the estimated Irvine home price at around $616,000.  Let us look at the latest household income data: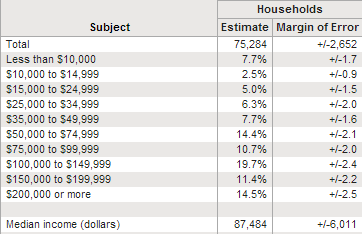 The median household income in Irvine is $87,484.  This would put the ratio of household income to home price at over 7 versus the 3.5 nationwide figures.  The cost of living in California has been very high for many years.  This is nothing new.  But what you have in an area like Irvine is big investor demand.  Many are from outside of the United States.  That income does not even show up in Census data but it certainly adds to the pressure on those few homes that are on the market.
Irvine has 39,015 owner occupied housing units.  The latest data shows that 231 homes are for sale with a median list price of $750,000:

At least inventory jumped a bit in the last month from a low of 191.  Two years ago it was closer to 800.  The number of distressed properties in Irvine is up to 320.  Now given that only 231 homes are on the market, this does make a difference.
But why would banks alter their current behavior?  The current setup is working well to inflate prices back up without having to worry much about weak income growth.  What I find interesting however is that even with sales higher, they are still relatively weak.  Why?  For one, lending standards are still tighter and believe it or not, you still have to qualify for loans in the market today.  This is why you see sales volume being weak.  Another possibility is the number of those qualified to buy is still fairly low.  This ties into the following trend in the United States: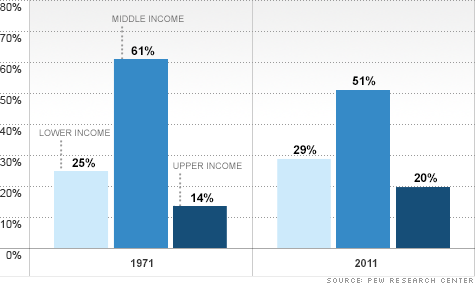 The middle class has gotten much smaller in the last 40 years.  More have been thrown into lower income brackets but also, those in upper-income brackets have increased.  In places like California this is much more pronounced.  Think of Irvine, a city where the current median list price is above $700,000 yet the typical family pulls in $87,000.  Seeing current selling volume at these levels signifies that more of the frenzied action with bidding wars and multiple offer situations is coming from:  qualified buyers, foreign money, and cash investors.  You think this is a normal market?  I'll leave you with this:
"(OC Register) When Tanya and Patrick Courchaine recently made an offer for $615,000 on a house in Anaheim Hills, they were up against 18 other buyers.
The couple figured they'd have it in the bag. In addition to offering $40,000 over the asking price and a healthy down payment, they went the extra mile to promote themselves – with a PowerPoint slideshow.
They lost to a cash buyer.
"We were very disappointed," said Tanya Courchaine, 42, an IT operations supervisor. "I convinced myself that with $40,000 over and 20 percent down we were going to get it for sure."

Bidding wars are raging in Orange County and elsewhere, making home shopping especially frustrating for those seeking properties under $750,000. Low inventory is driving the competition. And homebuyers are going head-to-head against investors, who typically pay cash.

The California Association of Realtors said last month a dramatic shortage of homes for sale in California has created an especially tough market for first-time buyers, with nearly 6 in 10 homes selling with multiple offers."
For those seeking properties under $750,000?  $40,000 over asking plus a PowerPoint presentation.  Welcome to Orange County home buying!

Did You Enjoy The Post? Subscribe to Dr. Housing Bubble's Blog to get updated housing commentary, analysis, and information.