The California housing market is back to being a flipper's paradise.  A combination of low mortgage rates and incredibly low inventory is providing a very fertile ground for current sellers.  I was having a talk with someone about the Irvine housing market and how quickly homes are selling.  Irvine is a very interesting market in that a large portion of sales come from the condo segment.  You also have a good amount of international demand for the area.  The current demand for housing in Irvine is very reminiscent of the days of the housing bubble.  I'm reminded of some of the international buyers coming to new developments with cash in hand to buy places before they were even up.  Bidding wars are common and buyers are now offering bids even over the asking price.  Why?  Inventory is very low and sales are increasing.  So if you are looking to buy in this market expect insanity and gear up.  Let us take a look at the market more in depth.
Irvine housing market
Irvine is a mid-tier city in Southern California located in Orange County.  When we look at the recent trends we realize why most of the action is actually occurring: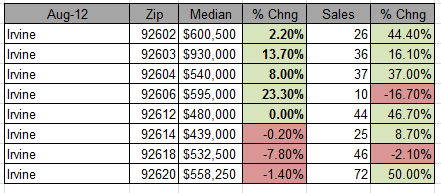 Nearly every zip code in Irvine has seen a massive jump in sales over the last year.  Prices for most areas are up as well thanks to low mortgage rates and constrained inventory.  With the amount of sales that took place in the last dataset and the current MLS inventory available, you have less than 3 months of inventory.  Whenever you have inventory dropping below 4 or 5 months you start seeing pressure hitting the market on the buyer side (i.e., it begins looking favorable for sellers).
Interestingly enough this is not only a prime market trend, this is hitting nationwide: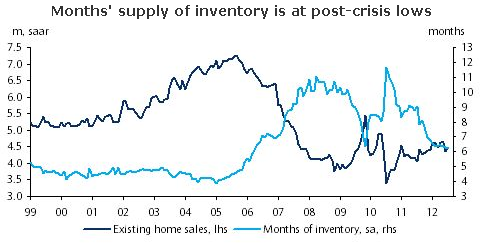 At the peak, we had nearly one year of inventory on the market nationwide.  Today it is back down around 6 months, being cut in half.  Sales have also picked up but nowhere close to the bubble heyday.  So we have to boil down the recent price increases to:
-Low interest rates increasing leverage (it isn't coming from income growth)
-Constrained inventory
The Federal Reserve and banks are carefully managing the distressed inventory and ironically this is causing rents to rise putting pressure on working class families even though they talk about helping "average" Americans with all this action: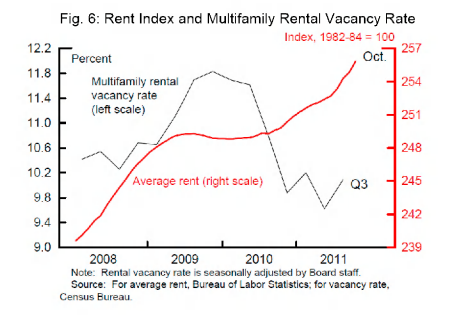 The volatility of the current housing market is incredible and what was once a very bland segment of the economy, has become a market in which boom and bust is built into the system.  The Fed is engineering higher prices here with rents going up (through bulk sales or properties and constrained inventory) and also keeping home prices inflated as mortgage rates hit record lows (as they shift trillions of dollars onto their balance sheet.  The only thing that isn't occurring is household incomes going up.
Even in high priced markets like Irvine, incomes are stretched for current home prices:
Average adjusted gross income (92602)

2005:     $91,138

2006:     $98,138

2007:     $95,577

2008:     $98,656

2009:     $88,555
Even looking at average housing income which tends to skew households income higher, you realize that the $600,000 median priced home will stretch a budget significantly.  It is a fascinating trend but I notice that many people are throwing in the towel and just diving into the mania.  Right now the market has shifted to a seller's market in Southern California and places like Irvine.  But keep in mind that unless the overall economy picks up steam or households actually see real income growth, this burst of energy from low rates and constrained inventory is only going to go so far.  Since nearly 30 percent of California mortgage holders are underwater, you might have many more people deciding to sell now that they are reading the tea leaves.
Even though it may feel like a mania, home sales in California are still nowhere close to what we saw in the bubble days: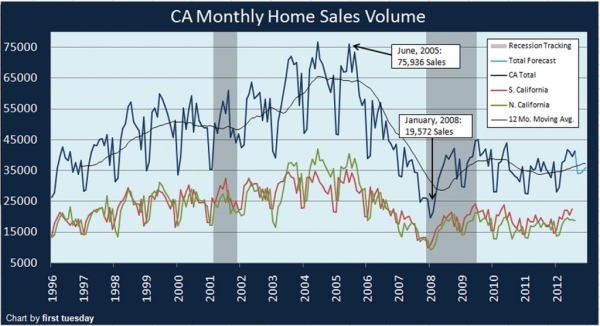 In fact, we are trending at levels seen in the 1990s.  Where we highlight places in Los Angeles with a hipster vibe, you also have places like Irvine drawing in a different crowd.  The big condo market in Irvine is interesting because you might have people paying more in mortgage insurance, HOA fees, and other non-principal and interest related items.  Some places can have HOAs that begin nearing four figures per month.
Flippers, bidding wars, and panicked buyers.  It is beginning to feel like the 2000s again.  What other examples of a mania are you seeing in the current market?

Did You Enjoy The Post? Subscribe to Dr. Housing Bubble's Blog to get updated housing commentary, analysis, and information.