Even though the first week of September started with a short week for the market, there were plenty of financial fireworks to go around.  During the week the Mortgage Bankers Association reported that on mortgage loans on one-to-four unit residential properties that 6.41 percent of all outstanding loans in the second quarter were delinquent.  This rate increase had support from California and Florida that accounted for nearly 40% of all foreclosure activity.  This again is record territory and points to signs that housing simply is not recovering.  Given that much of our economy is dependent on housing and foreclosures are the direct symptom of a poorly performing housing market we can safely say that housing is still ill and getting worse.  Most people for the last two weeks have been captivated by the circus of both conventions while the markets are still slumping.
As I discussed in a previous article, the baby boomer generation demographic shift almost assures that we are going to see a decade long stagnation in our economy.  The challenge for the current economy is the ritualistic cleansing of bad debt.  It has been my position that most economists and mainstream media folks severely underestimated the extent of toxic credit that was floating out in the market.  The assumption of a quick drop and pop for the housing market was not justified by any unbiased data out in the market.
In the week, we also found out that the employment situation is quickly deteriorating and sent the market plunging on Thursday: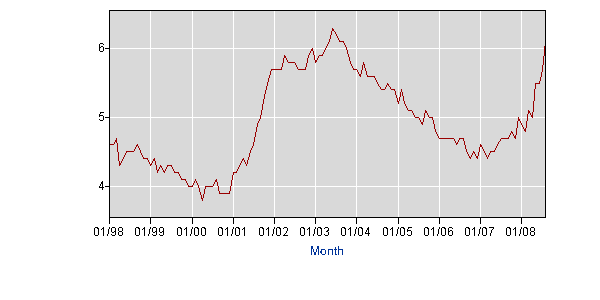 The unemployment rate surged to a five year high hitting 6.1%.  Of course if we look at a more useful indicator of employment which includes part-time workers looking for work and those who flat out have given up looking for work the number jumps to 10.7%, a jump from 8.4% from August of 2007: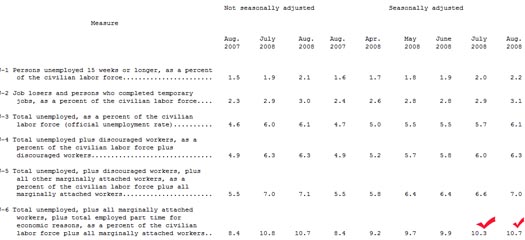 Most people do not get their information from blogs or alternative media so the number they keep hearing is that 6.1%.  Yet if someone spent a few seconds to explain that people looking for work and those who have given up looking are not counted in the mainstream number, they would probably question the actual measurement.  That is why our economy feels much worse because it really is.  Inflation is another figure that really underreports the cost of living increases most Americans are battling on a daily basis.  We are now in our 8th consecutive month of job losses and if we total all the job losses for 2008, we arrive at 605,000.  Keep in mind that 100,000 to 150,000 jobs need to be added each month simply to keep pace with our economy growth and population shifts.
You are not a Crony
On Friday, it was curious to see many financial stocks rally seemingly on no news at all.  After all, earlier in the week we had horrible foreclosure reports and on Thursday found out the economy is only getting worse.  So why would financial stocks pop on Friday?  As it turns out, we now know that Fannie Mae and Freddie Mac are going to have their bailout.  Interesting that our new form of crony capitalism with the Housing and Economic Recovery Act of 2008 was scheduled to go into effect on October 1, 2008 and here we are using the Hank Paulson bazooka which of course only a few weeks ago was not going to be used.  The mere threat should be enough to reassure the world that craptastic mortgages somehow had any intrinsic value.  Early indications are that common stockholders (aka the retail investor, aka you) are going to get reamed.  So if you own some of these inflated mortgage stocks you may feel even more pain.  As if you can get more painful than this: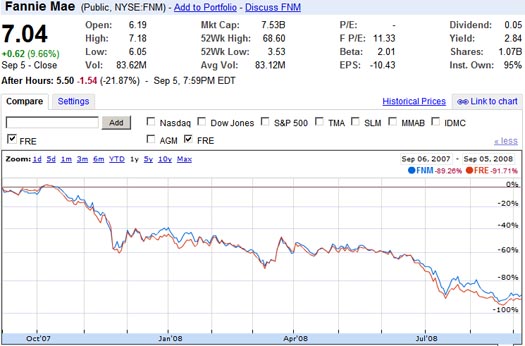 Both Fannie Mae and Freddie Mac are down approximately 90 percent from only one year ago.  For all intents and purposes these stocks have been hammered.  According to the New York Times and Washington Post all leadership will be replaced, the companies look to be put into conservatorship, and the deal will try to be announced before the open of the Asian markets.  Remember that pop in financials on Friday?  Well it appears some folks had advanced notice of what was going to happen.  If you aren't a crony you probably had no idea this was going to happen.  The reports are still coming out and it still isn't completely clear but it looks like the government is going to turn these two into zombies and let them fizzle out.  Welcome to the U.S. version of Japan.
A few years ago people questioned that something like this would happen.  Fannie Mae and Freddie Mac were simply too large to be taken over.  After all, they own nearly half of the $12 trillion mortgage market.  Yet the fact of the matter is this deal does nothing for the average American citizen.  If you own common shares of Fannie Mae and Freddie Mac in your 401(k), IRA, brokerage account, or anywhere else you already know that the government is not going to help you out.  That is how it should be.  Yet the early reports look like the government is going to use some of that $800 billion debt ceiling to prop up some of the toxic mortgages in their portfolio.  Take a look at some of the Real Homes of Genius and you'll quickly find out that there needs to be zero support on some mortgages.  Essentially the U.S. government is making foreign investors happy and part of the crony inner circle happy by doing this.  What needs to be done is these 2 enterprises need to be taken over and split up into multiple entities.  Foreign investors never had a 100% guarantee even if it was implied.  The government now looks to essentially quell any global problems for fear that foreigners will take our credit card away.  Yet this will do nothing for the average American citizen.  Why should citizens be asked to live within their means and the government is somehow exempt from this?
Actually it will do something.  It basically will allocate a large portion of our debt to totally unproductive parts of the economy.  Money that can be used to further research and development, infrastructure, and our economy will now be used to fix horrific bubble mortgages that should be allowed to collapse on their own.  Somehow letting go is hard.  As if trading homes to one another and putting granite countertops was the epitome of a fully functioning economy.  If that wasn't enough, another bank was taken over on Friday which is now becoming a typical Friday ritual.  Silver State Bank in Nevada was taken over and has $2 billion in assets.  This is 11th bank to fail and it won't be the last.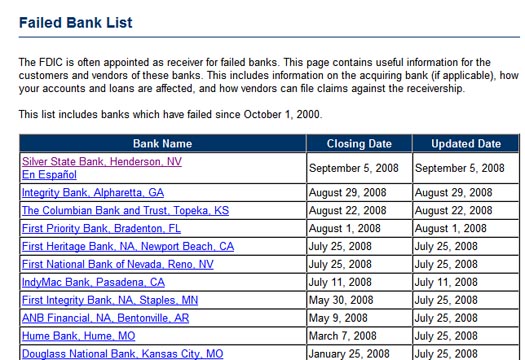 If we are to bailout every institution the FDIC fund is now quickly being depleted.  Indymac Bank took up nearly 17% of the entire fund!  Silver State will cost the fund from $450 to $500 million but the money is quickly adding up.  Should a larger bank and there are a few that are on the list should crumble, it could be enough to wipe out the fund.  FDIC chairwoman Shelia Bair has already implied that they may need more money from the Treasury.  Get in line!  This Fannie Mae and Freddie Mac debacle is going to play out like a slow motion train wreck.
If it is already this bad, how do you think things are going to look in 2009?  Heck, states like California won't hit a bottom until May of 2011 and I'll give you 10 reasons as to why.  If you think this isn't possible, California can't even agree on a budget!  The year of records is now seeing another record in which the state has now gone into the longest period without a budget in place.  So how are things in California right now?
July 2008 Home Sales:                        39,507
Foreclosure Resales:                            44.8%
July 2008 Notice of Defaults:             36,373
July 2008 Notice of Trustee Sales:     12,506
July 2008 Real Estate Owned:           23,406
Just look at that.  July which is normally one of the best home sale months for the state has simply kept pace with the onslaught of problem housing.  Since pretty much all of the notice of defaults will become REOs soon, you can rest assured that these homes will be on the market during the poorest selling time which is the fall and winter.  And with $300 billion in Option ARMs here in California, we are going to enter uncharted territory.  The financial markets reacted as if these loans will be taken into the dumping ground bailout of Fannie Mae and Freddie Mac but that does not seem to be the case.  If we look in the details at the FHA program which starts next month, many of these loans will not qualify because they are underwater.  If these lenders should bring these mortgages on to their books it would shred apart their balance sheets.  Take a look at WaMu's exposure to this: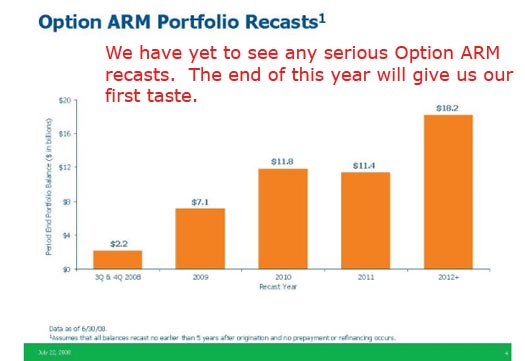 In the meantime, the saga of the Ed McMahon house is still going strong.  As it turns out, it looks like the current buyer is no longer in the game to purchase the home.  Donald Trump was reported to make an offer but you have to wonder what that bid looked like and he also offered to be Ed's landlord.  Only in SoCal folks.  Even a home with a $1.9 million price reduction in the 90210 is having a hard time in today's market.  The place is still active so if you have $4.6 million, this may be your chance to reemerge just like the 90210 television series.
While many get distracted by the shiny things in our country, we have some serious issues to confront.  This is not going to be easy.  It is amazing that some people still think things aren't that bad or all this is some kind of fabrication by the media.  If that were only the case.  Most of the people which claim this probably don't go shopping for groceries, or talk with neighbors, or have any idea what a good college costs today, and yet they think things are great for everyone since they are fine for them.  The data simply does not reflect this.  It hasn't for years.  We are only seeing a convergence between data and reality now.  The time for bread has passed and now it is time for the big circus under the tent.
Did You Enjoy The Post? Subscribe to Dr. Housing Bubble's Blog to get updated housing commentary, analysis, and information.