There are now signs that the unrelenting housing price boom is slowing down.  Pending home sales faced their largest monthly drop since the home-buyer tax credit expired back in 2010.  If you notice a pattern, any time the government even remotely hints at pulling back the housing market suddenly reverses.  The Fed's hint of a taper ending sent mortgage rates soaring.  Of course the taper never materialized and the Fed even became more aggressive in QE.  The government shutdown did impact housing from data we are seeing.  Existing homes sales pulled out a weak performance and the drop in pending sales, a leading indicator are showing signs of a slowing housing market.  In this boom and bust market with no middle ground, are we now to expect a "normal" healthy market after this recent boom?
Existing home sales and pending sales feel pinch
In spite of all the government intervention and investors diving into the housing market, existing home sales hit a wall in the last couple of months: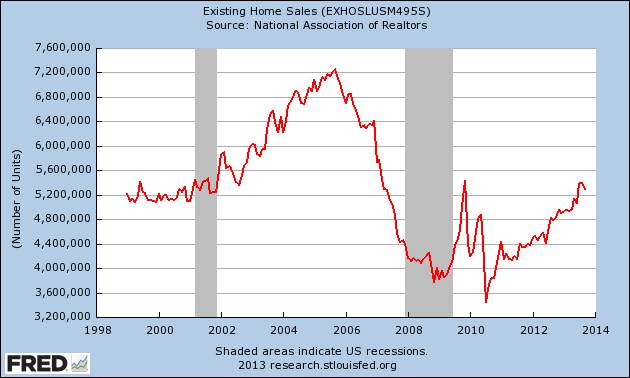 Everything looks better than the lows reached between 2008 and 2010 but compare the annualized rate today versus where we were in the last decade.  Also keep in mind that since 2009 roughly one-third of purchases have gone to investors (whereas in the past it was roughly 10 percent).  More importantly looking forward, pending home sales hit a wall:
"(Bloomberg) The index of pending home sales slumped 5.6 percent, exceeding all estimates in a Bloomberg survey of economists and the biggest drop in more than three years, after a 1.6 percent decrease in August, the National Association of Realtors reported today in Washington. The index fell to the lowest level this year."
It should be expected that with higher rates, home prices are now softening without any rise in household income: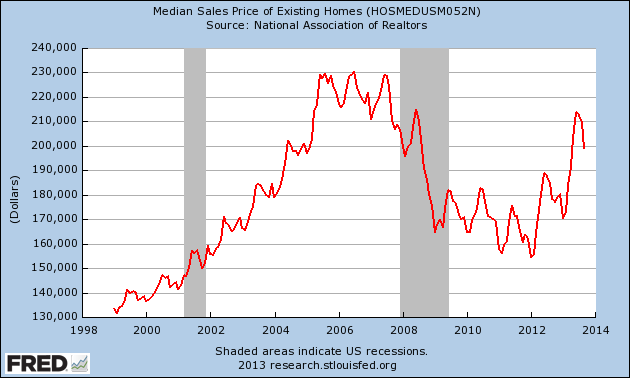 The housing market has been propped up by easy money from the Fed, investors, and artificially low inventory that has caused a bottleneck with supply.  Some people try to use past comparison but this is the first time in history where mark-to-market has been frozen, the Fed has intervened to this level, and never have we seen this volume of investors.  The recent government shutdown merely accelerated what was beginning to emerge with housing.  The gas was running out of the boom.
Refinance Index
Since 2009, mortgage rates have been dropping every single year.  People become conditioned to easy money.  So this year, as rates had their first move up, the market has reacted strongly: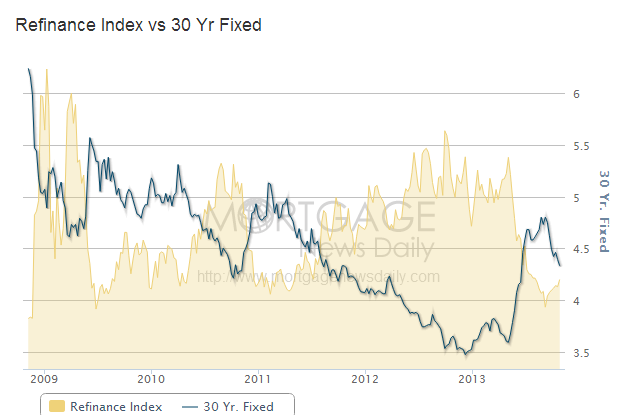 Refinancing activity has plunged and thousands have been laid off because of this drop in activity.  But more importantly, whatever juice that was unlocked by lowering rates has already been pushed into the economy.  Banks loved the easy money that came from refinancing loans lower.  People that save $100, $300, or $500 a month just by refinancing free up extra spending in the economy.  For the past four years we have been giving homeowners a boost each month.  That boost is dramatically slowing down in 2013 and many metrics on housing are reflecting this change in pace.
California market at a glance
Even the insane California market is showing some signs of slowing: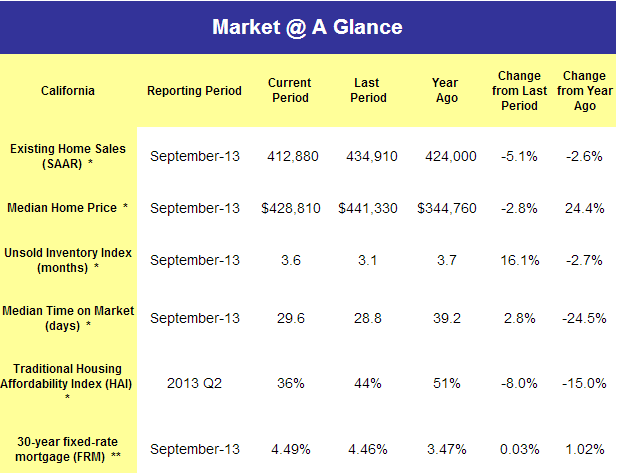 Existing home sales are down 5 percent M-o-M and down 2.6 percent Y-o-Y.  The median price dipped 2.8 percent from last month (but what do you expect after rising 24 percent Y-o-Y?).  Unsold inventory is up 16 percent from last month.  The data for October should be released shortly and this is where we should see the big impact of the government shutdown.
The bottom line is that a housing market dependent on multiple crutches of easy money can only keep going up if the river of easy money continues.  Unfortunately we have bigger financial battles ahead as the shutdown highlighted.  It was interesting to see those that think housing is in a "free market" suddenly come out with microphones screaming "please come back government!  We need our easy money again!"  This is the kind of financial system that we have created.  One that is addicted to low rates but in the mean time, the country has largely forgotten of younger generations.  It is abundantly clear that younger households are in a much weaker position to buy so going forward, affordability will be important.  Yet some think that investor buying will make up this gap so there is nothing to worry about.  Investors are still hungry for higher yields yet these recent figures show how dependent housing was on easy money.  What will be the next easy money scheme to prop housing?

Did You Enjoy The Post? Subscribe to Dr. Housing Bubble's Blog to get updated housing commentary, analysis, and information.