I love getting tips from Uber drivers especially when it comes to buying real estate.  We are now back at that level where real estate can do no wrong, the house humpers are confusing luck with investment acumen, and of course the sheep dive in head first at the most frothy time.  It is clear that we are in a mania and hot money is flowing everywhere.  Credit card offers are soaring and lending is booming across all areas: credit cards, auto loans, student debt, and housing.  With housing, we are now seeing one of our favorite past-time events in treating a home like an ATM.  Home equity withdrawals are now moving up in a direction that is not exactly positive if you believe in actually keeping your equity locked in instead of cementing your belief in the bubble and adding more debt.  You do need to pay those loans back by the way which many tend to forget.  Home equity withdrawals are simply one of the final steps in the delusional mania.
The housing ATM is back
Real estate is blistering hot.  It is fully disconnected from incomes or any sane measure of valuation.  The only thing beer belly house lusters can say is that "well comps are selling for this so therefore the market has spoken!"  Cult chasers were also buying tulip bulbs, beanie babies, and itching to get a piece of Bernie Madoff's investment sauce.  Now the hot thing of the day is buying a crap shack at all cost even if it means you are living on rice and beans to pay the mortgage.
The Fed knows we are close to having a turning point.  Just look at how many times interest rates have been changed in various decades: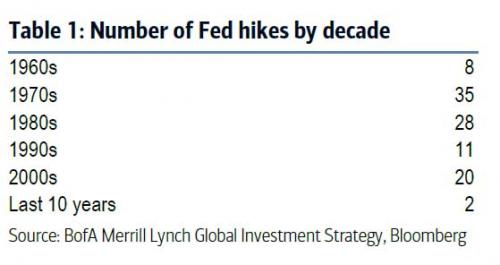 Hah!  The Fed knows we are s-c-r-e-w-e-d.  The Fed needs to "try" to keep rates low but the market can become unglued at any moment.  After all, everything seems stable in our current economy and political system [/s].  I can't help to think that we are aiming for a Black Swan type event shortly that simply is off the radar.  By definition, these events are unforeseen and yet if you look at history they are replete with them.  We know they will happen.  To think otherwise is to be naïve and to ignore history and avoid the basic tenets of scientific inquiry.  Markets by definition are operated by herd mentalities.  The herd is running rampant.
Using your home as an ATM is dumb.  Yet here we go: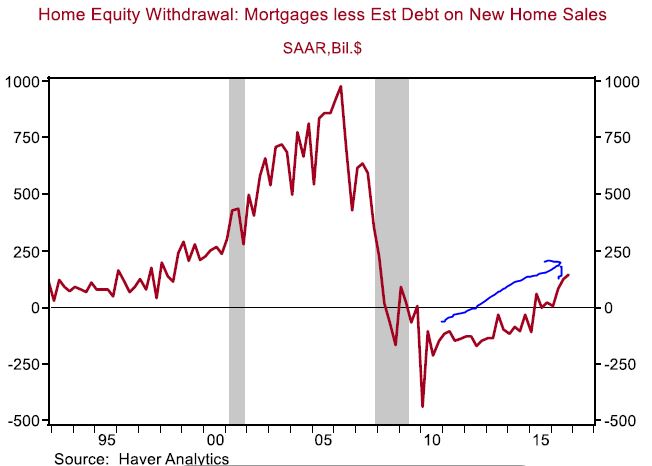 Home equity withdrawals are now getting back in fashion.  People are already leveraged up to their eyeballs in other forms of debt (see later in article).  So what if they don't have a NINJA loan.  What happens when there is a correction and the next recession hits?  Just look at the balance sheets of many tech companies based in California.  They are ridiculous.  And these companies employ hundreds of thousands of high paid tech workers.  Many of these workers are keeping the bubble afloat in places like San Francisco.  Does it matter that you put 20 percent down on a $1 million crap shack but lose your job?  Many of these tech companies have balance sheets that are not performing.
So the stock market is hot, the housing market is hot, and now the mania is making people think that using your home like an ATM is smart.  It is not.  This is simply "cheap" debt that is secured to an inflated asset.  You need to pay this back.  All debt requires a payment.  And yet the issue in the last crisis wasn't liquidity but solvency.  The notion was that if you only fixed a couple of things, all would be well.  But no, people made absurd bets on inflated valuations and it all came crashing down.  People over paid on a grand scale and it imploded.
And make no mistake, there is a lot of debt out there: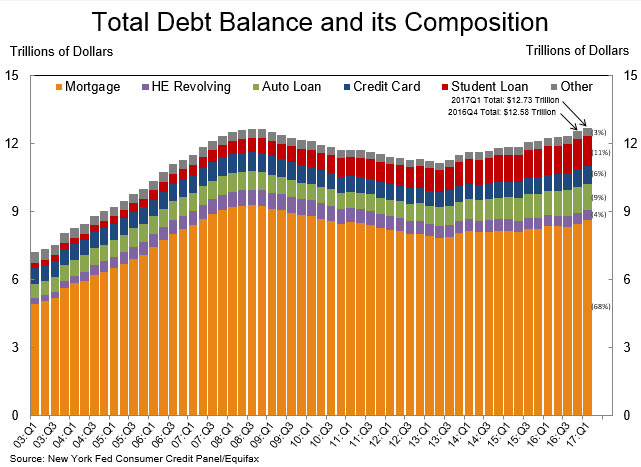 Total debt is now at a record.  And you know what is even more nuts?  We have more debt in items that are more volatile than housing:
-$1.4 trillion in student debt

-$1.1 trillion in auto debt

-$1 trillion in credit card debt
People are in debt up to their eyeballs and many Taco Tuesday baby boomers are unprepared for retirement especially with their Millennial kids now moving back home.  Time to tap that home equity to pay off those college loans.

Did You Enjoy The Post? Subscribe to Dr. Housing Bubble's Blog to get updated housing commentary, analysis, and information.