People have a hard time predicting the future especially when it comes to economic behavior.  Many people saw the housing boom and bust but few had the wherewithal to take action at optimal points.  Once the herd catches wind, it is usually too late.  How many people rushed in at the tail end of the technology bubble only to see their investments vaporize into thin air?  How many people overpaid for homes during this boom only to be left with mortgages that don't reflect the value of the item they are supposed to reflect?  The U.S. Treasury and Federal Reserve know full well that bubbles and their subsequent busts are only part of human nature.  We learned painful lessons during the Great Depression and reigned in the banking sector.  It took a full generation to forget all those important rules of the road.  Yet we don't even need to go back so far.  We can look at the 1970s and 1980s to see how quickly things can spiral out of control with mortgage rates and all things connected to the interest rate.
I did some sleuthing and pulled up some fascinating articles in older newspapers showing how the typical mortgage rate went from 7.25 percent in the early 1970s to a record 17.5 percent in 1981.  In less than a decade rates went up 100+ percent.  It is hard for people to imagine this but let us walk through what happened with the benefit of hindsight.  Let us chart out the average 30 year fixed mortgage, Fed funds rate, and CPI rate of change: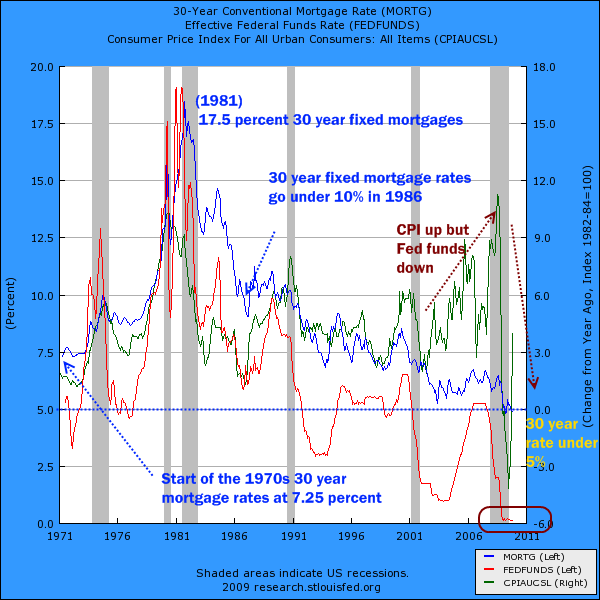 During the start of the 1970s the 30 year fixed mortgage rate started at 7.25 percent.  By the late 1970s the rate was already over 10 percent and by 1981 it reached a peak at approximately 17.5 percent.  The 30 year fixed rate didn't go under 10 percent again for another five years until 1986.  The Federal Reserve with the help of Paul Volcker brought inflation under control by raising the Fed funds rate over 17.5 percent.  Unlike the current U.S. Treasury and Federal Reserve, we had someone at the head of the ship concerned with the viability of the dollar and put mortgages on the back burner.  This current Fed and Treasury is concerned more with appeasing the crony bankers on Wall Street.
But let us walk through the above chronologically with snippets from papers:
The Milwaukee Journal – Jul 6, 1973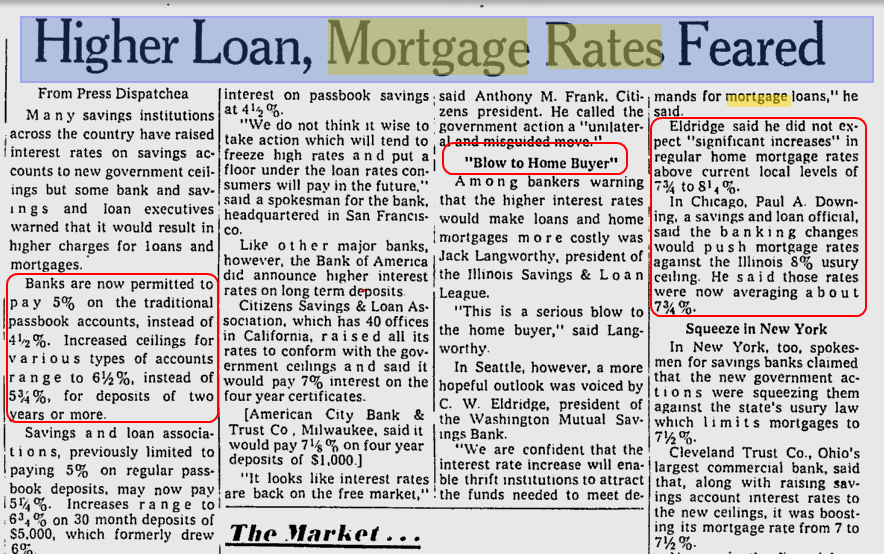 Competing with other forms of deposit vehicles, banks and savings and loans were allowed to raise interest rates to attract money.  As you might remember Americans were actually saving some money at this time so banks did have to compete for major deposits instead of getting massive bailouts from the government.  So banks started increasing their deposit rates.  At the time mortgage rates were around 7.75 percent on 30 year fixed loans.  Some didn't think rates could go up much higher during this time but then again as we are now finding out forecasting is not a strong skill of the financial sector.
Sarasota Herald-Tribune – Feb 16, 1975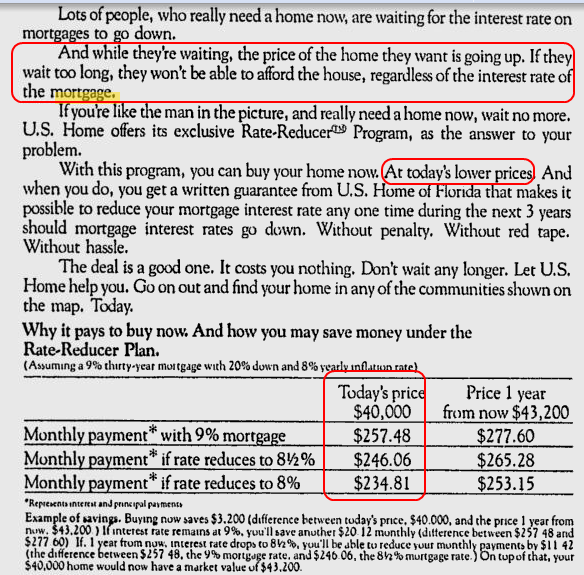 You have to remember that in the early 1970s the U.S. went off the gold standard.  What followed was rampant inflation.  The U.S. basically decided to give itself a 30 year deficit spending party that is now finally coming to an end.  The above is a fascinating advertisement from 1975.  Rates are now moving on up.  By 1975 the 30 year fixed mortgage is now up to 9 percent but home prices are going up.  This was the decade of stagflation but incomes were also going up so there was a form of balance at least.  The ad is interesting because it talks about buying today assuming home prices will go up no matter what.  So what if rates go lower?  This ad was for a product that locked in your rate should rates go down.  Today, we have nowhere to go but up.  You can't go any lower than the zero bound.
Our current predicament is a troubling one.  The CPI for the entire decade looking at owner's equivalent of rent completely missed the entire housing bubble.  The biggest item in a household balance sheet and the entire CPI missed it.  So when we look at our first chart, inflation might seem subdued during the 2000s but it was running rampant in housing prices.  The U.S. Treasury and Federal Reserve knew this so housing prices going up was of no worry; in fact this was their desired goal.
But as the 1970s went further into inflation madness, things started getting out of hand.
Eugene Register-Guard – Oct 11, 1979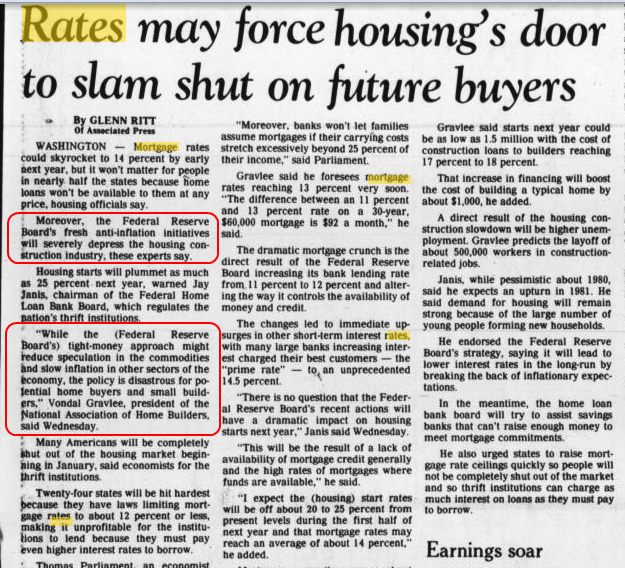 Now the above piece is fascinating.  When was the last time you saw the National Association of Home Builders attack the Federal Reserve?  The Fed at this time had its eyes set on controlling inflation and commodity speculation.  This was the goal.  In our current crisis it seems that getting people to buy homes no matter what is the ultimate goal.  People forget that during these times many sellers were allowing borrowers to assume their mortgages at their old lower rates.  This was common practice.  Today many loans have a clause that force new buyers to get a new loan to pay off an old one.  Welcome to the new world of finance.
By 1979 mortgage rates were reaching 14 percent.  Home building was already taking a hit.  Inflation was running rampant.  The Fed was jacking up the Fed funds rate fast and aggressively.  Yet today, the fear of inflation is largely absent.  Or is it?  For the entire decade the CPI missed the biggest housing inflation ever recorded.  So where are we really?  If our best measure is not looking at the entire picture then something is amiss.  That is why I have argued that the BLS with the CPI and employment numbers doesn't really reflect reality.
By 1981 mortgage rates hit their peak.
St. Petersburg Times – May 7, 1981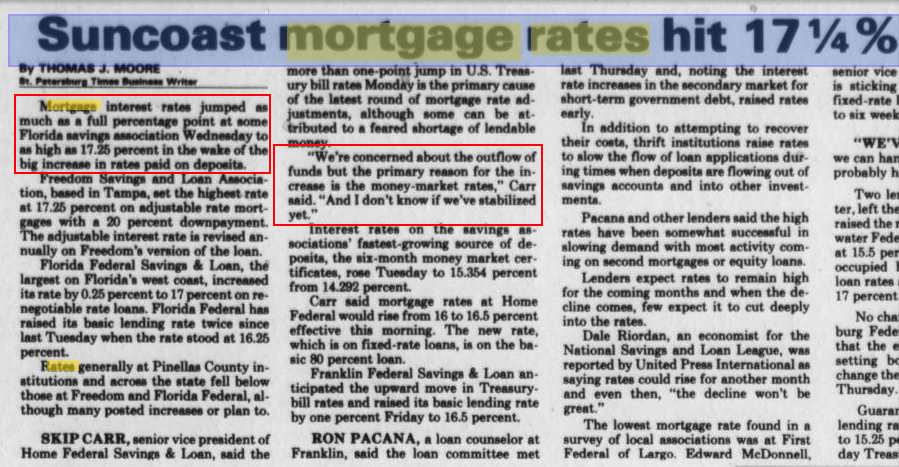 Mortgage rates hit a massive peak topping in at 17.5 percent.  Can you imagine a 17.5 percent interest rate today?  Can you imagine getting 17 percent in your savings account?  It is hard to even imagine such a time but that was 1981.  Today you are lucky to get 0.5 percent on your savings account even though the U.S. dollar is getting slammed into oblivion by the Federal Reserve.
By 1981 the Fed was winning the battle against inflation but housing was taking it on the chin.  Apparently saving our economy was more important than saving Wall Street and the housing industry.  Today, the Fed is more concerned about the banks and the housing industry than the actual real economy.  Remember those previous articles from the 1970s?  Did anyone see these rates coming?  Absolutely not.  And this is an important case study in behavioral economics.  Today does not equal tomorrow.  So those thinking interest rates can stay this low forever are out to lunch.  Higher rates will crush prices further.
But by 1982 with the Fed controlling inflation mortgage rates also came lower.
N.Y. Times, October 24, 1982
"(NY Times) Prices will not rise soon, Mr. Downs said, because "there is a tremendous supply of houses on the market – for the next six months or a year, I think prices will remain relatively flat." Mr. Downs and others believe that lower interest rates will lead to less seller financing.
One commonly held theory among housing and real-estate specialists is that interest rates must get back down to 12 percent before most families will be able to afford to buy a home.
But even though rates on mortgages guaranteed by the government may be at 12.5 percent, different lenders have different forces to respond to and it could take time before many of them drop their rates that low. Many savings and loan associations cannot afford to offer such low rates because they are paying high rates to depositors; some types of savings accounts are paying 16.55 percent interest and will be for the next 18 months."
12 percent to make homes affordable?  Hah!  12 percent today would rock the entire market to its foundation.  Yet the Fed did manage to control inflation and mortgage rates went lower and lower until they went under 10 percent in 1986.  But this was a decade of high mortgage rates.  To think what we are going through right now is normal is wrong.  The average 30 year mortgage rate over 40 years is 9 percent.  Do you think we can handle a 9 percent rate?
Some will argue that rates are low because they reflect low inflation risk and the Fed can print freely.  Yet the risk is appearing in the declining U.S. dollar.  The mainstream media seems to ignore this but something else similar happened in the 1970s.  Gold soared: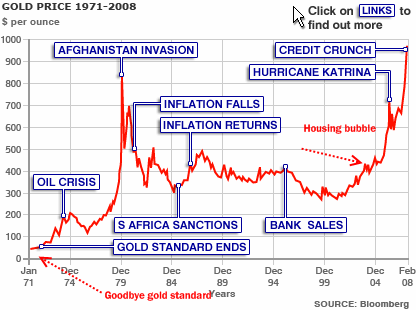 Source:  BBC

In the 1970s gold went from $35 an ounce in 1970 to nearly $850 in 1980.  This was a reflection of the U.S. coming off the gold standard but also rampant inflation.  So if we had little to no inflation this decade, why is gold now up over $1,100?  Because the U.S. dollar is tanking, that is why.  And why wouldn't it be?  The U.S. Treasury and Federal Reserve, unlike Paul Volcker, only care about Wall Street and the banks since they are governed by crony politics.  They are more worried about people buying homes with no jobs than getting people to have jobs with good wages so they can buy homes.  It really is backwards.  That is why anytime the U.S. dollar makes a strong move up gold gets slammed but also the stock market.
I'm no gold bug but I do follow the markets.  In the 1970s gold shot up because of the U.S. going off the dollar standard and rampant inflation.  Today, gold is rising more because the U.S. dollar is being crushed by the enormous amounts of debt.  The fact that we are bailing out banks with trillions is simply inexcusable with no actual reform on the table.
So what can we gather from the above?  Over the next few years things are going to happen that many of us cannot predict.  The unemployment rate is still up at 10 percent and if we add in the underemployment rate, we are up to 17 percent.  The government is blowing through money that would be normal if we were entering a world war.  With banks offering 0 percent on savings accounts Americans are nearly forced to gamble in the stock market if they want any sort of return.  Social Security has already stated they will offer no cost of living adjustments for the next two years.  All the while the U.S. dollar is doing this: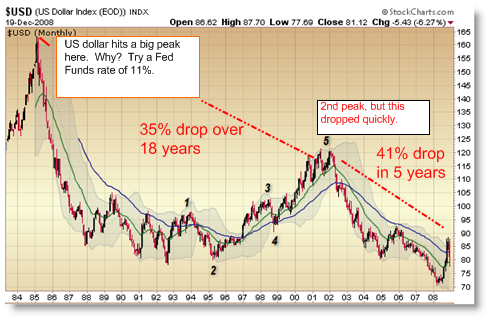 A few things are certain:
-Mortgage rates can only go up.  We are at the lower bound.  It is a matter of when they go up.
-We will never ever pay off our debt.  Anyone who believes otherwise does not understand arithmetic.  We are spending more than what we are bringing in?  Paying it off?  Hah!  To the contrary, we are spending even more.  I doubt Keynes envisioned fiscal stimulus in the form of trillions to a select group of crony bankers.
-U.S. households are being crushed by enormous amounts of debt.  The Fed hopes to generate massive inflation so we can pay off current debts with cheaper dollars.  In their mind, big deal to have a $500,000 mortgage if the median income is $200,000.  Clearly they are not following the employment market.
As we look at the 1970s and 1980s we can learn many things.  First, massive inflation is no party and this is what the Fed is trying to induce.  Second, many financial "experts" have no clue where things will be heading.  Yet spending more than you earn never ends well.  The signs are all there.  We just need to be open to history and listen to what it is telling us.
Did You Enjoy The Post? Subscribe to Dr. Housing Bubble's Blog to get updated housing commentary, analysis, and information.