Over the last two months we've noticed an interesting pattern in notice of trustee sale auction cancelations.  This is the last step before the home is either sold at auction or taken back by the bank as a bank owned property.  As we have highlighted, this process can take 18 months from the last payment made on the home given the slow pace banks are moving at.  The troubling thing is I have started piecing the data together and something seems to be emerging.  The fact that Fannie Mae and Freddie Mac over the holiday now have "unlimited" support from the government may signal new methods of dealing with the foreclosure crisis that once again will destroy the prudent in our country and reward the Wall Street bankers with another gift.
So why have cancelations risen so much in the last few months?  This has to do with Fannie Mae, Freddie Mac, Bank of America, Wells Fargo, Citi, and JP Morgan.  All these lenders went on a foreclosure "holiday" that by their own admissions, ended on January 3rd.  So that in itself would account for many of the auctions recently canceled.  A few of you sent this over from the L.A. County Treasure and Tax Collector: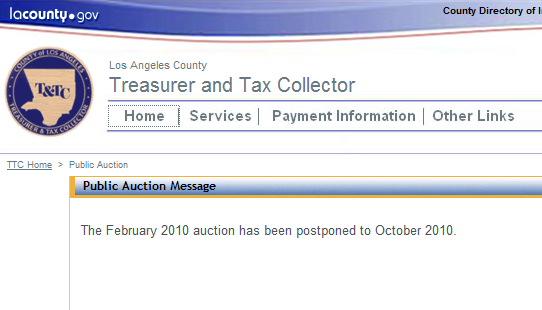 Source:  L.A. County Treasure
Now part of this may come from the foreclosure holiday but why cancel February?  It probably has to do with HAMP and also something with Fannie Mae and Freddie Mac now having unlimited support.  Also, HAMP offered extensions for many loans to January 31st:
"(BusinessWeek) Mortgage servicers must give U.S. homeowners more time before kicking them out of the government's loan-modification program, reflecting further struggles in the execution of the plan.
Servicers can't cancel an active Home Affordable trial modification scheduled to expire before Jan. 31 for any reason other than property eligibility requirements, according to a posting today on a government Web site. They must write to borrowers to inform them about missed payments or needed documents, and give them at least 30 more days to submit them."
So that in itself must have set off a rash of cancelations.  You have the holiday, plus the extension, plus banks ignoring non-payers.  You can understand why the shadow inventory numbers are off the charts yet looking at standard data paints a deceiving picture.  Part of this was spurred by the horrible numbers released by the HAMP initiative: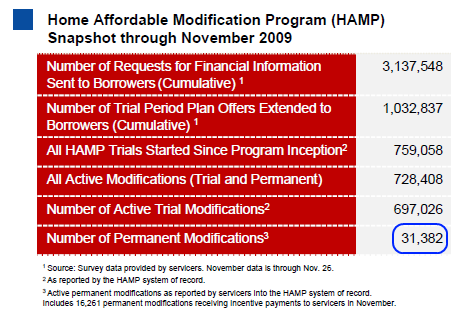 Of the number of active trial modifications (that now go out to five months instead of three) only 31,000 have been converted to permanent modifications out of nearly 700,000.  In other words, about 4 percent seem to be entering into permanent modification status which is an abysmal number.  Right now Los Angeles County has nearly 100,000 homes in the shadows if we include the MLS and all other shadow inventory.  Just looking at the MLS we get approximately 19,000+ homes: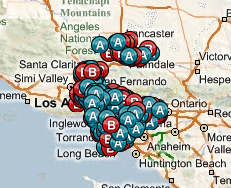 What is interesting that homes scheduled for auction between September and today, we find a large number cancelations:

Of homes scheduled for auction between September and today in L.A. County we have seen nearly 10,000 cancelations.  This of course is due to HAMP and the above mentioned moratoriums.  I really doubt that we've managed to "save" 10,000 homes in this time but what is more likely to have happened is delaying the inevitable foreclosure or bailout.  You can understand why the public is confused with all this information.  I'm having to pull data from multiple sources and putting it all back together.  What we find when we put it all together is this:
-MLS public view data is artificially low
-Many cancellations only mean that foreclosures have been delayed or put into HAMP which is showing a horrible success rate
-A large number of properties with non-payers don't even have a notice of default but show up in 90+ days late internal bank data (this number in California is over 10 percent of all mortgages)
-In California 1 out of every 3 mortgages is underwater
And this brings us to probably the more nefarious connection of the foreclosure dots.  Why over the holiday did the government implicitly back Fannie Mae and Freddie Mac with unlimited support?  From the FHFA report released on January 8th:
"Washington, DC – The Federal Housing Finance Agency today released its third quarter
Foreclosure Prevention & Refinance Report, which shows that as of November 2009, Fannie
Mae and Freddie Mac (the Enterprises), implemented more than 405,000 trial and permanent
loan modifications under the Administration's Home Affordable Modification Program
(HAMP) and refinanced 4 million loans. The report, which now includes data on
delinquencies, loan modifications and refinance activity for each Enterprise, details the actions
Fannie Mae and Freddie Mac have taken to prevent foreclosures and keep people in their
homes."
Wait, did you catch that?  405,000 HAMP trial modifications are with Fannie Mae and Freddie Mac loans.  Look up at the HAMP data released by the U.S. Treasury above.  In other words, this is what is happening: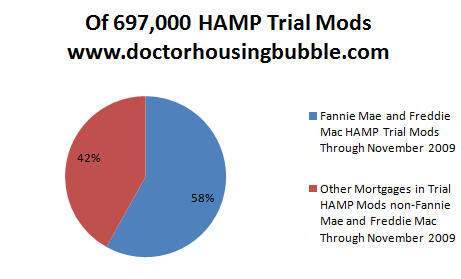 You see where I'm going with this.  The bulk of the nearly 700,000 HAMP mods are backed by Fannie Mae and Freddie Mac.  Since we own Fannie Mae and Freddie Mac, that means we own most of these loans now.  And how are those loans doing?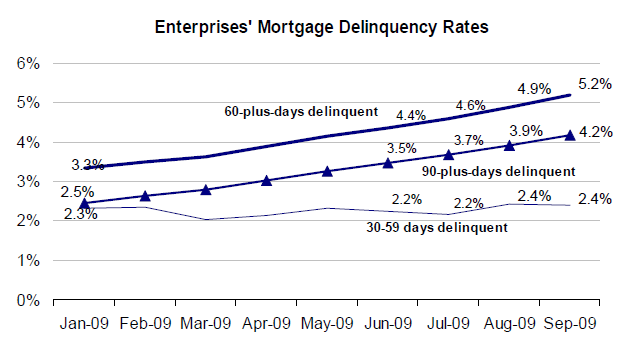 In fact, of all enterprise loans the distress rate is 7.6 percent (the above chart doesn't include bank owned homes).  So what is really going on them?  Why uncap the support to these agencies if they are dealing with more and more costly loans?  One idea is with the ultimate underwater bailout.  I ran the quick numbers here:

Recent data shows that nationwide, the average amount for the underwater homeowner is nearly $70,000 (much larger in California thanks to Alt-A and option ARM products).  First American CoreLogic in their latest report had 10.7 million homes underwater.  So to bring homes to basically zero equity, it would cost the government some $745 billion!  Is this where the government and crony bankers are heading?  I have no idea but why else would you uncap Fannie and Freddie and also allow the FHA to keep on making loans while the entire portfolio still shows signs of weakness.  Why?  Because these are the only products in town.  Corporate welfare banks don't dare touch the American consumer but are more than quick to take bailouts and make government backed loans.  They will push the limit to whatever the government allows them to do and right now it is allowing them to continue the toxic mortgage game.
So it would take basically TARP II only to extinguish the current negative equity.  And who would get this money?  With HAMP, it has been a triumphant failure because it only seeks to protect the banks.  The other option would be to erase this negative equity but the vast majority of Americans are not in this spot and this would politically not fly (as it shouldn't).  Banks should fail (did we agree to not let banks fail or is this something the crony bankers, Fed, and U.S. Treasury decided to do?).  Current mortgage pricing is completely delusional of the risk involved.  The global markets nearly imploded because of toxic loans and right now 30 year fixed mortgages go for 5.75 percent?  Really?  The only reason this is happening because of the toxic Federal Reserve and horrible U.S. Treasury policies.  The recent AIG e-mails show who the U.S. Treasury is really working for.
Where does this  go?  Who really knows but anyone telling you things are good are in some form of delusion.  And I'm sure the 85,000 jobs lost last month was also a good sign (actually the labor force declined by over 600,000).  This data should shine some light on what is going on but should also show you how flawed the entire system has gotten.
Did You Enjoy The Post? Subscribe to Dr. Housing Bubble's Blog to get updated housing commentary, analysis, and information.