Home values in the Southland are now up on an annual basis across all counties.  The SoCal median home price is now up over 8 percent on an annual basis.  The best performing county?  Riverside County with prices up over 10 percent.  The real test will come as the typically slower fall and winter seasons hit.  So far the low inventory and incredibly low interest rate has definitely had an impact on home values.  Many people that are buying this summer realize that fiscally the US has some major challenges coming in 2013 while the state of California has its own budget battles ahead.  In spite of that the belief that the Fed will backstop the housing market and the tempting allure of low rates has shifted some momentum over.  I wanted to take a close look at the city of Fullerton in Orange County.
Fullerton pending sales
I found it interesting that Fullerton actually went against the price rise trend in Orange County:

Each zip code had a median price under $400,000 and for Orange County, you would expect to have a feeding frenzy.  What was also interesting is that notice of defaults still remain elevated signifying that many households are unable to pay their mortgage:

Notice of defaults jumped from June to July but this can be from banks taking action on homes since the market is more prime for sales.  The lowering of the inventory pipeline is occurring.  It is useful to see what is actually selling in the current housing market:
1330 W Southgate Ave, Fullerton, CA 92833

3 bedroom, 2 bathroom, 1,296 square feet, Single Family 
The above home has 3 bedrooms and 2 baths and is currently listed as a pending sale.  Looking at the sales history sheds some important light here: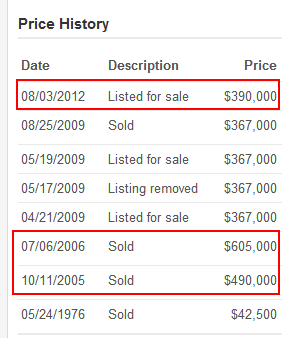 This home sold for $605,000 back in 2006.  The current list price of $390,000 is a 35% drop from the peak price.  With low interest rates someone can buy with a 5 percent down payment and come out paying a monthly PITI of roughly $2,122.  A slightly bigger home a couple of blocks away is renting for $2,200 a month.  So a $20,000 down payment and you are close to rental parity here.  Sounds good right?  This seems to be the Fed's plan yet for those buying, the upside seems to be limited given the major issues facing the state budget and national economy.  For those staying put long-term, a low down payment mortgage seems like a low risk option (of course the default rates are soaring and this is a cost that will be shouldered by the public).
At the upper-end of the market, let us look at a pending sale: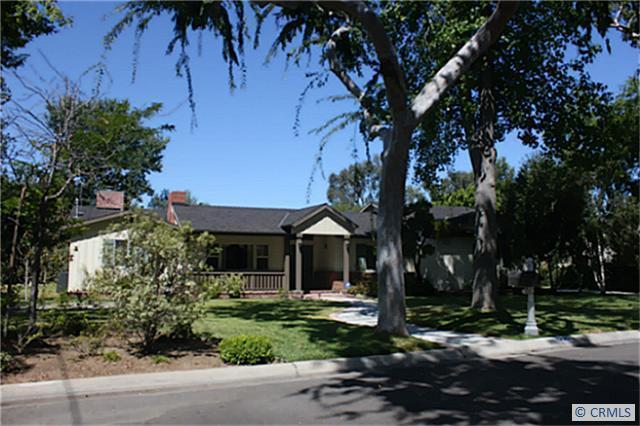 1225 Crestview Dr, Fullerton, CA 92833

4 bedroom, 3 bathroom, 1 partial bath, 3,350 square feet, Single Family 
The above home sold for $1,313,500 back in 2005.  Today it is listed at $899,000, a drop of 31 percent.  Seems like Fullerton has a peak drop similar to the nationwide figures in the 30 percent range.  It is interesting to see that defaults are still healthy in these markets even as lending standards have tightened up.  Since many loans have shifted to FHA insured loans in the last few years, it only makes sense that these loans are souring as the overall economy is still trying to find its footing.
The goal from the Fed's perspective is to keep prices high because banks are then able to keep more collateral on their balance sheet at inflated levels.  In reality, a buyer is better off purchasing say a home at $300,000 with a higher rate than say a $500,000 home at a very low rate.  This is essentially what the battle has boiled down to on the housing front.  It has worked so far in 2012 but does it have staying power?
The above pending sales in Fullerton get a glimpse as to what is moving in the market today.  Are the above sales priced too high, low, or just right?

Did You Enjoy The Post? Subscribe to Dr. Housing Bubble's Blog to get updated housing commentary, analysis, and information.