The story of 2015 continues to be one of a stalemate for the SoCal housing market.  Prices in some areas are near or even higher from the previous peak.  Yet inventory remains low and for many, prices are still beyond their reach.  Investors are still a big dominating force in the market.  Flippers are out in full force trying to squeeze out profits in every corner of the market.  It is always amusing when you hear about people "missing" the market.  First, this tends to come from folks who don't see themselves as speculators.  Yet somehow, they feel that they missed the boat on the big equity jump we have seen in the last few years.  However, to unlock that equity would mean leaving said area.  In other words, you could have easily speculated and bought Apple stock on margin as well.  You are simply timing the market.  There is nothing wrong with that but please don't try to position yourself as a non-speculator.  What about the 7,000,000+ people that lost their homes to foreclosure?  We usually don't hear from those once they enter a financial grave.  Call it selection bias.  Just because you live in your speculation vehicle doesn't mean anything new.  Culver City is a prime spot for house lusting shoppers.  Zillow has 41 homes listed for sale.  What is also interesting is that the city has 33 pending foreclosures.  There is no incentive to rush these out to market.  Low inventory, low interest rates, and a high number of house lusting buyers and you got yourself a nice speculative market.
Shopping with $1 million in Culver City
A million dollars doesn't go so far in California's heated housing markets.  It certainly doesn't go far at all in the insane Bay Area.  I think it is worth noting that in some markets, the big drive up has been pushed by investors, flippers, and high income households leveraging low interest rates.  Most of the drive up in prices has come from pervasive speculation.
Take a look at this home: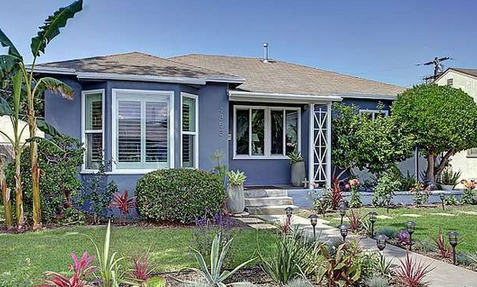 4353 Tuller Ave,
Culver City, CA 90230
4 beds, 2 baths, 1450 square feet
This place looks like it had a lot of work done to it.  It is very telling when we look at the price history here: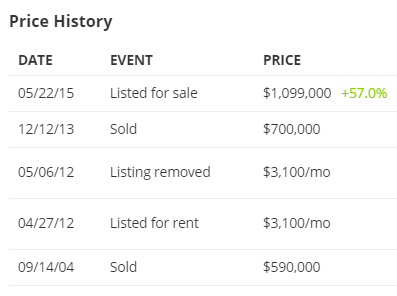 This is one great thing about Zillow.  You can track the action of a home over time.  First, it sold for $590,000 in 2004.  In 2012, it was listed for rent at $3,100 and looks like it rented quick, for one year.  It then sold for $700,000 in 2013.  It is now listed at $1,099,000.  Keep in mind this place was rented out in 2012/13 for $3,100 and now the list price is $1,099,000.
The market is tight in Culver City.  Zillow has the following listings: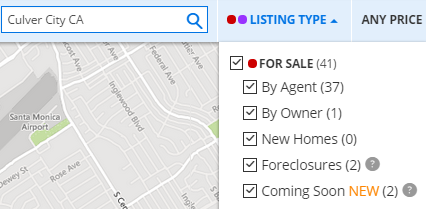 When I search for active foreclosures, I find the following: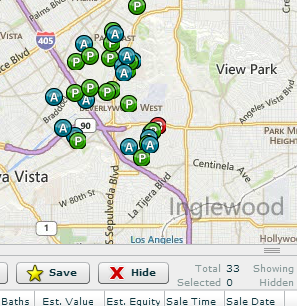 You almost have as many pending foreclosures as actual listings.  No rush for the banks to get these out to market.  Right now, if you want to play you have to pay.  Take a look at this immediate area in terms of rentals:
There is a home nearby but it has 3 beds and 2 baths but is much bigger at 1,770 square feet and this is renting for $3,900.  You also have a 3 beds 2 baths place listed at 1,633 square feet for $3,695 one street over.  Sure, you'll get rental breakeven points with a big enough down payment (try $219,800 without factoring closing costs or anything else).
I've said this before, you can reach a rental equivalency with any property so long as you have a large enough down payment.  No one missed anything here. If you truly are buying a home for the long haul, 30 years will pass by.  But can you swing that monthly nut for 30 years or are you looking for a big jump in appreciation?  Just look at the price history on this place over the last 10 years and then you will see how boom and bust the California market is.  When you see things like this you start to understand how we have 2.3 million adults living with their parents in California, unable to rent or purchase a home.

Did You Enjoy The Post? Subscribe to Dr. Housing Bubble's Blog to get updated housing commentary, analysis, and information.