Southern California enjoys adding flare to any event and Carmageddon certainly did not live up to the hype.  Certainly the massive amount of coverage given to the event kept many people home and off the 405 between the 101 and the 10 freeways.  Unlike the housing apocalypse that has wiped out $6.5 trillion in home equity across the country I'm sure it is manageable for people to sit back and allow for some work to be done on a much used freeway.  Housing continues to be a drag on the economy because household incomes are simply facing tough times ahead.  No amount of focusing on interest rates or conforming loan limits is going to increase the amount of income entering a household unless the economy improves on the jobs front.  With conforming limits set to move lower soon some are arguing that the limits should be kept high for a longer duration.  The five year old housing bubble is an issue of inflated housing prices so it is hard to understand why we would want to keep tools that make homes more unaffordable to Americans with more cramped incomes.
The market of distressed homes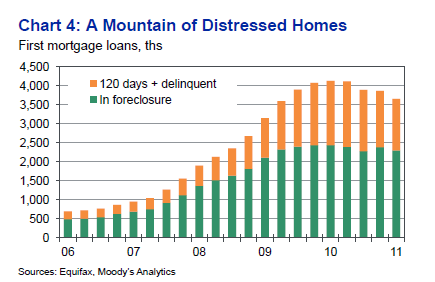 Source:  Economy.com
We still have over 2 million homes in some stage of foreclosure.  The housing market has plenty of lower priced homes for supply and this is what is keeping sales moving.  Families are gravitating to lower priced homes because their incomes are unable to support inflated homes that still carry the essence of the housing bubble days.  The actions of the Federal Reserve buying up $1.25 trillion in mortgage backed securities simply extended the correction but also provided banks time to fix their own balance sheets.  The bailouts were never about helping homeowners and the above chart should be a testament to that most obvious fact.
Underwater nation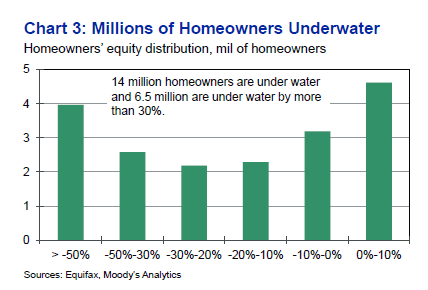 14 million homes are in a negative equity position.  Being underwater is one of the biggest predictors in forecasting future foreclosure.  6.5 million mortgages are underwater by 30 percent or more.  Now keep in mind over 2 million homes are currently in foreclosure.  How long would it take for a home to go up 30 percent in value in these times?  Now during the bubble this would have occurred over 1 or 2 years especially here in the sunny state of California.  With stagnant incomes and massive inventory home values are now back to levels last seen in 2003: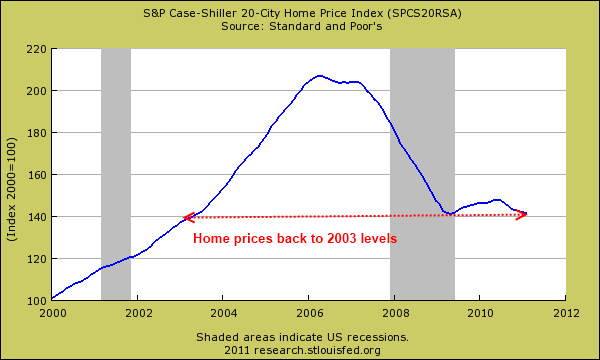 Not only are we not seeing any year-over-year price increases but home prices are actually falling.  Now after five years you would think many people would get it that the demand is being driven by lower priced homes.  The other outside factors like low mortgage rates or tax credits are simply short-term boosts that give a false sense of recovery.  Even after trillions of dollars pumped into the system here we are in the middle of summer in 2011 and home prices are inching back closer to 2003.  Why?  Because household incomes never kept up with home values.  It is all about the paycheck amount.
The jumbo market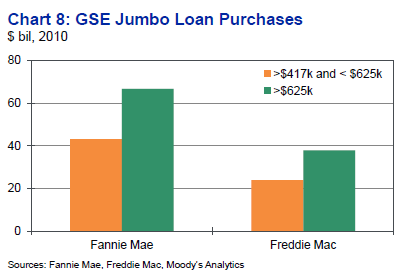 Mark Zandi from Moody's has this to say about the coming conforming limit change:
"Without an extension, Fannie and Freddie's loan limit will fall from $729,750 in the highest- cost areas of the country to $625,000.11 FHA loan limits in these areas are likely to fall even more, since they are defined as the lesser of 115% of an area's median-priced home or $625,000. The high-cost areas that would be significantly affected are primarily in the Northeast and California but include some parts of Florida and the Chicago metro area. The higher loan limits affected approximately $140 billion in loans originated in 2010, or less than a tenth of the $1.5 trillion in mortgages made that year (see Chart 8)."
It is hard to find any reason to keep these limits so high.  The nationwide median home price is approximately $160,000 so these current figures already seem rather generous to say the least.  Fannie Mae and Freddie Mac are the backbone of the current mortgage market because no other buyer would soak up this amount of loans in a fragile economy.  Add into the mix FHA insured loans and you have a housing market that is virtually all predicated on the government buying up mortgages and then selling them to itself through the Federal Reserve.  It is clearly an unsustainable system.
We should welcome the drop in conforming loan limits because this is an old throwback to the days of the housing bubble.  I remember contacts sending over rate sheets almost on a semi-annual basis where caps kept going up arbitrarily with the rising bubble.  The banks and lenders were all the more responsive to moving things up even if we now know that it was an entire bubble.  So wouldn't it make sense to simply press the reset button and go back to pre-bubble limits?  Of course the fight is not going down as easily as you would imagine.  Lenders now completely rely on the government since the global market is now a bit weary of mortgage debt even if it is stamped and labeled triple-A.
Ultimately if the government wants to take an active role in fixing the economy it should not take advice from the main players who caused this downturn.  The focus should be on creating a system that allows for the thriving of better paying jobs (this assumption is based on the government having to take a major role).  The meddling and aiding of banks on Wall Street has merely served as the biggest redistribution of wealth we have ever seen but to the banking sector.  Look at the above data and see how much bang for our buck we got with housing from the historic bailouts.  Ironically in a time when households need more affordable housing these same actions are keeping home prices inflated.  Again, why in the world do we need these $729,750 conforming loan limit caps?  How about we peg the cap to the nationwide median home price and other areas that are more expensive should use a hybrid model where the remaining difference will be made up by local banks? This way, banks get to share in the fun of holding giant mortgages and will exercise more due diligence.

Did You Enjoy The Post? Subscribe to Dr. Housing Bubble's Blog to get updated housing commentary, analysis, and information.