California can be viewed as a microcosm of what is occurring across the United States.  Few markets are propped up by a smaller affluent population while most, are pushed outward or to rentals as incomes go stagnant.  People for the most part only pay attention to what is immediately around them.  When the crisis hit in 2007 many were caught off guard although the warning signs were all over the place.  As 2014 starts, we are now seeing a definite slowdown in housing even in higher priced areas.  Inventory appears to be coming back online but sales are very weak since people are asking for peak prices and drinking the housing Kool-Aid with gusto.  The median sales price in SoCal has stayed put since June but sales have fallen steadily.  Across the state, with more rentals from investors prices are soft and unlikely to rise given that many Californians have not seen any real income gains over the last decade.  For the most part, many are stuck in a bubble thinking things will remain the way they are simply by sheer momentum.
Where the bubble begins
When you look at California home prices and compare them with incomes, you realize that we did indeed live through a bubble.  Of course many of the critics that now acknowledge the previous bubble give multiple justifications as to why it is nearly impossible to have another bubble today.  Bubbles by default are guided by manic behavior detached from underlying economic fundamentals.  Today, the market is driven up by investors and speculation being driven by large pools of money flooding into certain areas from Wall Street and abroad.
With that said, let us look at where prices stand today: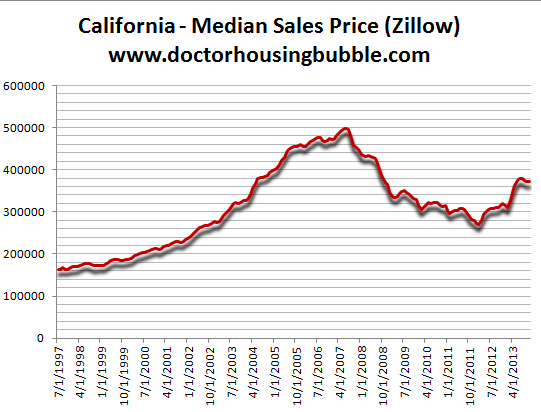 At the peak in the market in 2007 a median priced California home was fetching slightly over $500,000.  Today, the price is at $370,000 after bouncing off the bottom of $270,000 according to Zillow data.  As we have discussed, this current price makes housing unaffordable to 2 out of 3 families in the state based on current incomes and mortgage rates.  More households in California are now renters because of this boom and bust.  A large part of investors have put their properties back on the market as rentals: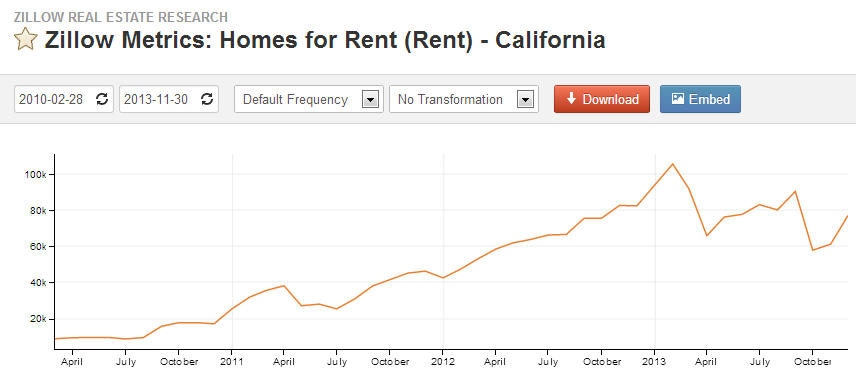 Source:  Quandl     
The number of rentals has gone up dramatically since April of 2011.  In April of 2011 something like 15,000 homes were available for rent.  The peak was reached early in 2013 at nearly 100,000 and is now hovering around 80,000.  Of course, this has to do with the incredibly high number of investors buying up single family homes and now putting them back onto the market for rent.  California is a big state and many investors bought in more affordable areas.  This is why the median rent across the state has also fallen with the new added supply: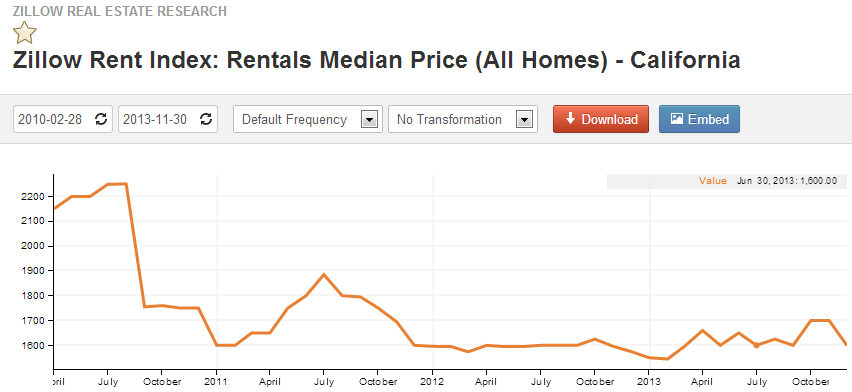 The above data I find interesting but I think the explanation is rather straightforward.  Investors have been dominant in areas like the Inland Empire and Central Valley.  In previous years, most of these areas were filled with people actually buying homes since prices were modest compared to incomes.  As investors sucked up a large part of the inventory, a bigger portion of this market turned into rentals.  Given lower incomes, when these homes hit the market as rentals, they depressed the overall state median price of rent.  Typically a good portion of rentals are in the form of apartments but suddenly we have a large segment being allocated to single family homes from big investors.  Does the above rent trend look lucrative to investors?
It is too soon to tell but looking at the MLS there has been a steady stream of new inventory across California.  This is typical for the winter and spring.  Usually, you will see inventory tick up in winter and spring with sales picking up in spring and summer.  The inventory portion is happening on schedule but we'll have to see how those sales numbers look.  Will we still have over 30 percent of investors diving into this inflated market?
Here is the data on owners and renters for California
2007 Census
Owner-occupied              7,076,972             (58%)
Renter-occupied              5,123,700             (42%)
2012 Census
Owner-occupied              6,781,817             (54%)    -295,155 from 2007
Renter-occupied              5,770,841             (46%)    +647,141 from 2007
Keep in mind this trend change to renters has occurred during a recovery period (the recession officially ended in the summer of 2009).

Did You Enjoy The Post? Subscribe to Dr. Housing Bubble's Blog to get updated housing commentary, analysis, and information.