It is no secret that Wall Street has been a big player in this current real estate run.  The two biggest single-family landlords in this game are Blackstone Group LP's Invitation Homes followed by California based American Homes 4 Rent (AH4R).  The interesting thing about AH4R is that they own about 20,000 properties throughout the country where investors have been diving in head first.  AH4R recently announced a $14 million loss and was also reported to be laying off people because of the recent loss.  This is an interesting case study coming from the second largest single-family landlord in the country.  It is also interesting to dig through the financials since it shows us that some are overplaying the rental game.  Property management is an intensive business.  Any investor with time in the business realizes that having one or two bad tenants can set you years back in regards to profits.  The gross rents must look extremely appealing to those new to the game.  Some are quickly going to realize that they may have overestimated their potential profits.
American Homes 4 Rent
It is interesting to first see where AH4R holds their nearly 20,000 properties: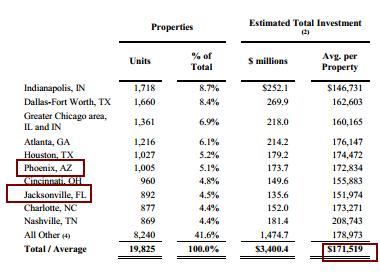 Source:  American Homes 4 Rent
This is a fairly diverse portfolio.  Based on the average price per property, you can see that they are buying at the lower range.  However, in many of these markets, these are likely to be mid-priced homes.  What you begin to realize is that there were definitely generous estimates on earnings here.
Even with the IPO in early August, there was a need to pullback:
"(Bloomberg) The real estate investment trust, founded by self-storage billionaire B. Wayne Hughes, plans to raise as much as $794 million in its sale of 44.1 million shares scheduled for later today. With aprice range set at $16 to $18 a share, the IPO is poised to be far smaller than the $1.25 billion amount estimated in an initial propectus by the Agoura Hills, California-based company in June."
Going from $1.25 billion to $794 million is a big deal.  AH4R is currently trading at the lower range (last priced around $16 a share).  The latest data is not all that pleasant especially after reporting a loss:
"(Bloomberg) American Homes 4 Rent (AMH) yesterday fired a group of workers, with a focus on acquisition and construction staff, after the housing landlord reported a fiscal second-quarter loss, according to a person with knowledge of the terminations."
Keep in mind the location of the properties here.  These are in lower priced areas.  Of course places like Florida and Arizona are incredibly over played by the Wall Street crowd.  It seems like the rental game is not all that easy:
"Single-family landlords have struggled to turn a profit while acquiring homes faster than they can fill them with tenants. Hedge funds, private-equity firms and real estate investment trusts have raised more than $18 billion to purchase more than 100,000 rental houses in the past two years. American Homes 4 Rent, founded by B. Wayne Hughes, is the largest single-family landlord after Blackstone Group LP's Invitation Homes, which has spent more than $5 billion on 32,000 homes."
Keep in mind that a weak underlying economy is going to directly impact the rental business.  A large portion of the current action in the housing market is because of investors.  Do you think these kind of trends are going to push more and more people in?
Getting out
I'm noticing more and more people getting out while the market is hot.  There is an interesting post over at NASDAQ from an investor selling his property in Denver:
"(NASDAQ) Of course, all real estate markets are local markets. Until recently, I owned a single-family rental property just north of metropolitan Denver, where vacancies are at a 13-year low. Rents are also at a multi-year high.

I bought the property since 2003, and it's been a solid income investment. It's consistently provided monthly rental income of 15% to 20% above my costs.  When my last tenants moved out, I could have negotiated a 12-month lease with new tenants willing to pay 20% more than what the previous tenants paid.

But instead of finding new tenants, I decided to sell the property. The reason was simple: I don't expect real estate to stay hot much longer.  

There are a few obvious reasons. Multi-year trends in both vacancies and rents are unsustainable. I expect more multi-family units will mean lower rents. That aside, the market simply looks and feels like it's approaching a melting point. For evidence, look no further than bidding wars for homes that hit the market."
The above explanation ties in with the rise in multi-unit housing starts: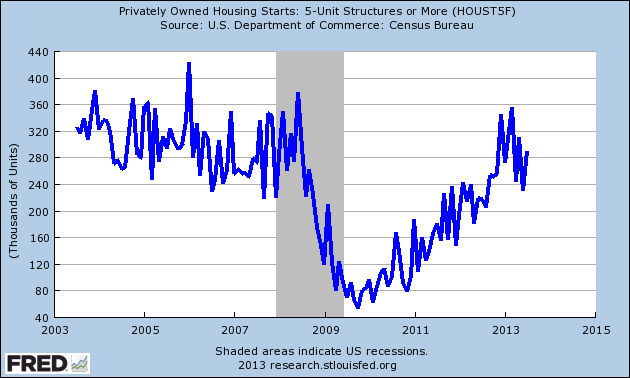 More and more rental housing will be hitting the market and people can only stretch their household income so much.  What we are now seeing is investors selling into momentum; things are going up because they are going up.  They are fully disconnected from underlying fundamentals.
And if you don't think that rates have an impact on the real economy, Wells Fargo recently announced layoffs for 2,300 workers because of the jump in interest rates:
"(WSJ) Wells Fargo & Co. said Wednesday it is cutting 2,300 mortgage-related jobs across the country, a sign that a refinancing boom that helped boost the U.S. home-loan market and bank earnings continues to fade."
Combine all of this with crazy talks of apartment-to-condo conversions and we are reaching some sort of tipping point.  The fact that more than half of purchases this year are coming from non-traditional sources really highlights that this massive flood of money into the market may need to think twice on the rental game.
The fact that some of these big single-family landlords are producing losses at a time when real estate prices are booming should really tell you something.

Did You Enjoy The Post? Subscribe to Dr. Housing Bubble's Blog to get updated housing commentary, analysis, and information.