Time to slap on some new paint, lay down some hardwood floors, and haul in some granite countertops because it is time to convert that funky apartment building into a condo project.  Los Angeles and San Francisco are seeing a rise in apartment to condo conversions as the market is ripe for the picking.  Given the massive amount of investor buying many first time buyers with a deep desire to own are now opting for condos simply because they are being out-bid on single family properties.  Condo prices are surging yet many do not realize that condos come with added costs like HOA monthly dues for example.  The prices of condos in markets like Pasadena and Irvine are once again reaching levels last seen in the peak of the housing bubble.  So it is no surprise that some are running the numbers and are being tempted to turn that apartment complex into a condo project.  The wild prices are back and we'll head to Pasadena for this article.
Pasadena condo love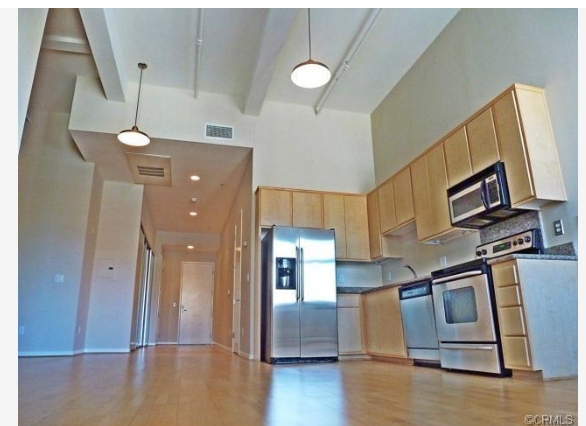 175 South LAKE Ave #401
Pasadena, CA 91101
Beds:                     1
Baths:                   1
Square feet:       721
The current list price is surprising given the size of this place.  721 square feet for $424,900?  Yet this home looks to be another flip with your typical bells and whistles.  Wood floors, stainless steel appliances, and granite countertops!  Check, check, and check.  Yet in the heat of a mania timing is everything and now with a couple of years of banana like appreciation, the market doesn't seem to be biting on everything like an untrained puppy.  The price history tells us the story: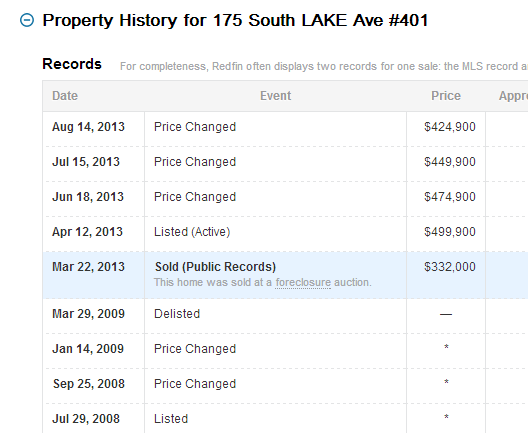 So what happened here?  It looks like the place was purchased for $332,000 back in March of this year (as a foreclosure).  It looks like the place was listed less than one month after the close for $167,900 more than it was purchased for. Seriously, what can you do to a 1 bedroom 1 bath 721 square foot condo that can justify a $167,900 gain over a few weeks?
Of course, the market didn't bite.  So in June, the price was dropped to $474,900.  No takers.  One month later in July it was dropped to $449,900.  Still no action.  Now it is priced at $424,900.  Is this a good deal?  It is still priced nearly $100,000 above the March purchase price.  Did all the upgrades cost $100,000?  I really doubt that.
Back to condo conversions
Of course, in California real estate is a trendy industry and the disaster of the bubble is now fully forgotten:
"(LA Times) If someone can start selling condos in the city successfully, I think others will start to follow suit," Ronin said.

The gated complex lined with brick roadways features 67 units with one-, two- or three-bedroom lofts. The rent starts at $4,000 a month and can go up to $5,500, said Amir Haber, who co-owns and manages the property.

Universal Lofts is a certified live-work property, which means that residents need a business license to live there, Ronin said. The lofts can be used entirely as office space or can double as a residence and a home office.

About 95% of the complex is occupied, and Haber said the vacant lofts are for sale. The asking prices range from $900,000 to $1.3 million."    
While some are heading back in with these projects this example is for a high-end location.  We'll have to see if this trend becomes more ubiquitous in the market.  Of course as the Pasadena condo shows us, markets can turn quickly and it is highly unlikely that an investor would purchase this place since rents would not come close to covering the carrying costs.  In places like Irvine, HOA and Mello-Roos on some condos are off the charts.
Is this merely a sign of a tipping point or does this run still have a full gas tank ahead?

Did You Enjoy The Post? Subscribe to Dr. Housing Bubble's Blog to get updated housing commentary, analysis, and information.