"One vital national characteristic, which the United Provinces possessed in greater measure than any other nation in Europe in the first half of the seventeenth century, did more than anything to persuade precarious tradesman and artisans to try their luck in the bulb trade.  This was the extraordinary belief that social mobility was the birthright of every Dutchman."  –  TulipoMania, Mike Dash
I've been reading about the tulip craze these last few weeks.  The parallels to our housing bubble are similar except that the housing bubble brought the global economy crashing to its knees.  Bubbles are nothing new and risk taking is as old as our first ancestors going out in the wilderness to chase prey.  It is easy to describe the economics of the housing bubble.  Easy credit fueled by our government and Wall Street allowed unqualified buyers to purchase homes beyond their means.  In economic terms we can understand why the bust occurred.  But what in the national psyche allowed for such rampant speculation to occur?  In many ways, the same fire that lit a match back in the Great Depression.  Many Americans felt it was their birthright not only to be rich, but to become extraordinarily rich through the road of speculation.
It wasn't like over the decade, Americans suddenly became wealthier.  To the contrary, wages were stagnant over the decade.  Over the last three decades, Americans have become more and more immune to using credit (aka going into debt).  So when it came time to buying a $500,000 Real Home of Genius with no money down, this seemed like no big deal.  Every other infomercial during the housing boom talked about housing.  Cries of "no money down!" or "overnight millionaire" plastered the airwaves.  Even after the current bust, you will now find infomercials talking about profiting on the bust of the housing bubble!  This get rich quick idea is simply too alluring for many because in reality, the standard of living for many has gone down in real terms.  So why not leverage yourself into a leased BMW and McMansion even if it only lasts for a few years?  Like the Dutchman struggling just to survive in the 1630s, it must have sounded sweet that you can make 3, 5, or even 10 years worth of salary simply by trading tulips.
We had our champions of the housing boom.  Even our former President had this to say regarding homeownership:
"Part of being a secure America is to encourage homeownership."
If it is put this way, it seems that homeownership is necessary like eating or breathing.  Even in the current administration, there is this idea that everyone should be given the chance to homeownership.  In fact, the reckless loans are now occurring with FHA insured loans.  The FHA is probably six months to a year from requiring a government bailout.  The fact of the matter is the housing gambling mentality is still strong.  Now you have many buying foreclosures thinking they can flip them for a tidy profit.  Who are people going to flip these homes to?  Many of the current buyers are first timers that are using near zero-down FHA insured loans on lower priced homes.  Looking for cash flow?  Rents are falling in California so you better hope you have some conservative projections.
This is the mentality that allowed the housing bubble to form and expand.  Let us now shift gears and look at some details of the California housing market.  The California Association of Realtors had a good report last month showing the details of the California housing market.  I'll cover a few of the slides and try to put some of the current myths to rest.
California Housing Market – Dr. Jekyll and Mr. Hyde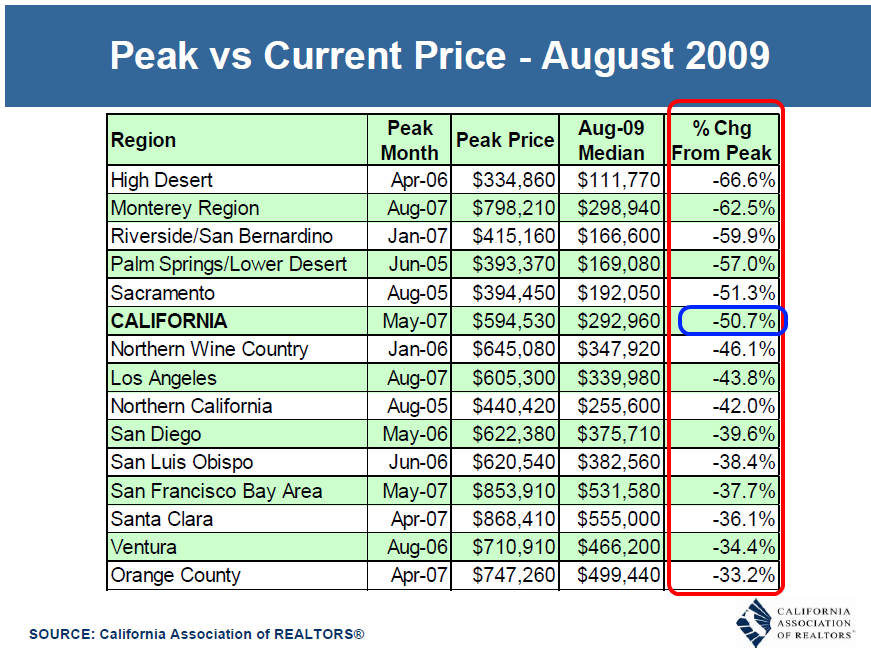 The above chart should put the first myth to rest.  And that is, prices have recovered to the point of erasing some of the losses and are inching closer to their peaks.  The above chart clearly shows that most areas are near their troughs.  California as a state is still down by a stunning 50 percent from the peak.  We still have the Alt-A and option ARM products hitting major recasts between 2010 and 2012 so what is that going to do with the higher priced markets?  It won't help in terms of getting closer to peak prices.
If we look at the details of the market, it becomes apparent that the action is at the lower-end: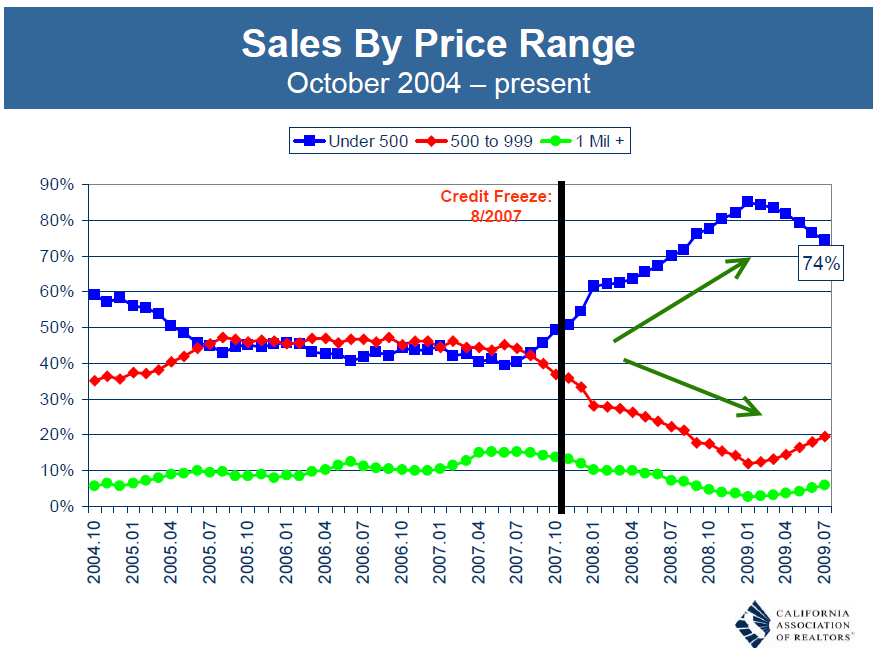 This chart is probably the most telling.  In fact, this chart gives us the solution to the housing market riddle.  Prices need to fall!  You will never hear that from our government or Wall Street.  But this above chart shows that yes, the basics of demand and supply do work if you allow prices to reflect area fundamentals.  Sales have gone up as prices have come down.  Yet think of what all these bailouts are doing.  They are artificially keeping prices higher and spurring mini bubbles.  What you see above is a perfect example of the housing bubble fixing itself.  Yet the government and Wall Street (is there any difference at this point?) are trying to keep prices artificially high.
We are entering a new phase of the bubble.  FHA insured loans have now replaced Alt-A and option ARMs in the California housing market.  Remember, option ARMs are largely a California problem with 58% of loans here in the state.  Now why are FHA insured loans a problem?  People are financially stretching yet again with these loans.  They only require a 3.5 percent down payment.  Don't think many in California are using these loans?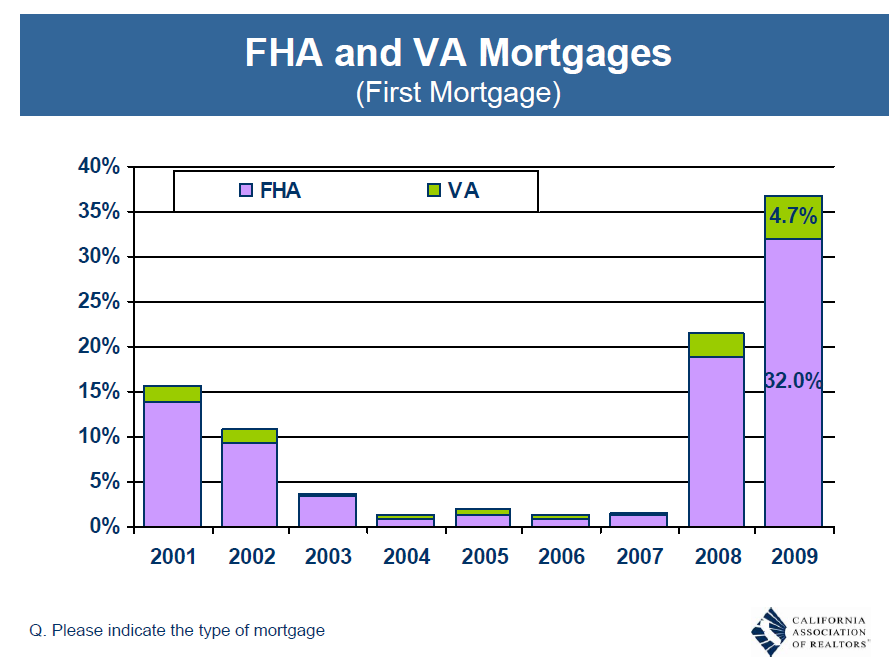 FHA insured loans are now a gigantic part of the California housing market.  And these loans resemble some of the low document loans that have caused so many problems.  Just look at the details of these loans: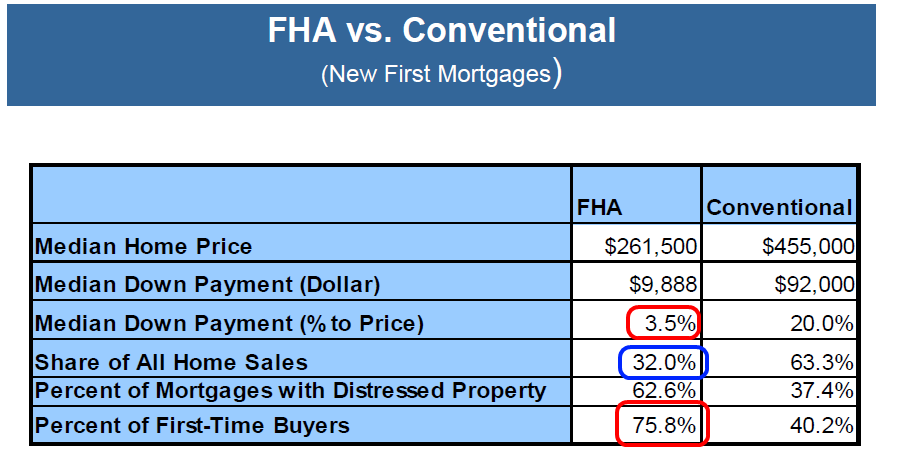 What this tells you is a very important fact.  People in California are once again over stretching.  The median down payment on a FHA insured loan is 3.5% and people are going with the minimum!  This is no buffer at all.  Say home prices fall another modest 5 percent.  Then all their equity is wiped out:
$261,500         (home price)
-$9,888             (down payment)
$251,612         (mortgage)
Home prices fall by 5%:
Home value:     $248,425
Congratulations, you are now underwater by $3,187.  This might not seem like much but this is roughly 30 percent of the initial down payment.  Since FHA insured loans now make up 32 percent of the California housing market, this is only another problem that will hit down the road if the economy doesn't improve.  And don't think that $261,500 is a cheap price: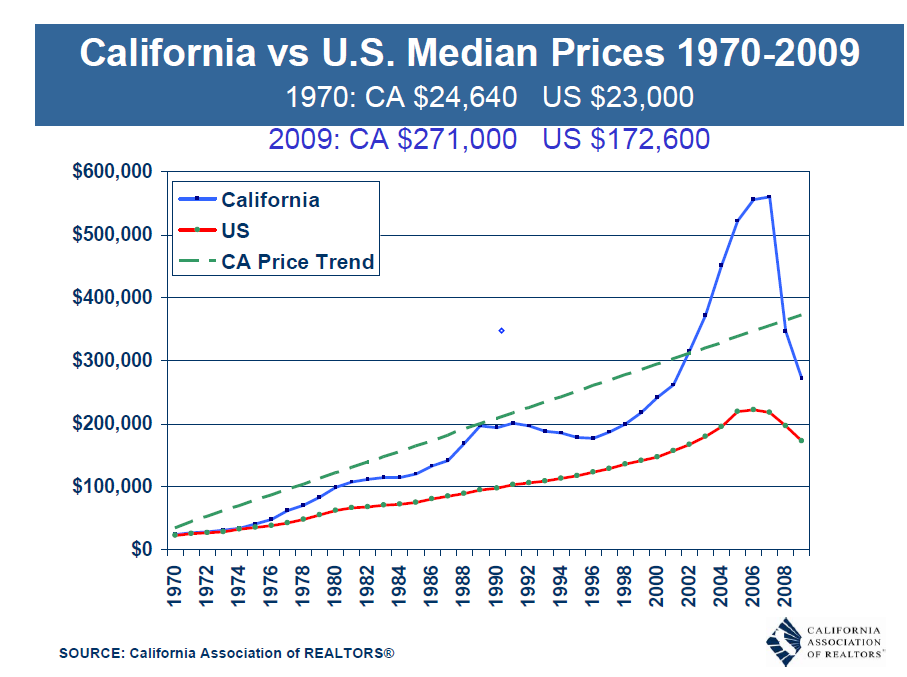 The California housing market is still over priced in many areas.  Keep in mind that some heavily distress areas like the Inland Empire may be closer to their bottom than say Orange County.  I know many in prime areas like to believe that they are immune for a variety of reasons but they are going to have to sit back.  The sales are occurring where prices make sense: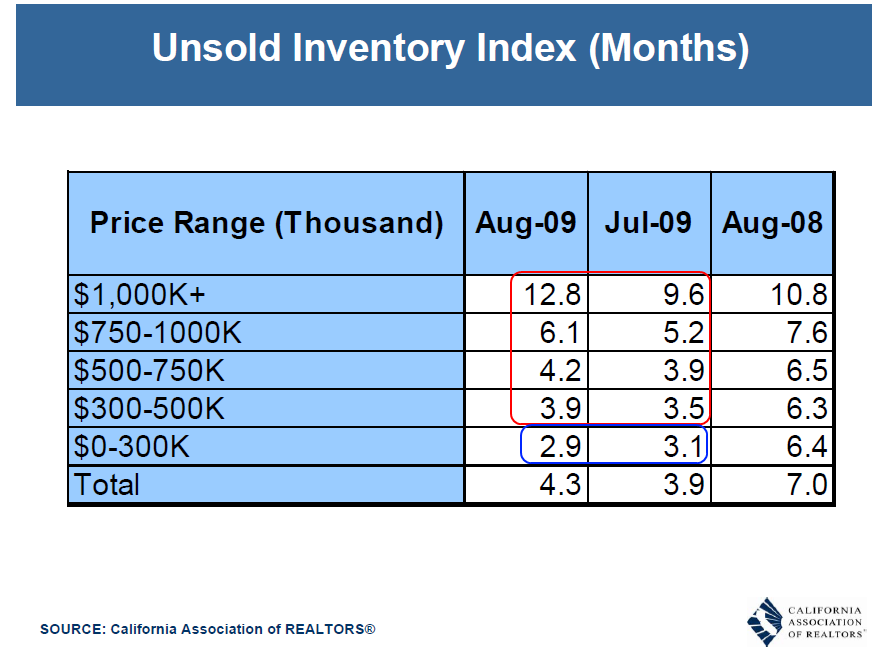 Even over the last data point, from July to August, a time where housing bulls are claming all is well, housing inventory has increased at the top end of the market.  The only market segment to improve is the sub-$300,000 market.  Do you think FHA insured loans have something to do with that?  And what is going to happen when the FHA is going to need to tighten lending standards after they go to the government for a bailout?  We all know this is going to happen.  Then what?  Are we all going to once again start buying tulips and grow them in our gardens for future down payments?
Some stats are a bit deceptive.  Take for example the below chart showing the percent of zero down buyers: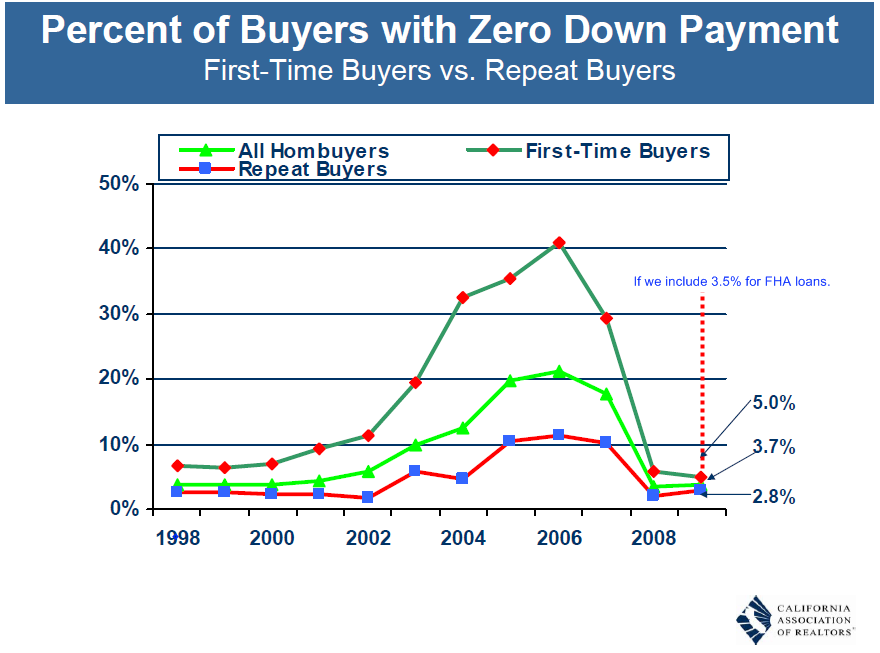 First of all, this might look like an improvement at first.  But I drew in the line of FHA buyers and the chart looks very similar.  3.5 percent down is nothing.  It provides no buffer to any short term falls.  Heck, you typically need two months worth of rent for leasing a place.  All it would take is another 5 percent decline and we have a new batch of underwater California homeowners.  Do we really need that?  The number one factor in foreclosure is negative equity and here we are setting up over 32 percent of the market in this position.  We need at a minimum, a 10 percent down payment on any government backed loans.  Why?  Because this is how you can develop a system of giving loans to people that actually saved money for one, two, or even three years and showed some sort of discipline.  It also provides an inherent buffer to short-term fluctuations.
But the government and Wall Street know that people are still broke and therefore need to allow people to purchase homes at still inflated prices.  They want the bubble to inflate again but clearly prices are not moving because the balance sheet of many Americans has been harmed by a little thing called jobs.  So much focus has been given to housing, that the government now has to contend with a 17.5 percent underemployment rate nationwide and in California, it is up to 22 percent and here we are pumping out $250,000+ mortgages to people with 3.5% down!  Most of which is going to come back via the tax credit!  Can you hear that money flushing down the toilet?
The distress sale market is still the market in California: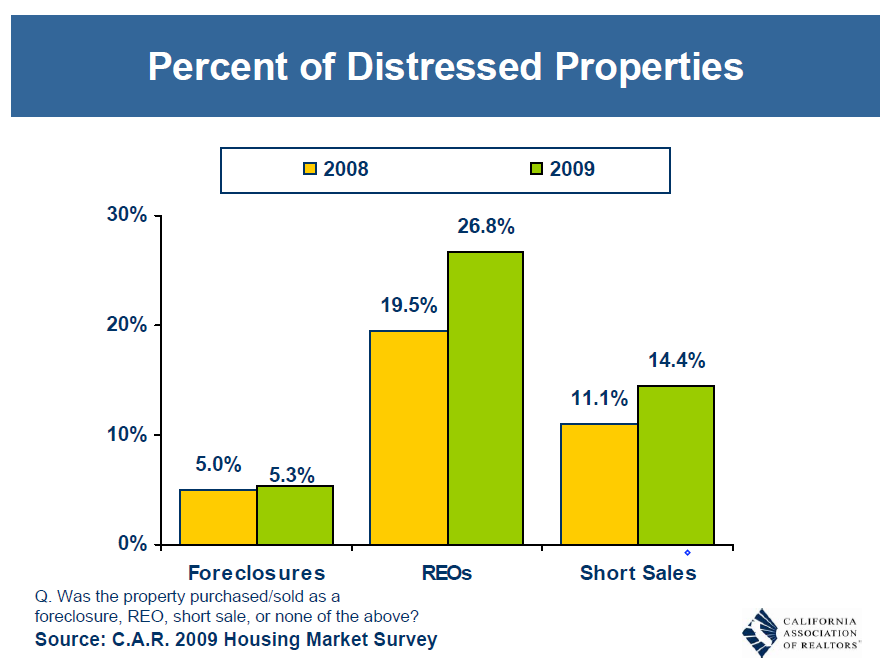 Over 46 percent of all sales in 2009 were distress sales.  This without even having to contend with the Alt-A and option ARM wave that will hit in 2010 to 2012.  What the above charts show us is a very clear picture.  To sell homes and create a market, you need to lower prices.  Or, if you want to be risky, finance loans with low down payments.  People are willing to take out a million dollar loan if you let them.  This bubble proved that.  But it also proved that it ends badly for the economy when that happens.
In some areas, the amount of distress sales is incredible: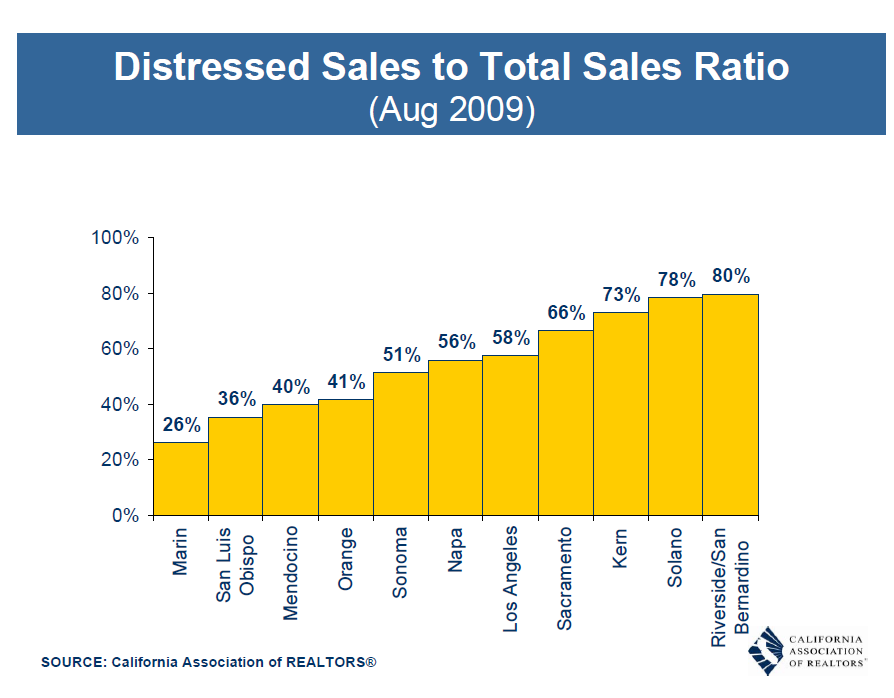 80 percent of sales in the Inland Empire were distressed sales!  Is it any wonder these areas have seen such enormous price declines?  But all areas have their large share of distress sales.  The notion that the market is now somehow healthy is false.  Each distressed sale causes a loss somewhere on the food chain: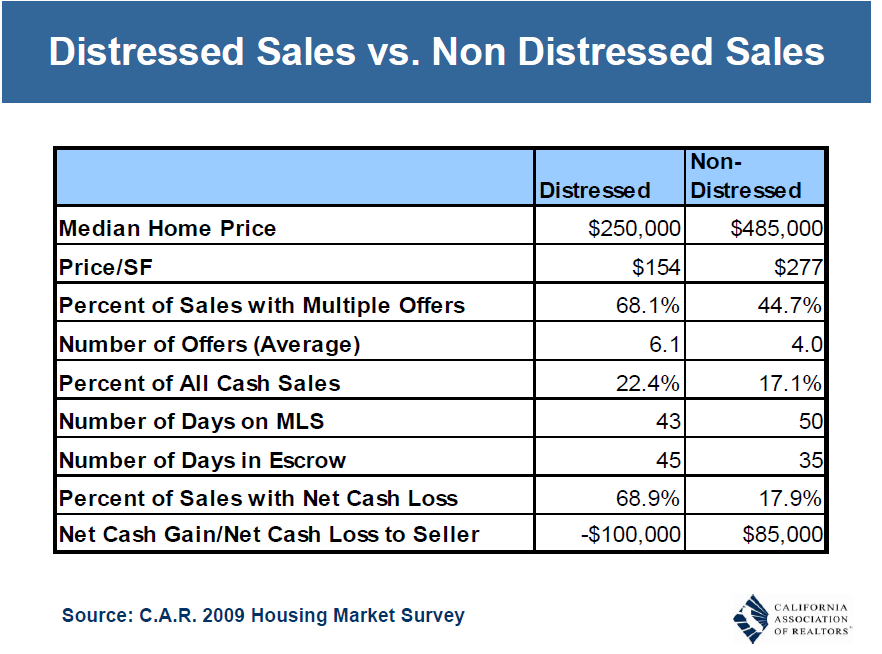 Each distress sale costs about $100,000 for the seller, whoever that may be.  For conventional home sales, sellers are actually gaining about $85,000 but this is a smaller part of the market.  Again, you have to read into the data.  Say someone in Pasadena bought a home in 2000 for $250,000, at the peak it would have sold for $700,000, and now they fetch $450,000.  On paper, they've gained some $200,000.  A nice sum indeed but it misses the bigger picture.  By combining all the above factors it becomes clear that for California the large drivers for sales have been:
-Crashing prices
-FHA insured loans
-Investors buying distress properties
-People buying homes with conventional loans believing the bottom is in
Prices are still near their trough.  Why are we to believe that a spike in prices will create more sales?  The above shows us that there is a tale of two cities in California.  Yet most of the action is happening in the lower priced city.  The next question is whether the other city lowers its price because of the next wave of defaults.
I'll end this post with another quote from TulipoMania:
"Compared to such insane wagers, tulips looked like a good investment.  Growing bulbs was a lot easier than working an eighty-hour week hammering horseshoes or working a loom, and because demand for the flowers was steadily increasing, prices, at least for the finer varieties, consistently rose.  No wonder Dutchmen thought they had chanced upon the dream of every gambler: a safe bet."
Did You Enjoy The Post? Subscribe to Dr. Housing Bubble's Blog to get updated housing commentary, analysis, and information.