I wanted to examine the current state of the Southern California real estate market from three different angles.  First, I wanted to look at changes in the distressed market inventory.  Next, we will look at trends in prices and home sales.  Finally we will look at changes in the actual MLS inventory count.  The toxic mortgages are being worked through the system.  As reluctant as banks are to recognize the reality that home prices will not come close to bubble level prices, many are now moving on inventory.  I have heard on multiple accounts from those who either buy homes as investors or work inside banks that many financial institutions are now starting to gear up on moving out their shadow inventory.  From looking at key indicators this seems to be the case.
Let us examine changes in distressed inventory over the last two months for Southern California:
Distressed market indicators

8/4/2010 to 9/25/2010

Notice of defaults filed:                                +4,518

Scheduled auctions:                       -5,315

Bank owned homes:                      +352
For many months notice of defaults steadily declined as banks held off on the foreclosure process.  But over the last two months notice of defaults have spiked by 10 percent.  Does this mean that the shadow inventory is now working its way through?  Maybe.  It is too early to tell.  Scheduled auctions have fallen and these usually track with bank owned homes.  It is safe to assume that many at this stage were either sold through short sales or were place on modifications.  Yet the fact that NODs have recently spiked tells us auctions should bounce up in the next few months.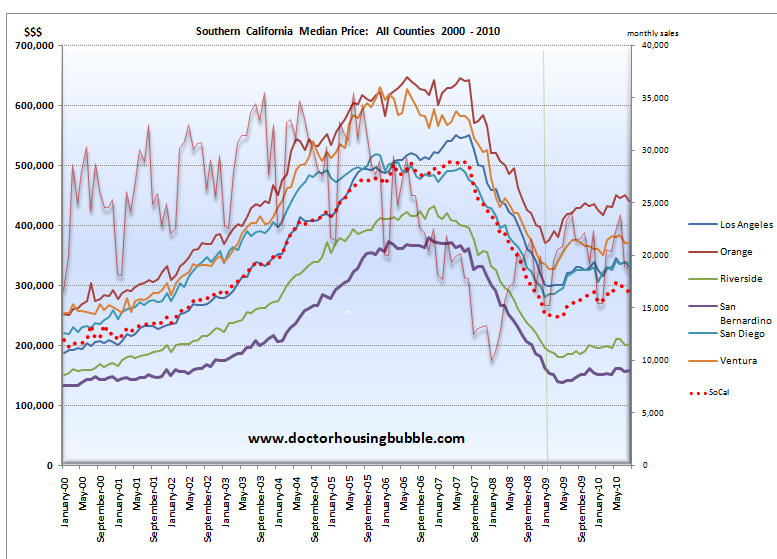 Sales trend:                        year-over-year down -13.80%

Median price trend:        year-over-year up 4.7% (down $7,000 from last month)
Median home prices in Southern California have now fallen for three consecutive months.  After reaching a median of $305,000 in May the median is now back down to $288,000 (a decline of 5.5% over three months).  The real big change is with home sales.  Year over year homes sales have fallen by approximately 14%.  If past trends are any indicators, this means prices have added pressure on the downside.

9/5/2010 to 9/25/2010

Southern California MLS inventory indicator:       +2,011
If banks are really moving on shadow inventory then it should be no surprise that MLS inventory added 2,000 homes over the last 20 days.  Most "organic sellers" do not sell in fall so it is safe to say much of this is coming from the distressed pipeline.
We'll keep an eye on these indicators since the next few months will show how much Southern California home prices will correct.

Did You Enjoy The Post? Subscribe to Dr. Housing Bubble's Blog to get updated housing commentary, analysis, and information.