America is the land of second, third, and even fourth chances.  The same applies to house lusting buyers.  The National Associate of Realtors (NAR) had some interesting data regarding potential future home buyers.   Their analysis found that between 2006 and 2014 some 9.3 million homeowners were foreclosed on, received a deed-in-lieu of foreclosure or short sold.  Bottom line, there were a boatload of people losing their homes when it was once thought to be the safest investment.  We are a forward looking species and the NAR realizes that many of these foreclosure veterans are ready to get back on the home buying bandwagon once again.  The problem of course is that most are buying inflated properties with massive mortgage leverage.  Debt with low interest rates is the elixir of choice.  So how big is this potential pipeline?
The broke homeowner makes a return
What is interesting about this housing recovery is that the NAR is actually lagging because of paltry sales volume.  The NAR would like to see high levels of sales versus this low volume churn at higher prices.  So I can understand when they run the numbers on the 9.3 million people that have scarred credit scores that somehow, they see an unlimited pool of potential "return buyers" as if this was as simple as someone getting divorced and re-married.
The NAR shows the following numbers: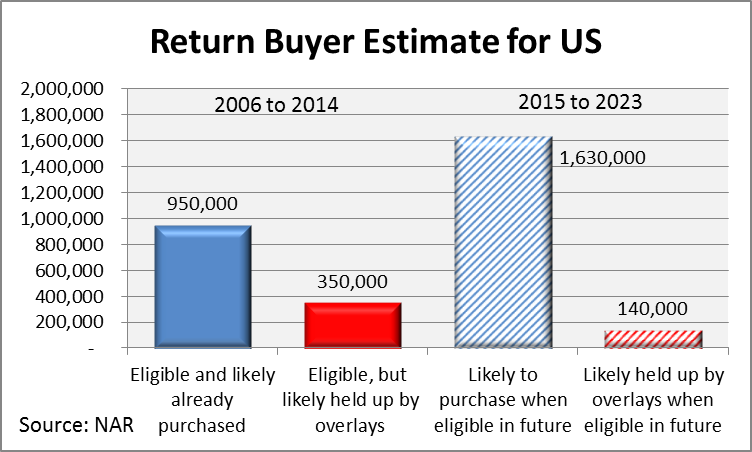 This is an interesting proposition.  I actually agree and feel many previous home buyers are itching to buy again.  The question is, do they have the income to back up current home prices without toxic mortgages?  So far, the answer is no.  You have investors, wealthy foreigners, and high income households making up the bulk of purchases.  Your typical family in high priced areas is being pushed out of the market.  The numbers appear to show something like 1.6 million potential future buyers.  That might seem like a big number but this is spread out over many years.
These numbers are pulled from looking at these overall timeframes: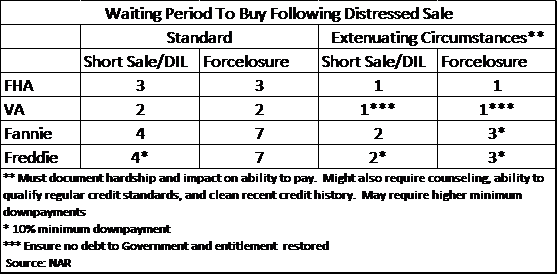 For a Fannie and Freddie backed mortgage, the waiting period is 7 years.  For a FHA insured loan it is 3 years.  For VA loans which make up a small portion of the pool, it is 2 years.  The big pool is with Fannie Freddie, and FHA insured loans.  7 years ago was go time for the mortgage crisis.  With all the home buying cheerleading and stock market joy ride, people have completely forgotten about the previous correction.  The clock has now reset.
The one thing that I think will make the NAR numbers tougher to meet is the stagnant income growth.  Keep in mind that most families that lost their homes via foreclosure were on vanilla 30 year fixed rate mortgages, not the toxic junk that imploded quickly.  People defaulted because the income dried up.  A minor recession is likely to bring this up again especially with many buying homes with pathetic down payments.
Canada is enjoying a housing bubble that puts us to shame.  It seems like the psychology of home buying fever isn't based on country alone:
"(GreaterFool) This useless social media campaign does underscore some valid points, however. First, the gap between The Few and The Most is yawning larger every day. Wealthy people in Canada (with over $2 million in investible assets, outside of real estate) make up about 1% of the population. They own stuff – businesses, financial assets and a relatively small amount of property. The rest of the people hold debt, with the bulk of their net worth in a house. It's a self-inflicted penury.

Second, the bulk of the population is crippled by financial illiteracy (thus the fetish over real estate, "At least I can see it") and riddled with mistrust. Read the comment section of this pathetic blog for a few days (have a few scotches first) and see what I mean. People don't trust banks, realtors, CEOs, immigrants with nice cars, stock markets, central banks, politicians or financial advisors."
I think the financial literacy point is critical here.  I have heard many people say that the stock market is "complicated" or "too hard to understand" yet dive into a $700,000 crap shack with a tiny down payment.  Even the infomercials are on auto-repeat on the weekends showing "average" people making tons of money in the real estate game.  "Hey, I know where Home Depot is and I can paint a wall and clean a toilet.  Where do I get my $50,000 net profit from flipping for a weekend of work?"  In high priced areas you have older home owners carrying the vast majority of their net worth in their home and now have adult children moving back home.  If you are reaching retirement age, you still need income to come from somewhere.  The good news is that you can sell to these former recovering foreclosure cases and get that juicy equity out.

Did You Enjoy The Post? Subscribe to Dr. Housing Bubble's Blog to get updated housing commentary, analysis, and information.