The blame game is now out in full force for the slow start to housing in 2014.  Nationwide, we've been hearing about the polar vortex impacting real estate.  Unfortunately it cannot be applied to California given that we've been in a full on drought.  Winter never came to SoCal.  I can't remember a year with such little rain but hey, who needs water when you can purchase a World War II Cracker Jack box for $750,000 right?  Like in most manias, the folks on the ground are the last to get the memo and many are still going out for ARMs to stretch their already impaired budgets.  In 2004 one thought that was inescapable to me was the incestuous nature of real estate that was unfolding.  That is agents, brokers, banks, builders, home owners, home buyers, Wall Street, tax collectors, and everyone tied to the machine got a mega-boost thanks to ever accelerating prices hikes.  Few thought about what happens when a reversal occurred especially since incomes were not going up.  The same has happened over the last few years in more subtle ways.  The economy is weak and a big boost has come from home prices going up.  Yet much of this is now driven by Wall Street and hedge funds.  Housing is off to a slow start in 2014 and you can't blame it on the polar vortex, especially here in a sunny and drought hit California.
A very big drop in sales
There has been a very big drop in sales in California.  This is important to note given that last year was one of the "best" in terms of year-over-year price appreciation.  Of course much of this was juiced by easy Fed money and again I must respond to this like I did in 2006 and 2007.  The Fed didn't stop the collapse of 2008 from happening (or that of the tech bust) so why the sudden assurance that QE will somehow revive the currently weak economy?  The data shows that since 2008 the big player in real estate has been the investor class using up easy money from the Fed, not your typical American family.
Of course incomes matter and good paying jobs matter.  This is why home sales are off to a very poor start this year: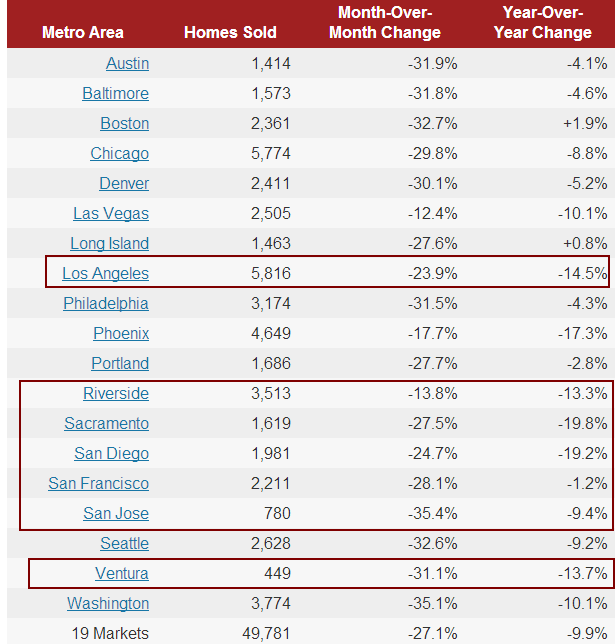 Source:  Redfin
Nationwide home sales are down 9.9 percent year-over-year.  That is a big drop given that home prices had one of their best runs ever in 2013 when it comes to prices going up.  If this run was organic, meaning actual incomes and good jobs were growing as well you would expect sales to keep pace.  However this run was based on low rates and a fully manipulated market.  Keep in mind sales were anemic so you had investors crowding out regular buyers for the little inventory on the market.  So of course you would expect this to happen.
You'll also notice that the most bubblicious areas in California have fallen even harder.  Los Angeles is down 14.5 percent, San Diego is down 19.2 percent, and Sacramento is down 19.8 percent.  Sales are leading indicators in terms of future home prices.
The media is also being more vocal about the "turn" in the market:
Sacramento Housing Demand Plummets

http://www.sacbee.com/2014/02/13/6156195/home-sales-plummet-in-january.html

"CA Notice of Defaults Rise 53 percent"

http://www.centralvalleybusinesstimes.com/stories/001/?ID=25251

Rapid home price gains make renting more attractive, study says

http://www.latimes.com/business/money/la-fi-mo-rent-or-buy-20140220,0,6388101.story#axzz2uAlxC7Ot
This merely reflects the insanity of what is going on.  Going back to the first chart, Redfin covers 19 very trendy metro areas where bubbles have boomed and busted and now boomed again (i.e., Las Vegas, Los Angeles, Phoenix, etc).  So it is interesting to see these "more expensive" markets see a big drop in sales activity but also actual buyers making offers: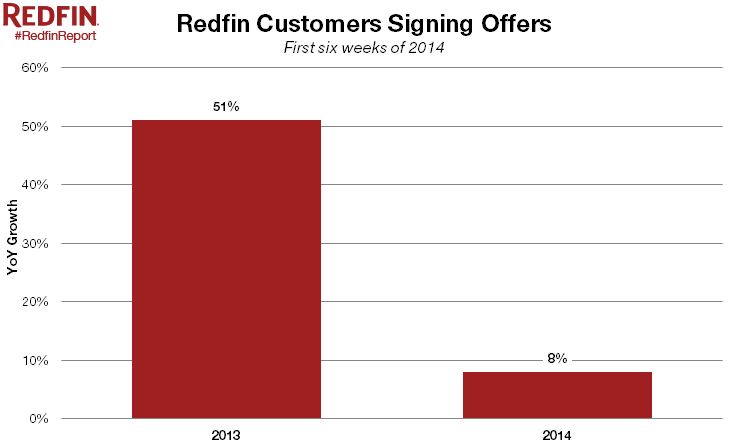 Last year, six weeks into the year something like 51 percent of Redfin customers were signing offers.  For 2014, it is down to 8 percent.  Since California is heavily represented in the 19 areas covered, you can easily see that something is turning in the market.  It definitely isn't the weather since fall and winter felt more like a massive spring.  Unfortunately sun doesn't pay the bills otherwise Arizona and Nevada would be the wealthy states in the nation.
This reversal all makes sense.  From an article above:
"The median price for a three-bedroom L.A. County house was $417,333 in the fourth quarter. The monthly house payment for such a home rose 40% compared with the fourth quarter of 2012.

To qualify to purchase such a house, a buyer would now need to make at least $95,389 annually, according to RealtyTrac. That's about $42,000 more than the median-household income and $27,000 more than the income needed to buy the median house a year earlier."
Therein is the crux of the issue.  I do agree that people merely go by the monthly payment.  But that monthly payment just got 40 percent more expensive in general.  You have banks now trying to plug the demand hole by going with ARMs and interest only products but that has done very little especially in this low inventory controlled U.S.S.R. style housing market.
As I mentioned earlier, a good part of this boom is incestuous.  The big difference this time is the easy money is focused on Wall Street and investors (the results have worked for this tiny group).  Yet we are already seeing that this trend is losing steam.  You now start hearing odd responses like "equity is real" and people living like paper gains are real in housing.  Home equity loans are back up.  By the way, you need to pay that back!  So all you are doing is releasing more debt hedged on an inflated asset.  You have to fully sell to unlock gains.  For those in a place like California, that likely means selling and leaving the state.  Golden handcuffed baby boomers would rather eat cat food in their homes before selling and relocating to the "other" states in the US.  People don't think this through.  Say you bought a $300,000 place and now it is valued at $450,000.  Okay.  You want a bigger home.  So you sell and pay the 5 to 6 percent commission.  That leaves you with $125,000 or $135,000 after all is said and done.  This can get you a $600,000 home with a 20 percent down payment.  However, your mortgage balance went up!  You still need to generate a healthy income to make that payment.  This is why incomes matter.  This is why you are seeing a tighter market for rents and first time home buyers.  I've heard this line of reason a couple of times that "home equity loans" are somehow equivalent to actual cash.  These people are conditioned on believing access to debt is access to wealth.  I can fully understand why that is the case in this basket case real estate market.
So look at the above data and income figures.  How was any of this sustainable?  Riddle me this; if your economy is built on asset inflation what happens when asset prices stall out or reverse?

Did You Enjoy The Post? Subscribe to Dr. Housing Bubble's Blog to get updated housing commentary, analysis, and information.