Los Angeles County is massive.  It is also a renting majority county.  L.A. County is the least affordable county based on price-to-income ratios.  And when things get out of control, all of a sudden every area is gentrifying and every property is one step away from being a Taj Mahal.  This summer the housing hounds have been released and all of a sudden real estate is the greatest deal in town.  Housing can do no wrong and for those priced out, you must dig deep in those wallets and make that bet!  You only live once!  Carpe diem.  No one ever regretted buying California real estate aside from all those that regretted buying California real estate.  Today we'll take a trip to Huntington Park.  According to the real estate gods, gentrification should be happening in every niche of L.A. County.
Huntington Park
What is interesting about Huntington Park is that it was incorporated back in 1906 as a streetcar suburb for workers.  To this day, about 30 percent of people living in the city work at factories in Vernon and Commerce.  If you've seen the second season of True Detective you will see the story revolves around what is Vernon.
Huntington Park has about 60,000 residents.  The median household income in Huntington Park is $36,397 and about 28.7 percent of the population lives below the poverty level.  In other words, it makes complete sense that housing prices are out of control here as well.
So let us take a look at our Real Home of Genius today: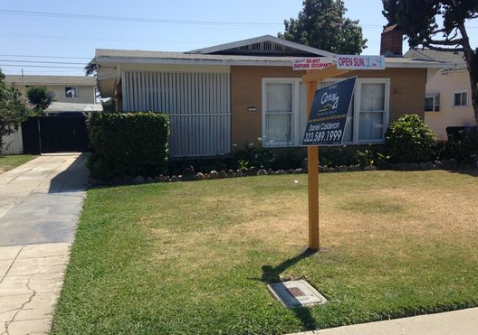 2 beds, 1 bath at 1,360 square feet
"This property won't last.

LOCATION! LOCATION! LOCATION!

Prime 'Walnut Park' 90255 Area (off Seville Ave.)

WOW!! Good size 2 bedroom home at 1,360 Sqft. with possibility of using as 3 rooms. Good size living room with fireplace & good size formal dinning room & bedrooms. Fenced backyard & big front yard. More info to come"
Thanks to all the house horny rhetoric, everything is now prime.  The ad starts out with "this property won't last" although it has been listed for 113 days.  They've also needed to cut the price recently: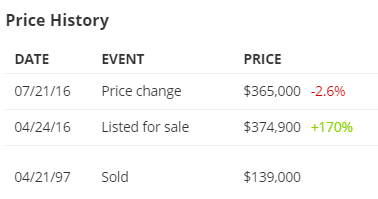 I'm not sure where they are getting the third room here?  I also love the "location" line since we know this is the first thing you learn about in HGTV marathons.
People usually email me saying "where can I find a $400,000 or $500,000 home in L.A.?"  Well here you go.  You can have this place for the low price of $365,000.
Here is another view:

Who said there were no deals to be had in prime L.A. County?  Today we salute you Huntington Park with our Real Homes of Genius Award.
Is this a deal?  Inquiring minds would like to know.

Did You Enjoy The Post? Subscribe to Dr. Housing Bubble's Blog to get updated housing commentary, analysis, and information.