The traditional home buyer is tapped out. You have a massive number of young adults living at home with very little financial means for purchasing a home. It is understandable that after a recession, people need to catch their footing before moving out and making the biggest purchase of their lives. However, something bigger is going on here. Global pools of capital are chasing assets all around the world. Investors are devouring real estate in all areas of the world from San Francisco to Vancouver. The rising unaffordability in real estate is really a larger reflection of a rise in global wealth inequality. Contrary to what some people may think, having a massive middle class similar to what exists in the US is a historical anomaly. The default position for our modern day history is one in which wealth inequality is extreme and profound. The recent argument was that as economies grew, this wealth would eventually lift the standard of living for all. There is new economic research showing that this isn't always the case especially went a rentier class emerges. In fact, this wealth gap is being fully visualized through real estate. Some analysts have been scratching their heads wondering how housing prices could go up while homeownership is actually falling. How do you have soaring home prices with household incomes dropping? The fact that investors are dominating in the housing market shows how large and powerful these big pools of money have become.
From owners to renters
The latest GDP report shows that the US economy grew by a weak 0.1 percent in Q1 of 2014. If you are in the business of deploying large pools of money, you will not be satisfied with that rate of return. The financial sector rarely had an interest in being actual property owners until the housing market imploded. As we noted cash sales from investors reached a record high in Q1 of 2014. Even for a well off couple coming up with $300,000 in cash to buy a home is going to be a far stretch let alone dishing out $750,000 or $1 million for a shack in higher paid metro areas.
A trend that is showing this major structural change is by looking at the number of renters and actual owners in the US: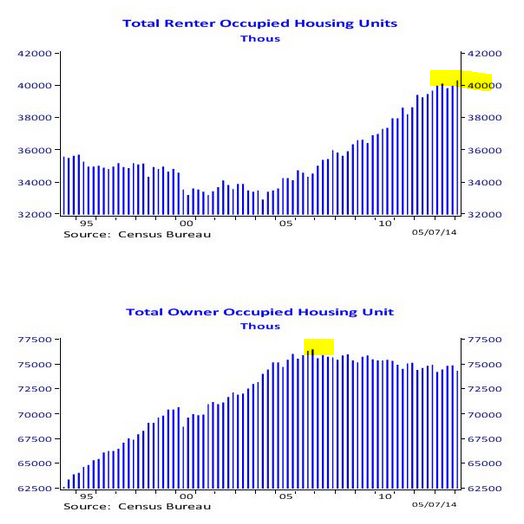 Since 2005, we have increased the number of rental households by roughly 7 million (a 21 percent increase). Interestingly enough, we have a foreclosure graveyard of 7 million over this same period. Owner occupied housing has actually fallen over this period. We are looking at close to one decade of data and we have fewer individual homeowners today than we did in 2004. But isn't the economy in a full recovery? Didn't the recession end in the summer of 2009?
Can't afford to live on your own
There is little growth in household formation: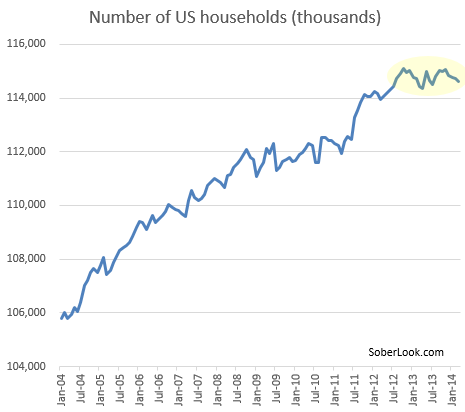 In previous recoveries, you would also see home building picking steam up but why build newer more expensive homes when the public at large is simply running faster and harder to stay in the same spot. Take a look at housing starts: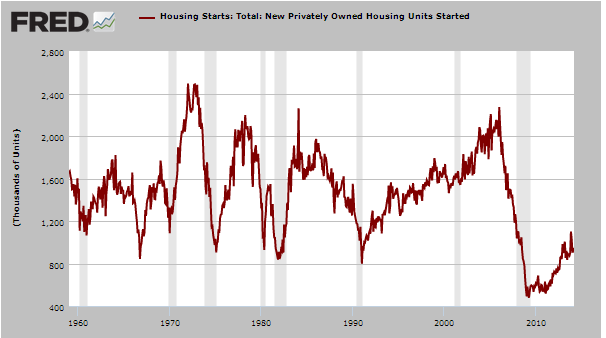 In better days, we would see more than 2 million housing starts per year. In this recovery, we've been doing our best to flirt with 1 million. As a country our population is growing but the young future home buyers, those Millennials are seeing weaker wages and many are living at home. There is also evidence that crushing levels of student debt are keeping some would-be buyers on the sidelines. Many baby boomers in more expensive areas are living in homes scraping by to pay the bills yet are watching areas globally gentrify around them. They have a million dollar ticket in their home but are unlikely to cash it in (possibly with kids moving back home or having no desire to leave the current market). That blue collar worker that bought in prime Pasadena in the 1970s and 1980s has no visible counterpart in this market. In fact, you can have a dual income family of professionals having a tough time out competing large pools of money from Wall Street to foreign buyers. Good or bad, this is simply the reflection of the growing global wealth disparity. Of course in tax happy places like California, when you have a larger and larger pool of renters seeing their standard of living decline, it is unlikely that low tax rates on a smaller pool of wealthy households will stay in place. The new buyers of today have the funds to pay higher taxes unlike the old families that bought and would be eating Purina dog chow if taxes went up one percent on their golden sarcophagus.
Housing affordability declines
The reason the market is dominated by investors is that regular buyers are cash strapped: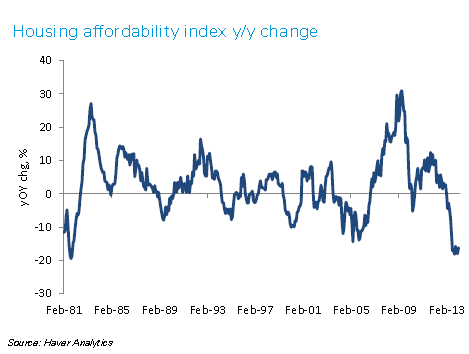 Rates going up modestly suddenly put a fork in regular home buyers last year, hence the record number of investors in Q1 of 2014. In fact, we are still bouncing at a trough of mortgage applications while cash buyers continue to dominate: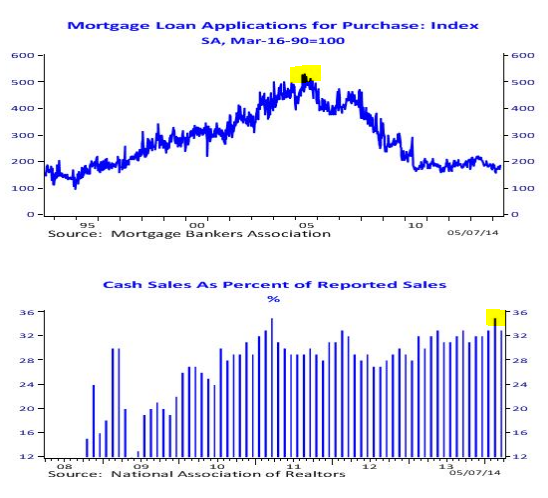 You'll notice that mortgage apps are near an all-time generational low. You'll see that back in 2008, cash sales as a percentage of all sales were closer to 12 percent (a healthier figure). Also, it is important to note that cash buyers made up over 42 percent of all sales (the data above looks at MLS sales and Realtytrac also pulls up auction sales that go off the books to larger buyers).
When we look at data like this, regular buyers are becoming a minority. Many of the "pent up demand" argument assumes first, that younger buyers have the means to buy. Second, it also assumes homes are affordable based on their income (which they are not). The global flood of capital is also based on access to leverage and easy money. Most regular Americans do not have access to this and their only means of buying is via a mortgage (with a paltry down payment). In fact, most first-time buyers put down less than 6 percent: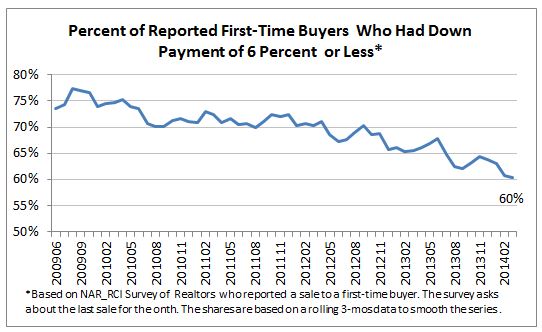 The only reason this chart has gone down is that first-time buyers have been pushed out of the market. I would imagine the first-time buyers competing today are getting assistance from parents or have the funds to actually buy a pad with a big down payment (not your typical cash strapped American).
What is troubling of course is that many of these investors are deploying capital thanks to record levels in stocks. Real estate prices are made at the margins. With this extremely low volume what happens when an inevitable correction hits? We already have data showing investors are slowly pulling back in certain markets. The stock market has had a fantastic run since early 2009.
In the end, it looks like things are reverting back to a modern day feudal real estate system. A growing rentier class and a boom in renters.

Did You Enjoy The Post? Subscribe to Dr. Housing Bubble's Blog to get updated housing commentary, analysis, and information.