The recent jobs report has every politician scrambling to do something.  Anything really.  As people start realizing that this is a legitimate crisis the ideas are now flying out from the media and every pundit within a 30-mile radius.  Nationalize.  Bad bank.  Tax credits for buying a home.  Loan modifications.  The well runs deep with ideas many that are counter to one another yet will these ideas work?  In California with our deep budget deficit, 200,000 employees did not go to work on Friday because of a state sanctioned furlough.  This is set to run until June of 2010 and occurs on the first and third Friday of each month.  The current economic situation is really no joke and many are now resurrecting the Great Depression for comparison notes.
Let us first take a look at the job loss numbers by month.  The 598,000 jobs lost in January amounts to nearly 20,000 job losses per day but is also the deepest month of cuts since the recession started in December of 2007:
Chart #1 – Previous Job Losses over 13 Months

I wanted to put 13-month timeframes above to give you a perspective at how deep these cuts are.  Certainly you have to factor in for population adjustments but clearly this recession is much deeper than 2001 and that of the early 1990s.  So far, 3.5 million jobs have been lost.  Yet the more troubling sign is the job losses in the last 4 months, that of 2.1 million.  Three more months like January and we will be at 5 million job losses and does anyone really believe we will be in recovery by May?
What is troubling regarding this recession is the speed and severity at which it is deepening.  Yet looking at previous periods, we would have to go back to the Great Depression to see job losses and the unemployment rate spike up so quickly and dramatically:
Chart #2 – Unemployment Great Depression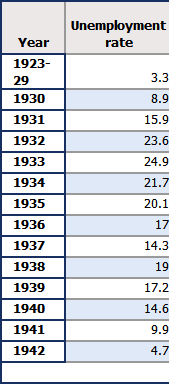 The most dramatic rise in the unemployment rate was from 1929 to 1930 when the rate went from 3.3% to 8.9%.  Yet the unemployment rate did not peak until 1933 at 24.9% and remained over 14% until 1941.  I know many people have a hard time imagining this and given our official rate of 7.6%, some may find it difficult to understand why our current situation is so deep.  Well if we look at more accurate measures of unemployment we are already at Great Depression levels:
Chart #3 – Current Unemployment Levels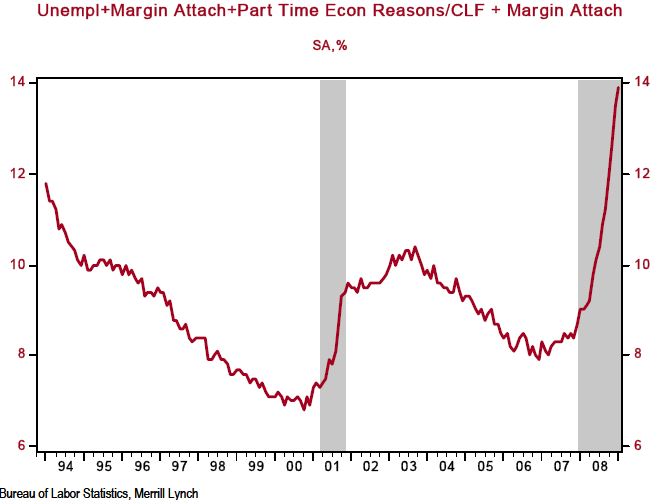 Source David Rosenberg, Merrill Lynch
The problem that we are facing is that the official unemployment rate is slated at 7.6% yet the real unemployment rate is at 13.9%, a number that can be pulled right from the Great Depression.  The only slight change from the mainstream number is those looking for full-time work but are working part-time and those who have given up looking for work are calculated in the U-6 number.  I've seen some articles now highlighting the U-6 number which gives a better perspective of how the average American feels the employment situation.
This is troubling yet falls into a thesis that this will be a recession similar to what Japan faced with its lost decade in the 1990s and arguably, is still battling.  And you may be thinking that Japan had rampant unemployment but to the contrary, there unemployment rate even at their peak was below our current unemployment rate:
Chart #4 – Japan Unemployment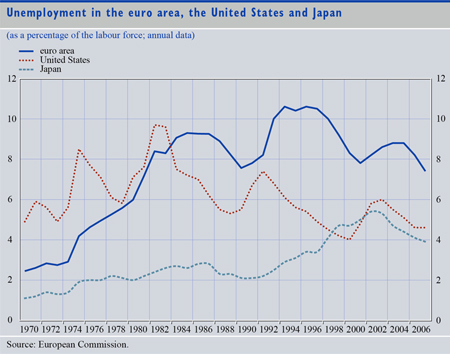 Even at the peak, Japan's unemployment rate was below 6%.  So this is promising for us if we are going to have a Japan like scenario instead of the Great Depression right?   Not necessarily.  The explosion in part-time workers is now a mainstay and makes up over 30 percent of the Japanese work force:
"(LA Times)  Over the last few years, temporary employees have gone from being a rarity in Japan to accounting for one-third of the workforce of 67 million. They enjoy far fewer protections than full-time workers — placing their necks squarely on the layoff chopping block.
By March, the government predicts, 85,000 part-timers will fall prey to haken-giri, or temporary-worker cutbacks — a relatively small number compared with U.S. layoffs but high for a nation where job security has long been a staple.
On Wednesday, embattled Prime Minister Taro Aso made the plight of part-timers a major piece of a proposed stimulus package. Aso pledged to create 1.6 million jobs, partly by turning part-time jobs into full-time ones."
You may still be thinking this scenario is impossible here in the United States.  Think again.  The BLS recently issued a report showing the incredible rise with "involuntary part-time" work:
Chart #5 – The Rise of Part-Time Work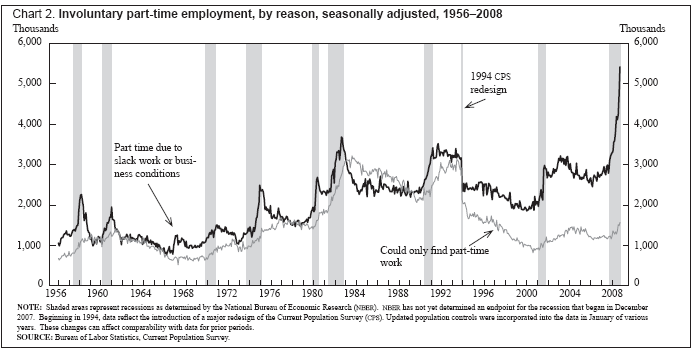 If you are wondering where the big difference from 7.6% to 13.9% is coming from with the unemployment figures, there it is.  This is a troubling trend because the perception is unemployment is not that bad when in fact it is.  What the above data is telling us is many Americans are severely underemployed yet are not showing up in the data.  This above scenario looks more similar to what Japan is facing than what we faced during the Great Depression.  Plus, part-time work during the Great Depression wasn't all that common or at least wasn't recorded in the data that accurately.  This may be for a variety of reasons including a high reliance on agriculture and manufacturing at that time.  Now, you can get a few hours at McDonalds or Burger King but does that really mean you are part of the full-time work force?  Doubt it.
Another reason this is looking more like Japan is that we are not following some patterns from the Great Depression:
Chart #6 – Fed Lending During Great Depression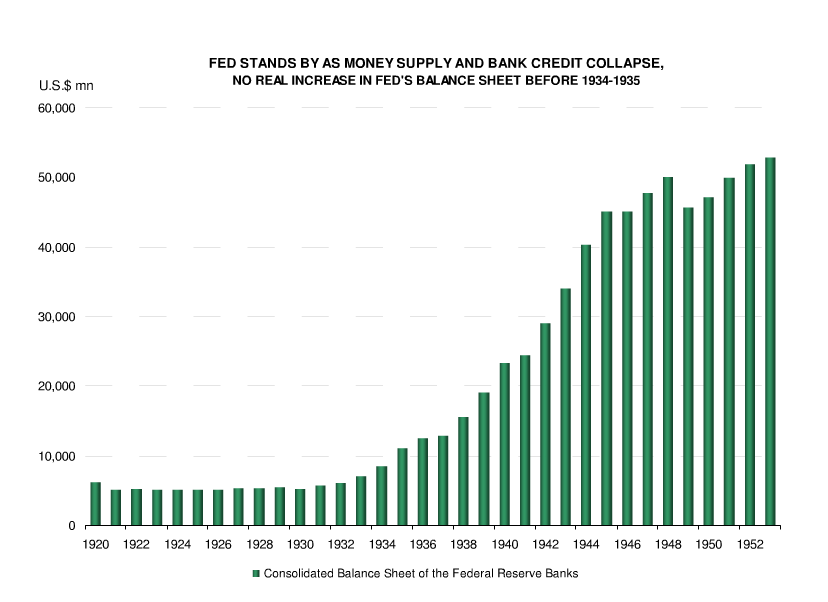 Source John Kemp Reuters
The Fed during the Great Depression was not as active as it is right now.  But just because we do the opposite of something doesn't mean it is the right thing.  Clearly we cannot say that we are following this same path with Ben Bernanke increasing the Fed balance sheet like we've never seen before:
Chart #7 – Current Fed Assets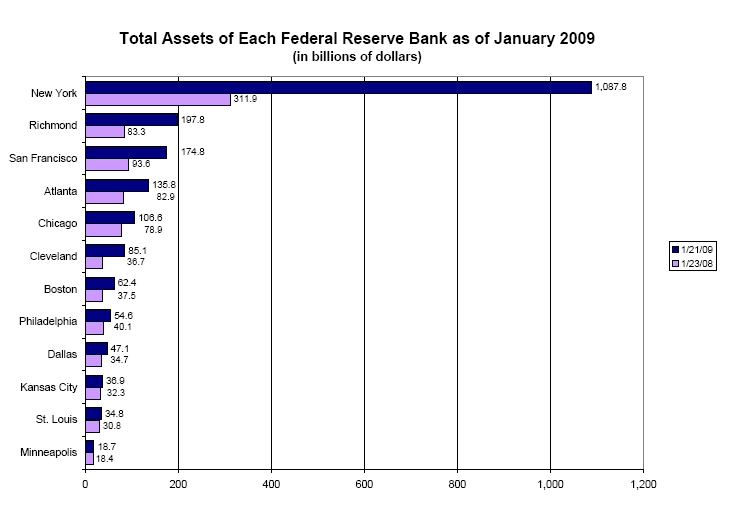 So clearly the Fed is not shy about taking on more assets onto its books.  But here is the main problem.  During the Great Depression speculation was also rampant and questionable assets were all over the map.  So these so-called assets were still going to come down one way or another because of their bubble prices.  Hence the deflationary period in wealth and money destruction.  If the Fed brought these assets to its own books, then it would have been the taxpayer who paid for it.  Ultimately, the Great Depression also occurred in a time when the entire world was facing economic calamity so it wasn't like the U.S. was the only one with problems.  So to assume that if the Fed would have borrowed more to improve the economy is simply a hypothetical.  In fact, Ben Bernanke has had his chance right now to put his thesis to work and it has failed miserably through various Term Auction Facilities, ABCP mechanisms, and in conjunction with the U.S. Treasury failed TARP.
Now you might ask, why is this now failing even though we are doing the opposite of what the Fed did in the Great Depression?  The answer is really simple.  First, the Fed is extending loans (aka, they need to be paid back) to these troubled institutions.  This is the same thing if you extended another $10,000 credit card to a family making $30,000 a year and already has $50,000 in debt.  There problem is a revenue and cash flow problem.  To think that giving loans to crony capitalist firms is the solution basically just gives us a different flavor from the Great Depression.
We've never had to confront another Great Depression but here it is.  Just because we are doing the opposite does not mean it is right or will help.  The unemployment rate is already at 13.9% and will continue to go up because guess what?  Our economy is massively dependent on consumption making up 73% or more of our GDP.  And consumers are now spending less and borrowing less:
Chart #8 – Consumers Saving More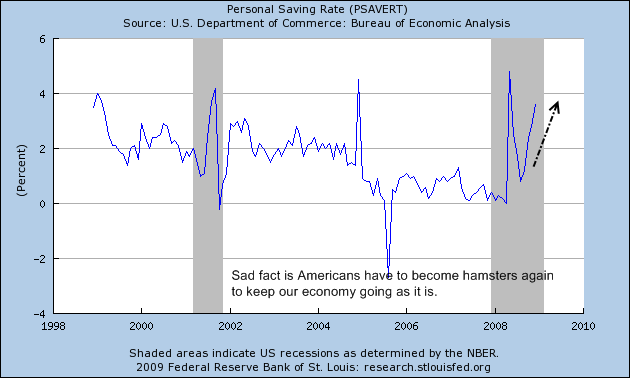 This is probably the most disturbing chart because it shows how perverse our system has gotten over these past 3 decades.  First, savings should be encouraged for Americans to repair their balance sheets but this is where the paradox of thrift rears its ugly head.  With so much of our economy dependent on consumption people need to spend to keep the current economic order moving.  The irony is we have heard ZERO about a policy that encourages savings.  Everything coming out of Wall Street and associations like the NAR is veiled attempts to get Americans to buy more cars and homes.  Like we need more of those.
The irony is consumers have stopped borrowing because they are maxed out or are losing their jobs:
Chart #9 – Americans Borrowing Less

You already know that Americans are borrowing much less through homes and cars because they simply are not buying these items.  But the above chart should be telling because revolving debt is imploding.  That is, the credit card is officially maxed out.  Unlike Wall Street Americans don't have a TARP or Term Auction Facility to exchange their SUV for a nice $30,000 check.  So this exposes the fraud of what is going on.  Americans are to believe that spending money they don't have is going to be the solution to this crisis?  That is absurd!  If that is the case, why not give $700 billion straight to American families instead of the waste that is the TARP?  In fact, let us do the math of TARP:
$700 billion
Total U.S. Households:           105,480,101
Total per household with TARP:        $6,636
Why not give $6,636 to each household?  The irony is that this would have actually helped the economy much more than TARP because many people would have spent this money.  Of course, this is money we don't have in the first place and shows the absurdity of having an economy run on pure debt with producing very little.  That is why it is important to have manufacturing as part of your economy instead of people flipping houses to one another and Wall Street being the financier of this epic bubble.  It is important to have a financial arm of course, but to the magnitude that we have is financially problematic as we are now seeing.  That is why banking after all is said and done will once again be a boring conservative industry like that after the Great Depression.
And whatever path we do take, do not expect the stock market to bounce.  Whether we have a minor depression or a Japan lost decade stocks will not come back anytime soon:
Chart #10 – Great Depression Stocks and Japan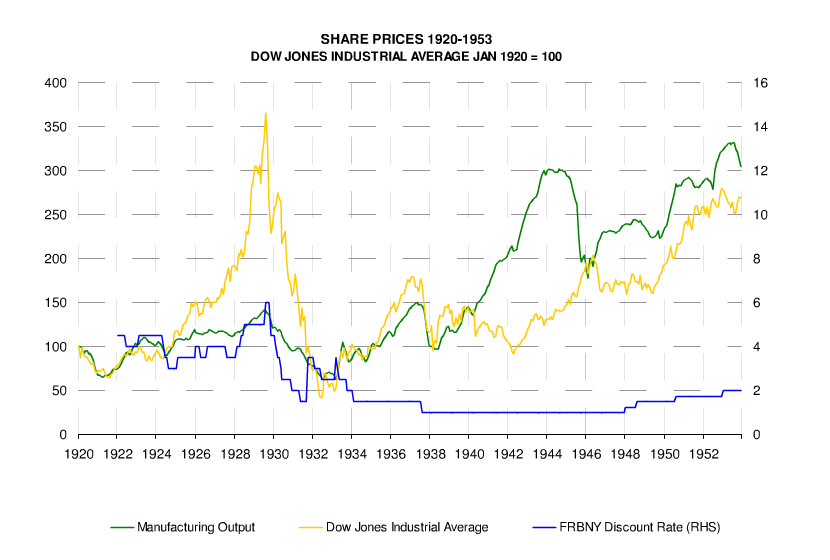 So here we have two major economic downturns that have been studied to the extreme.  Japan is at multi-decade lows and the Dow didn't see 1929 highs for nearly one-quarter of a century.  Anyone thinking that a country with $14 trillion in household debt, $11 trillion in national debt, and a world that is full of debt is really deceiving themselves to think that this will be a short and shallow recession.
Did You Enjoy The Post? Subscribe to Dr. Housing Bubble's Blog to get updated housing commentary, analysis, and information.