The real estate business will never be the same because the rules of engagement have now been altered by the collapsing economy.  I made this argument many years ago and faced a strong amount of resistance.  My argument was that real estate agents and lenders/brokers are overpaid while Wall Street assumed the role of head money cartel funding the dealers while the Fed actually grew the homegrown credit.  The entire system was corrupt to the core and these pillars all caused the housing bubble; the users, the pushers, the credit, and the Wall Street delusion.  I stand by that claim and I think most Americans are seeing through the crap the real estate industry complex has been shoveling.  In fact, on a recent NPR show they had a former Countrywide employee actually saying something to the effect of, "hey, we didn't force people to sign."  These people were delusional and much of our problems stem from this incestuous rewarding of financial deviants for juggling a decade long bezzle.
There is enough blame to go around but the magnitude of blame for certain groups is certainly not equal.  I hold some of these "so-called" professionals to a higher standard because they are professionals (supposedly).  If you asked your cousin Johnny to operate on your foot and it gets massively infected with gangrene that is your fault.  But if you go to a medical doctor and the same thing happens, there is a certain shared responsibility at this point.  The same thing happened with real estate agents and lenders.  You were better off doing your own thing than listening to these people but many people fell for the suit and tie theatre and actually believed that most of these people knew what they were talking about.  They clearly didn't.  The National Association of Realtors used to have an "anti-bubble" page which miraculously is no longer up.  Since the link is now inactive, thankfully another blogger over at Bubble Meter was smart enough to copy and paste some of the text back in November of 2005.  Let us look at some of their sage advice shall we?
"Has there ever been a national housing price bubble?
No, not since good recordkeeping began in 1968. There was a national decline in the 1930s during the Great Depression; however, home prices were not a prime concern in that era. The greatest issues were essentials such as food, clothing, employment and shelter of any kind. Declining home prices were a natural result of a general economic collapse caused by the stock market crash in 1929."
Bwahahaha!  Home prices were of little concern during the Great Depression?  That's news to me.  Pass me the housing crack pipe please.  What they fail to mention is that there were many regional housing bubbles in our history including a 1920s Florida housing boom and bust.  Plus these blind mice were unable to see the biggest housing bubble while they were standing in it at the apex!  And incredibly, this was the first ever national housing bubble that just burst and the National Association of Realtors flat out missed the biggest economic event of our lifetime and it had a nucleus in their industry, housing.  Talk about missing the boat.  This almost reads like a poorly written comedic piece:
"Should we be concerned that home prices are rising faster than family income?
No. There are three components to housing affordability: home prices, income, and financing costs – the latter are historically low. During the last four-and-a-half years of record home sales, there has been a shortage of homes available for sale. As a result, home prices during this period have risen faster than family income. However, in much of the 1980s and 1990s, the reverse was true – incomes rose faster than home prices. On a national basis, according to the Housing Affordability Index published by the National Association of Realtors, a median income family who purchases a median-priced existing home is spending a little over 20 percent of gross income for the mortgage principal and interest payment. In the early 1990s, a typical mortgage payment was in the low 20s as a percent of income, and in the early 1980s it was as high as 36 percent. Overall housing affordability remains favorable in historic terms."
Excellent point oh mighty NAR!  Keep in mind with the value of hindsight, this statement was made at the pinnacle of the housing bubble.  Since they used their own data to state the above, you have to wonder what that says about them?  In fact, I just imagine a group of mortgage flunkies coming up with the toxic pay option ARM because of trying to keep that monthly affordability index low.  Options ARMs were nothing more than the music to keep the Ponzi scheme going a little further.  I'll give you one other piece of juicy information before moving on to the meat of this article:
"What are the prospects of a housing bubble?
There is virtually no risk of a national housing price bubble, based on the fundamental demand for housing and predictable economic factors. It is possible for local bubbles to surface under the right circumstances, but that also is unlikely in the current environment. There are tight supplies of homes available for sale in most of the country, and labor markets have been improving. In other words, the two conditions necessary for price softness do not exist in most of the country. The strong underlying demand for homes results from the simple fact that the population is growing faster than the supply of homes. In addition, it is highly unlikely that the cost of construction will decline. In fact, construction material shortages are expected to continue and the cost of building and development is trending up. Baby boomers remain in their peak earning years. Echo boomers – the children of the baby boom generation – are just entering the period of life in which people typically buy their first home. The echo boom is the second largest generation in U.S. history. Considering the median age of a first-time buyer is 32, echo-boomers will be a big factor over the next decade. In addition, immigration has been strong for many years. Census data shows that immigrants eventually achieve homeownership rates higher than do native born Americans – this also will be a strong factor in housing demand in the future. Also, minority ownership rates have been trending up. All this means the demand for housing is historically high and is one of the reasons 2005 will be the fifth consecutive year of record home sales. Even in an economic downturn, the demand remains."
Bwahahahaha!  Discredited!  How many times can you be wrong in one paragraph?  Anyways, it is pretty clear why that "anti-bubble" Q & A page was taken down.  Yet I would even agree that certain organizations have artificially inflated prices higher.  These are the same groups that have stated that they wanted to help homeowners buy homes.  Yet with the caveat that they still get their cut.  Nothing sickens me more than this and Wall Street of course is the most guilty where you had the architects of these toxic products still receiving bonuses for creating a situation that has put our country in the biggest economic peril since the Great Depression.  Just look at what is happening with banks asking for a measly 10 percent down with a 30-year fixed mortgage.
The fact we are debating bonuses is absurd.  If we had any sense we need to raid their accounts and take back every damn cent they made and throw them in prison.  If you robbed a bank and got away with $50,000 you'd probably be in jail for many decades.  On Wall Street you can rob the taxpayer of billions and not only do you get rewarded, you get to walk away with a minor verbal lashing but a gorgeous golden parachute.  Pathetic.
Why is the 6 Percent Commission Finished?
I think many will now agree that those in the financial and real estate industry were over paid for what they did.  In fact, I would suggest that they shouldn't make a damn cent because the products they were pushing were toxic and self-serving in only making them a nice commission or bonus.  It was a pointless spectacle of greed and little did these people care about the sustainability of our nation's economy.  If there is a silver lining here is the snake oil salesmen are being exposed for what they truly are.  Titans of industry?  Please.  Nothing highlighted this disdain for actual work when we saw how Congress bashed and shamed the auto industry while Hank Paulson was giving TARP money to his crony capitalist in the banking industry with no major oversight.  At that point, we knew exactly what our leaders thought about those that work with their hands.
Back to the NAR, they are now pushing for legislation that would actually make housing prices more expensive:
"Late last year, NAR presented Congress with its core principles for stabilizing the housing market to launch an economic recovery. In the current legislation, NAR strongly supports the provisions to reinstate the 2008 FHA, Fannie Mae and Freddie Mac loan limit increases through 2009. NAR also strongly supports eliminating the repayment requirement on the first-time home buyer tax credit. "This is critical to stimulating home sales and shrinking the housing inventory, which will in turn help stabilize home values," McMillan said.
Although Realtors® support these provisions, a number of enhancements are needed to make them more effective. In a letter sent to Congress earlier this week, NAR encouraged Congress to make the loan limit increases permanent so that secure, affordable, safe financing is available for American families regardless of where they live. NAR is also pressing to expand the tax credit to all home buyers and extend the expiration date to December 31, 2009."
Did you get that?  The NAR is actually pushing to make permanent loan limit increases in the face of a national implosion of home prices.  And by the way, the most important thing in buying a home is affordability!  The loan limit increase is a wet perverse dream of these people since they are tunnel vision focused on only the 6 percent cut of a larger loan.  Why would you be wanting higher loan limits when unemployment is soaring, wages are being cut, and hours are falling?  This in fact will raise prices or at least keep them higher.  If you truly believe in a "free-market" what is currently going on is a washing out of years of a corrupt and broken system.  The most important variable in home prices is your income (wages from your job) in a healthy housing market.  Of course the NAR is only concerned about people buying homes even if they don't have a job to service the mortgage.  What do they care?  These loans can be shoveled off on Fannie Mae and Freddie Mac which are now nationalized which means we are on the hook for them.  But they'll get that 6% cut and that is what truly matters.
Yet the internet has redeemed my faith in people from going off the cynic's cliff.  For the first time this year more people get their information from the internet than from newspapers:
And that is why mainstream sources of media are cutting back and seeing ad revenues fall off a cliff.  Guess what?  They are competing against thousands of independent contractors that are experts in very niche markets.  For example, why would you trust a journalist who by default has to cover hundreds of stories when you can have an expert on basketball, football, California housing, Wall Street, commodities, economics, farming, or any other niche tell you even more detailed information?  Many bloggers don't have the filter since we are not representing anyone aside from our passion to write and get the information out.  And it is a labor of love for most but this above chart tells me that people are now much more savvy in where they get their information.  With the NAR Q&A from 2005, is there any doubt?  On the whole, the media was like a reed in the wind.  A few outsiders were screaming but it was merely background noise.  Yet the media is still missing the game.  They cry foul regarding a few million in yes, horrible programs but you tell me when have they ranted about the trillions being swindled by the Federal Reserve?  That is the biggest damn story and they still don't cover it!  The only time I saw this on mainstream TV addressed was in the Republican debates when Ron Paul talked about it but he was marginalized. 

Now that people are suspicious, the entire idea of the 6% commission is going to collapse in a few years.  It already is but the entire model is going to change.  I know many want to believe that this won't happen but it will.  Trends change.  If you are not part of the trend of course you are going to fight to keep the system from changing even if it hurts home buyers and sellers more than it helps.  Here are a few reasons why this is over:
(a)  Zillow – Zillow has come an amazingly long way since it was launched on February 8, 2006.  It was funny that in the early days, many old school real estate folk thought that this was much to do about nothing.  Zillow provides tons of information regarding homes across the entire United States.  You are able to see previous sales and in 2007, Zillow teamed up with Mircrosoft to provide Bird's Eye View a feature in Zillow.  The database has 70 million homes.
Now why is this tool useful?  First, in the past a buyer had no easy way to see the previous sale price of a home without going to the county clerk's office.  Now, all it takes is a few seconds.  It was always to the advantage of realtors to hide this number because with recent appraisals, this was a method of doing a comp check and you basically took the 3 most recent sales and went from there.  To call this scientific is to make a mountain out of a mole hill.  You can see how information is power.  Now, people have the ability to look at a home price and many bought at the peak so a buyer is now more reluctant to buy because they have seen in action that yes, real estate does fall and sometimes spectacularly.
Now you don't need a degree to learn how to do a comp.  I talked about this long ago and you should read the article if you are interested but here is a quick method.  Pick a few random homes around the home you are looking at.  Take a look at previous sales prices.  Get square footage averages.  Factor in the S&P Case-Shiller drops for the MSA.  Factor that in and bam!  You now have a good estimate of the current market value.  Send 6% commission to Dr. Housing Bubble, thanks.
And the paperwork is absurd.  You want us to believe that they were looking out for buyers?  The fact that the market is imploding should tell you something.  If we standardize the forms and make it transparent, there is no need for complicated forms.  If anything, an entrepreneur real estate lawyer can create an online form for a flat fee and make beacoup dough.  The forms are complicated for the nice commission.  If we are now for change let us change the damn forms.
(b)  Redfin and ZipReatly – many sites are popping up with discount agents.  These are fantastic because they introduce true competition into the marketplace.  The NAR has artificially caused prices to stay even higher and their recent press-release of pushing for permanent loan cap increases is only self-serving and in the worst interest of future buyers.  Sellers are also hurt because you have a smaller pool of buyers because of these restrictions.  Prices need to hit equilibrium levels and although you think your Real Home of Genius is worth $500,000, you're probably only going to get $250,000 in the market.
These new sites are what Travelocity, Expedia, and Priceline are to the travel agent industry a few years ago.  Now really, is it that hard to find a home and price it?  Come on!  When I got my real estate license earlier in the decade I studied while watching my favorite TV show and working out at the same time (calculus it was not).  In fact, having Zillow and these other sites is really all you need to make an informed and smart decision.  I see brokers and agents as nothing more than a car salesman.  Nothing wrong with the profession but they are massively over paid; and look how that is going for the auto industry as well.
I know many in the industry will try to argue that the commission is split between an agent and their broker.  Usually 60/40 for newcomers but the ratios can be different.  Even with that, let us look at a $500,000 home in California:
$500,000 x 6% = $30,000
$15,000 bucks for a few hours of work is insane.  And yes, I realize that you found the buyer or seller but so what?  Some people make $15,000 a year and you're telling me finding a shack to sell is "worth" $15,000?  Please.  That is why the market is issuing its final verdict.  And good riddance.  I am happy to see this collapse in California because so many young professionals, singles and couples, and prudent Americans are looking to buy a home and the only way they were able to do so is by committing financial suicide.  If you really care about "affordability" how about we give $10,000 of that $15,000 to cut down the cost for the buyer?  We have as much luck with that as Paris Hilton becoming a medical doctor.
The Market is Changing for the Better
But there are some better changes in the marketplace.  NAR membership is declining from the peak reached in October of 2006:


From the peak, membership has fallen by 218,000 according to the above monthly data sheet released by the NAR.  That is a significant drop and represents a decline of 16%.  So without a doubt, there is a trend happening here.
Every once in awhile I come across a fantastic internet nugget.  Sometimes these articles/blogs/links are buried from years ago because no one really seemed to care about them during the time.  Today's find was a report submitted to the Federal Trade Commission/U.S. Department of Justice back in November of 2005.  Keep in mind this was posted at the same time the NAR came out with their anti-bubble piece.  The report was submitted by David Barry discussing competition policy and the real estate industry.  An absolute fascinating read but I'll break down important points in the document:
Let us first look at the breakdown of pay for agents: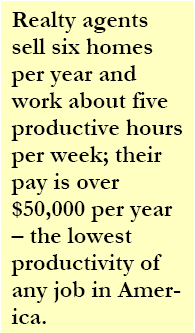 Wow.  To say that this group has the "lowest productivity of any job in America" is pretty strong.  The author actually states that the real estate brokerage profession "should be ashamed of its dismal performance" and this was at the height of the bubble.  1.1 million agents in America come out averaging 6 home sales per year.  They work about 40 hours per sales which amounts to 12% of the work year or five hours per week.  And you wonder why I had such a frustration at the skewering of the auto industry from Wall Street and lenders.  Hypocrites.  At least these people put in their 40 hours.
Some people are telling me "this doom and gloom is tough, tell me what industries are hiring" so I'll give you a few:
(a)  Some reports state that the Internal Revenue Service issued a "shocking call" for "hundreds of new IRS officers, reflecting the need for more government cash.  Here is the site.  If you are laid off from the financial industry and have a good head on your shoulders, here you go.  Starting wages are at $45,000 and go up but hey, those six-figure jobs were bubble jobs anyways.
(b)  The SEC is now hiring as well and will be thanks to the massive corruption.
(c)  Bankruptcy lawyer, restructuring specialist, loan "modders", engineers, health care professionals, and other fields are still hiring.
But back to the topic, the paper is pretty damning and hopefully now that we are going with public floggings, the NAR should be up on the block as well.  Let us look at NAR membership over time: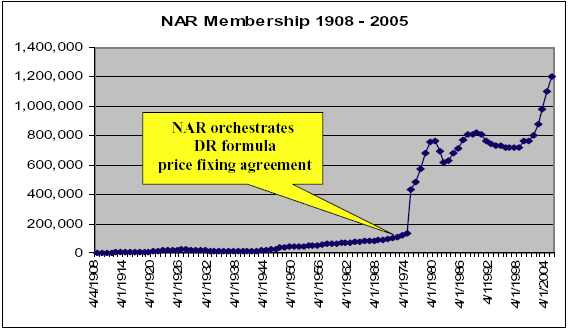 The author goes on to say the following:
"On Nov. 15, 1972, NAR orchestrated a price fixing conspiracy between all Realtor associations at its national convention in Honolulu. This price fixing agreement – still active – is engraved into the bylaws of all 1,453 Realtor associations. The agreement, called the DR formula works as follows: a broker decides to join the local Realtors association. She will be told that dues are $427 a year for each agent, and she'll be called the Designated Realtor (the DR). Under the DR formula, she will be billed for all agents in her office. If there are ten including her, she'll be billed $4,270 – ten times the amount for a single agent. If she protests that only she wants to join the Realtors association, they will tell her, sorry, but that's the DR formula – that Designated Realtors are charged for every agent in the office. Brokers always pass on Realtor association dues to their agents.
Before the DR price fix, NAR sold memberships to 31% of real estate agents; within a single year it shot to 95%. I accuse NAR of the crime of price fixing and urge public prosecutors to commence criminal proceedings against NAR and its affiliated Realtor associations."
Now that is a pretty strong statement.  Without a doubt however, membership in the NAR did spike up in the early 1970s.  Now having membership is important but what most do not know is that when you sign with an agent, you actually sign a non-solicitation rule.  It should actually be called a non-competition rule.  For example, if I have a car and I'm selling it for $30,000 and you find a similar car for $22,000, why shouldn't you be able to break rank at the last minute?  Sure I'll be miffed but that is my fault for not being competitive.  This is not the case in the real estate industry.  Say you sign on with an agent and find one that is willing to work for 2% instead of 6%.  Why shouldn't you be able to move along?  That is the nature of competition in a free market system.  Either way, I know the argument from the real estate industry but it matters very little, the fact that membership is declining and with new technologies it is a dinosaur of an industry and has actually weakened our economic prosperity in the world marketplace.  Really, do you think flipping houses to one another is the pinnacle of success?  It was the height of our folly giving the corrupt crony capitalistic Wall Street the spoils of our nation.  Now we must pay the price.  It is time to punish these industries.  The people saying we shouldn't look back are those that stand to have dirt under their rugs and crud in their nails.
Much of the power comes from the MLS or the Multiple Listing Service.  The reason they protect this so much is because they realize this is the last thing they have protecting them.  See, even if I wanted to go out there and build a plane, I wouldn't be able to do so because I am not an aerospace engineer.  And neither can you without the proper training.  Buying and selling a home?  If you have been a reader long enough on Dr. Housing Bubble you already know the process and you have learned this for free, no previous experience required.  That is the difference.  The MLS isn't such a big deal anymore since places like Zillow make it irrelevant since sellers can now go around the service if they like.  Zillow now has sufficient traffic to justify this.  Yet the MLS in 2005 still had power over some regions: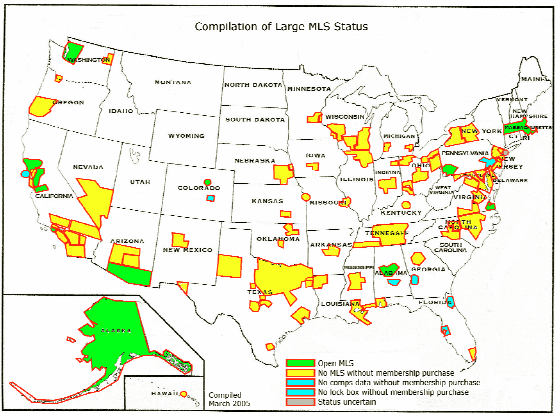 Look at Southern California.  No MLS without membership purchase.  Sure did our market well!  You'll love this picture from the Great Depression of a Ripley's Believe it or Not cartoon: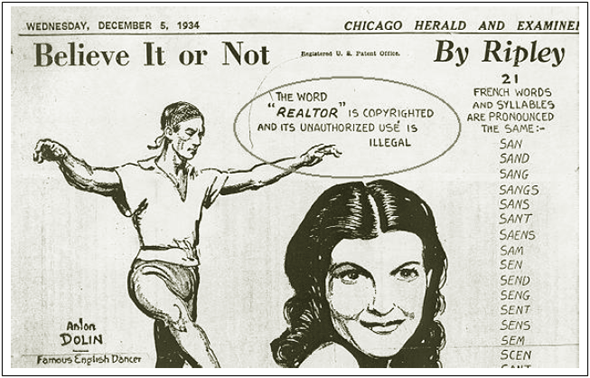 Do we copyright the word doctor, lawyer, engineer, chemist, or musician?  You would have to be pretty insecure to copyright your job title.  Do you really need any other reasons why the 6% commission is gone and rightfully so?
Did You Enjoy The Post? Subscribe to Dr. Housing Bubble's Blog to get updated housing commentary, analysis, and information.