Student loans will keep a lid on how high housing prices will recover once the economy does settle down.  It is amazing to think that currently $1 trillion in student loans still need to be paid and the amount of student debt is only growing.  The question of higher education worth always comes up during recessions.  Yet the one thing that pundits miss, just like they missed with the housing bubble this last time around, is that we have an enormous market of subprime college players eating up a large portion of government backed loans.  Of course these toxic outlets usually grab headlines once bubbles burst but you also have students going to top quality institutions that routinely charge $50,000 a year or more.  This is similar to what was seen in the housing market.  No one is disputing that a home in a nice area is valuable but to go into massive debt without really thinking about the underlying value is financially disastrous.  Millions of Americans are in massive debt or are preparing to go into massive debt to pursue a college degree.  How will this impact future home buyers as more and more people carry debt loads that amount to a pseudo-mortgage even before buying a home?
Only category of debt sizably growing is with student loans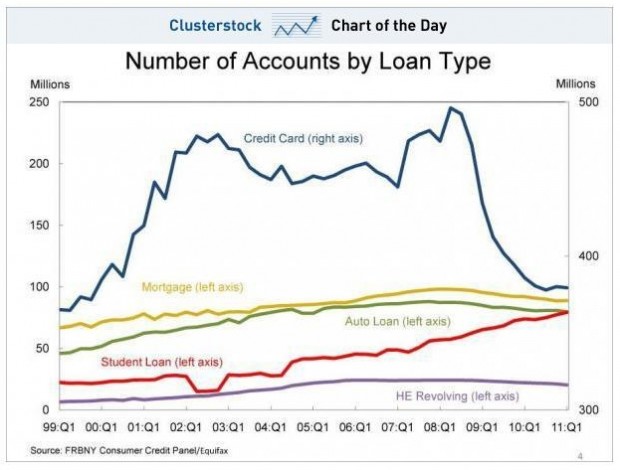 The above chart examined data from the Federal Reserve and what is clearly displayed is the steady growth of student debt accounts.  From the data in the chart, it now looks like there are as many student loan accounts as there are auto loan accounts.  At this current rate it is likely that we will see more student loan accounts than actual active mortgages.  Part of the massive growth in college attendance is coming from the for-profit institutions.  Take a look at this stunning chart: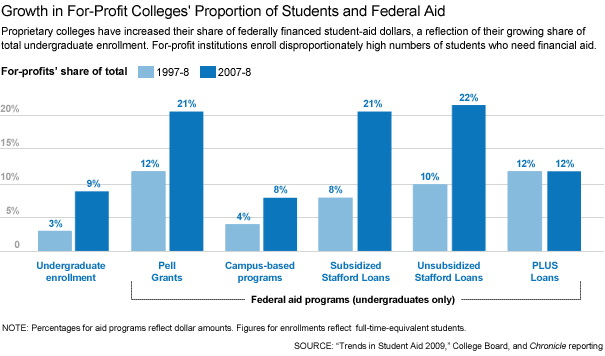 Source:  The Chronicle of Higher Education
In 1997-98 for-profit institutions made up 3 percent of total undergraduate enrollment.  In 2007-08 they made up 9 percent.  What is more troubling is their oversized reliance on government backed loans to fund their enterprise.  For example, for-profits eat up 21 percent of all Pell Grants when they only enroll 9 percent of students.  These institutions also eat up 21 percent and 22 percent of subsidized and unsubsidized Stafford Loans.  It would be one thing if these institutions were showing solid results in the real world but they are not.  The only results appear in the profits of those running these institutions.  Default rates are atrocious for these institutions.  Career placement is a joke for the most part.  Yet so much money is being funneled here because it is easy profits and the current environment is like a Wild West show.  Just like in housing, the banks dictate government policy.  Just look at some of these institutions:

While the stock market and economy went south over the last ten years, stocks for the for-profit colleges soared.  Finding a parallel to the housing market, this is the subprime market of education and there are billions of dollars that are being made.  The argument goes that many of these students need these schools, loans, and grants because they come from lower income areas.  Sounds like a familiar argument.  Sure, it is nice to get people into homes but how many of those people kept their houses once the bubble popped?  Not many.  The mortgage brokers never cared about the people they suckered in aside from the commission they were going to churn.  Wall Street didn't care since they were hedged to win no matter what including siphoning off taxpayer bailouts.  These for-profit schools use large amounts of their budgets to target these areas and slam students into these government backed loans and who really cares if the person even gets a job later on or even learns anything.  It is appalling because there is lack of oversight and no accountability.  These schools only survive because of government backing.  Hey, if they want to lend their own money then go for it.  I doubt they would and the results pretty much sum up the story.  At least when it comes to the for-profit sector of college, this is definitely one giant bubble.
College employment for the class of 2010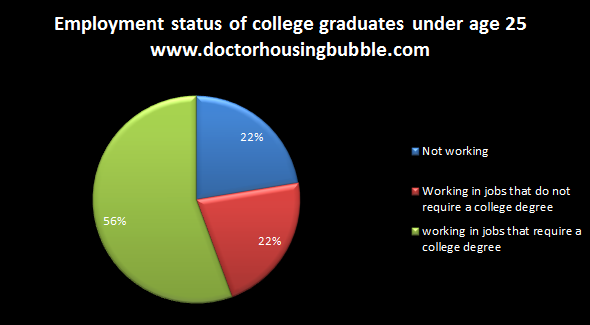 Source:  John J. Heldrich Center for Workforce Development at Rutgers University
The above chart looked at the placement data for the class of 2010.  What is troubling is the large amount of students working in fields that really don't utilize their degree.  22 percent are simply not working which is disturbing.  But then you have another 22 percent that are working in jobs that really don't require a college education.  Keep in mind this is data looking at college graduates.  You can imagine how dismal the data is for those without a college degree.  As we now know, the prospects of earning good money in manufacturing are now becoming more limited.  So an education in a specific field is necessary at least going to provide some skills beyond the basic.  Fields like engineering, accounting, and healthcare seem to have solid prospects but require specialized and long-term training.  No going overnight to a crash course and being able to become a mortgage broker making six-figures. Those days are done.  So why would people go into debt for tens and even hundreds of thousands of dollars if the degree will not produce solid career results?  It is one thing to have a basket weaving degree with no debt but another thing when you go into massive debt for it.  I get the "knowledge" argument but nothing is stopping folks from going to their local library and reading the greatest books of all time (it also won't cost you thousands of dollars).
Let me be absolutely clear.  I really do believe in people getting a college education.  I also believe that owning a home is a smart thing.  But there are major caveats to both of these.  First, you have to measure the worth and value versus how much debt you will take on.  Both of the previous decisions can be problematic if people over pay.  There is a mythology around both of these sectors.  I call this the "priceless" mentality.  For example, some people will say, "good schools, setting roots, and having a place to call our own is priceless" so they justify ridiculous loan amounts for this belief.  The same applies to a college education.  Many in the public get fooled thinking that all colleges are created the same.  They are not.  A degree from a top 100 institution is not the same as one from the other 3,000+ colleges out there.  Bubbles create massive price dislocations and we are definitely in one when it comes to higher education.
Student loan debt hamper future buying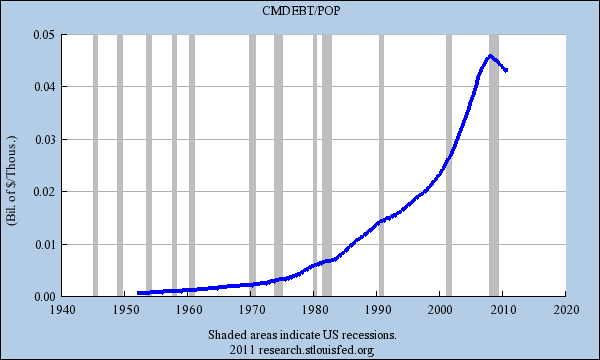 I wanted to get a sense of how much debt has increased on a population adjusted level.  The above chart is merely dividing total household debt by the U.S. population.  As you can see, the amount per population unit has grown steadily up until this recession hit.  Yet as we have shown previously the only sector seeing massive growth in terms of debt is with student loans: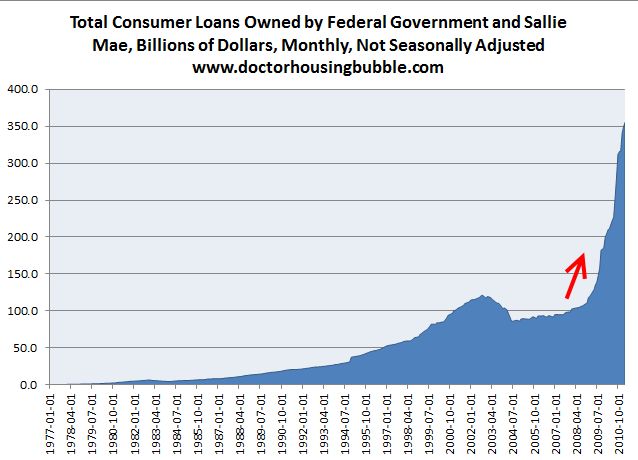 The above chart simply looks at the Sallie Mae portion owned by the Federal government.  I know some argued back in the early 1990s recession about the higher education bubble but there is no comparison in terms of debt size now and the for-profit system was merely a tiny player back then.  $1 trillion is nearly 10 percent of our annual GDP!  This is unprecedented.  Show me another country where people take on student loans to the tune of 10 percent of their GDP.
As things move forward with debt bubbles, you realize that there is only so much debt that can be taken on.  This debt ceiling bread and circus was one of those.  Now think about what just occurred; they were arguing about putting a cap on money they already spent!  The U.S. government was trying to strategically default on their debt for a while.  This is like buying a mansion on the ocean and then not wanting to meet your obligations.  Whatever you think of the decision, this was money that was already spent.  We need to be cautious because the student loan market is definitely in a bubble.  Once Wall Street banks see a window for profit, they will exploit it and use the government as the insurance policy.  Just like those who denied the housing bubble for years, you will have those equating all colleges as being worthy of getting government backed loans.  They will argue that sure a degree is worth $50,000 a year in any field.  I completely disagree.  From one bubble to another.  However as things stand today student loan debt sticks with you no matter what so no strategic defaults on student loans.

Did You Enjoy The Post? Subscribe to Dr. Housing Bubble's Blog to get updated housing commentary, analysis, and information.