Whenever we see an analysis of the benefits of buying a home there is always this underlying assumption that you will stay put in the same residence for a long duration. Of course, most people in places like California hop on and off the property ladder game multiple times. Repeat sales continually cut into equity gains and also cause buyers to experience new costs as they move into a new place. The assumption also is that you will always be selling into a rising market. That is not the case. Timing matters in a boom and bust market like California. We are seeing more homes being de-listed as sellers wait until next year as if a hidden trove of buyers will emerge ready to buy their crap shack at a hefty price. The market has suddenly softened. We also see many listing having price reductions which was nearly unheard of in 2013. Today we'll examine Pasadena but also the underlying mentality that people somehow stay put for long durations in properties.
Smaller spaces with big costs
Pasadena has many homes built during the 1920s with HGTV upgrades. People love these kind of cosmetic touches and during booms, buyers eat this up. As markets get tighter, the pool of buyers dwindles as many realize that they may be buying at a high premium. Buyers in solid positions are questioning current prices on homes. Since these buyers are tentative, there is now talk about bringing less credit worthy buyers to get the game going again. That is yet to be seen.
Many of the homes on the market are currently listed at near peak prices, even getting close to what they were during the manic days of 2005 to 2007. Take a look at this place in Pasadena: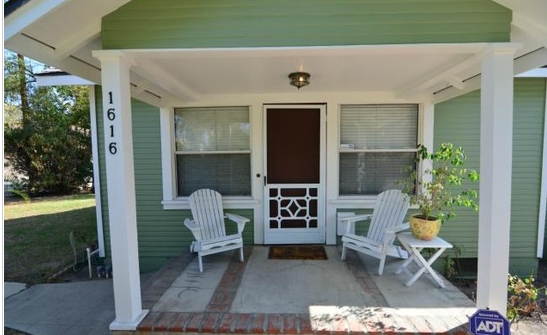 1616 Corson St Pasadena, CA 91106
2 beds, 1 bath, 780 square feet
This place is very small. Built in 1924 you will want to make sure major items like plumbing, roofs, and structure are up to par. I shook my head when I saw people waiving contingencies last year just so they could get their bid accepted on some of these crap shacks. This home at 780 square feet is small. The inside does have your typical cosmetic upgrades: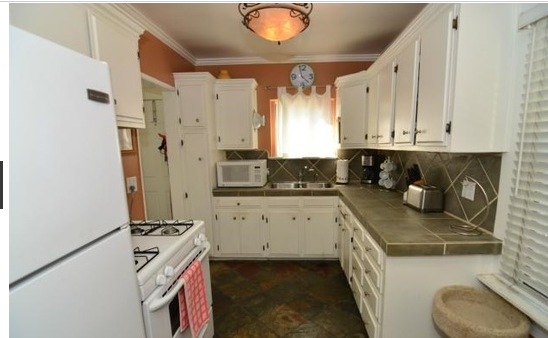 The place is listed at $450,000. I'm sure a working couple would view this as a "starter home" as they expand their family. It certainly will be cramped for two people and very cramped for three. If you think people view this home as a stay put kind of place, just look at recent sales history: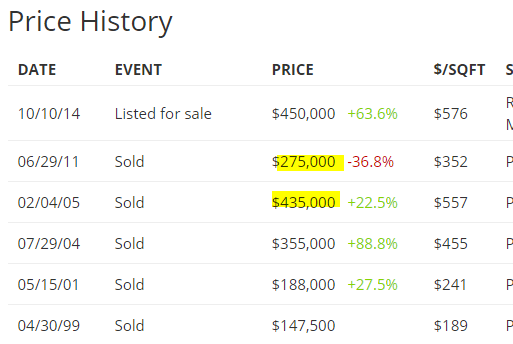 In the last 15 years this place has sold five times (six if it sells again this time). The biggest sucker here was the buyer in 2005. Paying $435,000 in 2005 only to see it go for $275,000 in 2011. In other words, people can lose big in California real estate although the current meme is that prices never go down. The current $450,000 list price is the highest ever for this place. Those that bought in 2011 have a lot of wiggle room and will certainly make a profit. The Zestimate has this place pegged at $397,596.
We are certainly seeing more delusion hit the market but also, there is a dwindling amount of distressed properties hitting the market: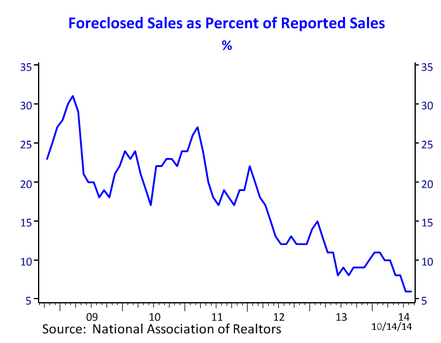 I think this is an interesting short-term impact of pushing prices higher. What you may be seeing are people choosing to sell because things are better versus say a bank that ultimately wants to unload a property especially in a hot market (many of the great deals in the 2008 to 2010 went via auctions or bulk sales to investors so the general public never really got in on the best offers). People buy into the hype and suddenly think their home is "worth" what a previous owner sold their place for.
Take this place for example. What caused this place to rise $175,000 in three years (roughly $58,000 per year or what a typical family in California makes per year?). How is that justified? Of course you will hear that real estate is simply worth what someone else is willing to pay. Sure. We can agree on that. But this goes both ways and many people are not willing to pay current prices. Then we get the argument that prices always go up and you can see even in this one example, prices don't always go up and this is very clear when you look at the 7,000,000 completed foreclosures since 2005.
So for these kind of homes, who is the target audience? A young professional couple is not going to stay put here long-term. So is this a starter home? If so, they are hoping that price appreciation will happen fast enough that they will be out shortly. Again, this home sold five times in 15 years (meaning people stayed put on average for only three years here!). After factoring in sales commission, you will need the market to go up by 6 percent to break even (twice the rate of headline inflation). Factor opportunity costs via renting and investing and you realize that you need to stay here longer to make a good amount of equity worth your time to property ladder into a bigger home (of course you can see that with booms and busts, you either make out big or lose big).

Did You Enjoy The Post? Subscribe to Dr. Housing Bubble's Blog to get updated housing commentary, analysis, and information.