The U.S. housing market did not benefit from any sunny summer bounce.  What makes this even more troubling is the glaring reality that mortgage rates are at all-time record lows courtesy of The Ben Bernank.  The Federal Reserve has run out of options in the Whac-A-Mole system of bailouts because you can't print your way into prosperity or somehow magically increase home prices by snapping your fingers.  The big banks have done well and have survived this deep financial impact by simply stealing from the taxpayers.  A simple yet effective strategy.  They don't call it stealing and would rather label it "bailout" to calm the delicate sensibility of the mainstream watching audience.  I rarely watch the morning news but when did it become necessary to have a Jersey Shore edge to it?  Everything is about 5-minute money/makeup/bathroom makeovers and trying to solve complex economic problems has become as trivial as eating carbs or not.  People get worked up about their favorite coffee chain upping prices but many seem oblivious to the trillions of dollars given to the banking sector.  And guess what?  The bailouts have done absolutely nothing in regards to improving the housing situation.  Why?  Because the economy still stinks and incomes have gone stagnant for well over a decade.  Not only has income stalled like an old car, but the cost of food, education, and energy all has gone up.  Every gimmick that is offered up is simply a banking and political ploy with little regard to the deeper problems in our economy.  The deeper problem is the government, both parties in particular, are deeply captured by the financial interests in this country and those interests don't align with the success of the majority.
If you build it, they won't come
A good leading indicator of a future hidden demand in housing will come from new private housing starts.  These are folks that typically know the business and will build only if they expect demand to pick-up: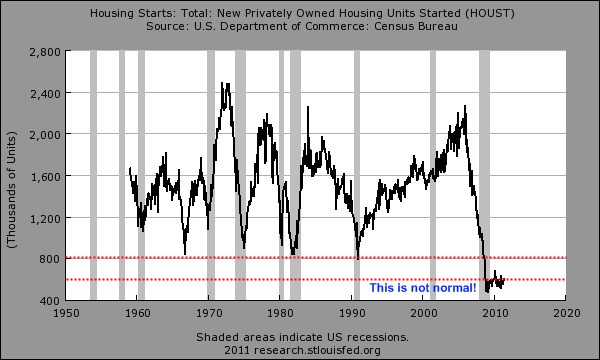 Don't worry if you don't have a Ph.D. in Economics because the above chart is dismal.  Housing starts have never been this low and we have data going back to the 1950s!  Keep in mind the population is much bigger as well but with 6,000,000+ homes lingering in the shadow inventory why would people demand new more expensive homes?  The demand is for low priced foreclosures (where there is demand).  You also may have a new kind of demand coming from younger professionals unwilling (or unable) to pay for very expensive homes in prime areas and would rather choose to live in more luxury apartments or scaled down condos closer to their urban jobs.  In this difficult economy mobility is key and the McMansion dream was built on cheap fossil fuels but also a large manufacturing base: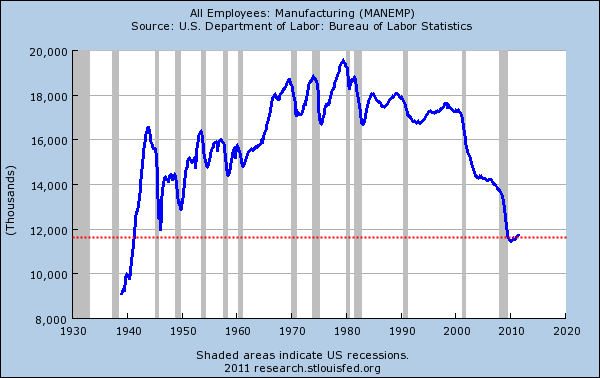 The U.S. is still the largest manufacturer in the world but what they don't tell you is that this is based on output.  In other words, you may have robots doing the job of 1,000 people with 10 highly skilled engineers powering the machinery.  Good for the bottom line but doesn't really help the person looking to have the white picket fence.
I also hear an argument that somehow immigrants are going to sop up the excess demand in the housing market.  This is absolutely not the case.  Although the population will grow it certainly won't come at a level to purchase the entire overpriced inventory sitting out there.  A commenter "greg" addressed this issue:
"Ron, that's not true. In 2009 (the last year of data), 1,130,818 people obtained legal resident status in the U.S. The average number of legal residents admitted over the last 10 years of data is 1,029,943, or about 47% less than your 1.5 million figure. In fact, the only years in which 1.5 million or more people legally immigrated into the U.S. were 1990 and 1991. (Source: 2009 Yearbook of Immigration Statistics). Even invading two countries and creating two huge populations of refugees over the past decade couldn't pump up that number.

And, not all the immigrants are single. So you can't assume 1 million immigrants are going to buy houses. The average family size in the U.S. is 3.19, so you'd better likely divide the pool of homeowners by about 3. So now you're down to about 350,000 potential homebuyers. Also, over time, only about 1/2 of legal immigrant heads of households are college educated, so divide again: or 175,000. Considering that the average homeownership rate in the US is say, 65%, make it about 113,750 homebuying households. That group would be able to absorb the 6,000,000 vacant homes in about 52 years.

Oh, and your statement that "that 30,000,000 people that we will add in the next decade have to live somewhere" is substantially true, but they could just be living on the streets or in a van by the river."
I think the last point is probably the most key.  If you have a large increase in immigrants the demand is likely to be heavy on the lower more affordable end of housing (aka apartments, multi-units, etc) and a very small sliver of that will be for higher end homes.  The people that make these pipe dream assertions usually have very little data to back up their pedantic and dogmatic beliefs but again, the evidence is rather clear and the trend is obvious.  We have anecdotal evidence of foreigners buying high priced real estate but this argument occurred as well when Japan was booming in the 1980s.
With that said, let us talk about legislation like Prop 13 here in California.  So many people have this backward and a commenter "Edvard" brought up some key points here:
On Prop 13
"Prop 13 wasn't passed to save lil' old ladies from losing their homes. At least that's what it was touted as, but the truth is that it was more for corporate real estate and the windfall benefit they would get from passing such a law.

The reason I dislike the law is because it was passed in an unintelligent way. It was passed universally- meaning EVERYONE was placed under its umbrella. Why was this wrong? As mentioned before, this law has been repeatedly touted as the law that saved old people from losing their homes. In almost all other states residents of a certain age get their taxes lowered or frozen on their properties- the idea of course being that retired people have limited incomes. This works in the approximately 48 other states that do so. But in California the law was passed for ALL residents. Instead it should have been passed only for those that it was touted as being for- elderly residents.

This in turn basically created a single generation of homeowners whom enjoyed windfall appreciation and had to pay no more in taxes as a result. This in turn meant hardly any pressure for them to sell or downsize. But this also mean out-of-control appreciation and less and less ability for later generations to purchase.

But let's look at another state for comparison. TX has some fairly high property taxes. But that said, prices are still within reason. Why? Because there is a penalty for appreciation and this in turn tends to put a tamper on rampant, out of control appreciation. This means prices stay more inline with real incomes because the tax bill will always be due and the more those prices go up, the more the owner has to pay. This works out nicely as a sort of check and balance system. This sort of situation doesn't exist in California. Instead there are zero consequences to the owner if their values go up. But buyers on the other hand have to stomach that additional cost in the form of ridiculous home prices."
This is absolutely right.  As usual, the real crime is hidden behind some marketing PR piece.  If you wanted to protect "little old ladies" and retirees from eating dog chow in old age, we could have written the legislation much more intelligently and capped rates at a certain point.  Instead, you have this lottery given to those who bought way in the past and effectively gives a giant subsidy to buy.  The only problem is you have younger professionals either choosing to move or over paying for some basic home.
Not only is subsidizing housing retroactively an issue, but it largely protects commercial real estate that has little to do with residential housing.  Is it any wonder why California has such historical run-ups and busts?  The unfortunate situation is you have brainwashed people voting for causes that actually hurt their bottom line because they are wedded to the "team" concept of politics.  Think about it, does it really make sense for someone that bought in 1970 to somehow get a subsidy to own while new buyers in the same exact area have to pay full market rate taxes to compensate?  This is why in California you have an odd phenomenon where you have really old homeowners living with a mix of young professionals in places like Culver City or Pasadena.  Many would never be able to purchase in their neighborhood again and the new households are stretched to the hill with debt.  What a toxic imbalance and the more troubling aspect is how commercial real estate can be offloaded to other family members, corporations, or connected entities and the tax rate goes with it.
I find it amazing that those who usually champion this also enjoy the amenities of California yet don't want to pay for it and obviously those that bought in the past enjoy this subsidy.  Make no mistake, someone is paying here.  Clearly younger professionals looking to buy don't understand this but this is another item that has inflated home prices in the state.  But guess what?  The budget is so bad that the third rail is now being discussed:
"(Bloomberg) It's time to address the unfairness inherent in a system that allows Wall Street hedge-fund managers to devise complex real-estate investment trusts that give the super-rich a free pass on taxes every ordinary homeowner in California has to pay," Villaraigosa said in a speech at the Sacramento Press Club. "Let's apply, as an idea, Proposition 13's protections to homeowners and homeowners alone."
I'm sure they can figure out a way to fix 1978 legislation to protect old retirees while not subsidizing others through these loopholes.  You'll find out that this issue is more than protecting gramdma and more of an old political mantra.
New family home sales and mortgage rates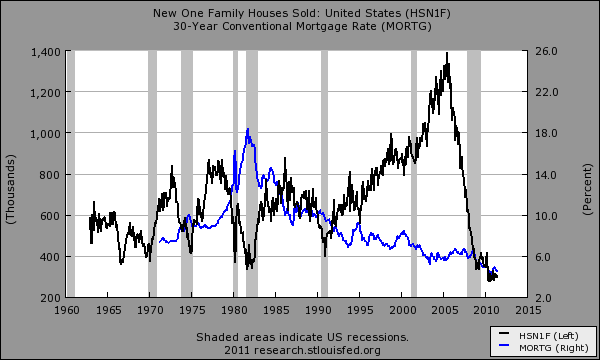 This is an amazing chart because mortgage rates are at historical lows yet new home sales are also at historic lows.  Again, the demand is for lower priced homes and we have enough inventory in the shadow inventory to last us years.  Incomes are stagnant and households are confronting a darker future when it comes to prosperity.  Lost decades like those experienced in Japan are very likely.  Instead of confronting these issues head on we have ideas being thrown around about carpet refinancing for people and turning over homes into rental properties from the current administration.  Why not let the market dictate those prices and save yourself those trillions of dollars to truly revamp the corrupt financial system?  We have seen in areas like Arizona to Florida that if prices get low enough, investors and buyers will jump in.  Yet the goal is to protect the banks at the expense of the public.  From the banks to the government why is there no trillion dollar focus on jobs?  Look, if you are funneling money into the QE inferno don't you think it would be better spent at least on building bridges, schools, and roads?  At least you'll put some of these construction workers back to work: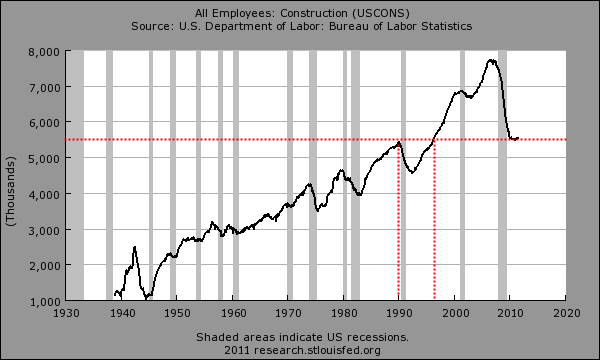 Then again, the government/banking system is only looking to unload the toxic waste to taxpayers so don't interrupt their failing momentum.

Did You Enjoy The Post? Subscribe to Dr. Housing Bubble's Blog to get updated housing commentary, analysis, and information.