It should be rather obvious that many communities in California are still in mega-bubbles.  Old habits are hard to change and we have a large group of people force fed on the bubble decade real estate religion that somehow, their niche market is blessed with certain inalienable rights that give it an advantage.  With this advantage they are entitled to a high price even if the global economy is crumbling like stale bread.  A large part of this is simply because of the lack of mathematical analysis conducted in these markets and wishful Hollywood twinkle in the eye inspired thinking.  It should be obvious that homes are overpriced in many markets like Santa Monica or Culver City.  The large shadow inventory and slowly declining prices is simply a symptom of this reality.  The challenge in dispelling these myths is that you have a deeply entrenched belief in a system and these things rarely go away easily (i.e., people believed the world was flat even when evidence came out because you have to understand the evidence before you can accept it).  So today I wanted to dig up a city where the bulk of properties are owner-occupied and carry mortgages.  The city we will look at today is Calabasas.
Calabasas – Where 78 percent of housing is owner occupied
The problem when stating the obvious that much of Los Angeles County is in a bubble, we usually get the retort that most people rent so we can't use median household income metrics to derive a ratio.  On the surface this is true since 51.4 percent of units in Los Angeles County are renter occupied.  And it should also be obvious that renters for the most part will have lower incomes because it is skewed by people that are barely getting by or are unable to purchase a home.  In the last decade, this was papered over with Alt-A, option ARMs, and subprime loan products so falling incomes had little to do with qualifying for a mortgage.  So when we look at county income data, we are simply getting a snapshot in time.  Obviously the income to home price ratio held in the 1950s, 1960s, and so forth so we can use these as simple guides.  Yet some folks just want to believe in fairytales.  Sure, incomes of those who own are typically higher but enough to justify current prices?  Absolutely not.  Since the Census doesn't break out owner occupied income versus non-owner occupied income the next best step is to find a Census zip code where most households own.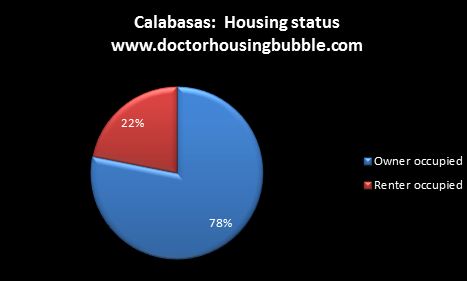 Calabasas is the quintessential SoCal bubble city.  Household incomes are solid yet nowhere close to justifying current prices.  Over 78 percent of housing units in the city are owner occupied and 22 percent rent (to be precise, 21.9 percent).  So the data for this city goes against the typical renter dominated areas of Los Angeles County.
Next, we should refute the argument that most people that live in these homes have their mortgages paid off: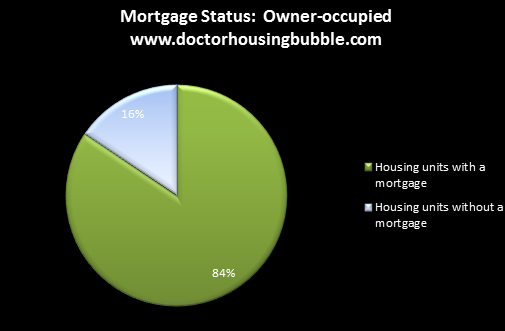 Of those who own a home, which is close to 80 percent, we have 84 percent of households carrying a mortgage.  We have solid data on this market so we can really parse into the meat of the argument here.  So it is rather apparent that most did not pay all cash as some would like to believe.  It is very likely that the 16 percent that have no mortgage moved in pre-bubble days.  No need to speculate, we can pull that data:
Over 50 percent of current owner occupied units in Calabasas were purchased during the bubble decade.  The Census data goes out to late 2009 so this is a solid indicator of where things stand.  And how many bought in 2010 and 2011 thinking that a bottom had already been set?  And for those who think you have folks coming in with a large down payment think again:
Homes with a mortgage median housing costs:                  $4,001.00
So far, we have gathered a solid amount of information on the housing situation in Calabasas.  What is the current median price for the city?
July 2011 data
Median home price:                       $877,000              (down 37 percent y-o-y)

Sales:                                                    16
So the median home price at least compared to July 2010 home sales is down from $1.39 million.  Why?  Because even though incomes are solid, they still can't support a home that costs $877,000 (the $1.39 million figure and higher past months are insane):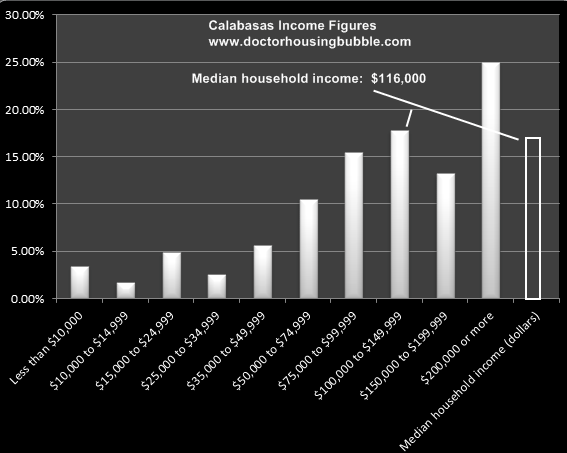 The median household income is $116,000 for Calabasas.  Again, remember that nearly 80 percent of households own here so we are getting a much better perspective in terms of what can be afforded here.  In my book, a drop from $1.39 million to $877,000 in one year is a nice correction but don't let that get in the way of those hardcore believers that don't believe in a housing bubble and think shadow inventory is simply a home or two in the bank balance sheet instead of 6,000,000+ distressed properties hiding off the market.  Even for the $877,000 median priced home, you would need a household income well in excess of $200,000.  Guess what?  Only 25 percent of households in Calabasas make this and nearly 80 percent own!  So those that bought in July of 2010 for $1.39 million were out to lunch big time.  But again, why let facts get in the way right?
I wish we had more comprehensive data down to home owners and non-owners split out but this is rather compelling given the makeup of the city and the home ownership status.  This is similar to the crap we saw going on with toxic lenders like New Century Financial and Countrywide yet people wanted to believe that "it was okay because it was only a handful of bad loans."  No, it was pervasive and systematic robbery of the system.  So the above data shows us that many cities including Calabasas are completely in housing bubbles even with a 37 percent y-o-y median price drop.
We showed a home in Bel-Air chasing the market down.  Let us show you a home in Calabasas chasing the market down: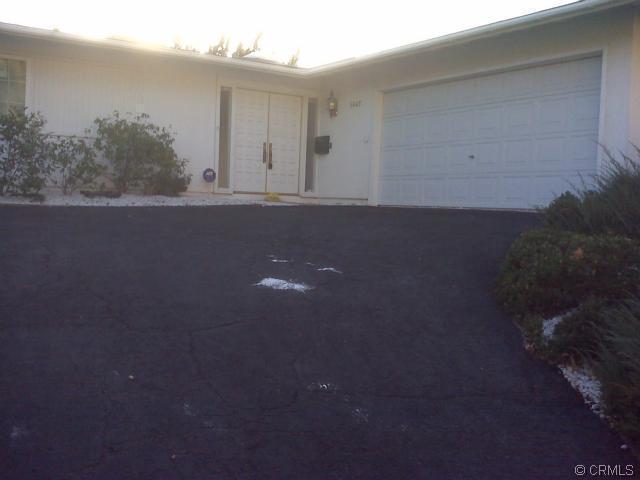 Listed    03/11/11

Beds      4

Full Baths             2

Partial Baths       0

Property Type   SFR

Sq. Ft.   1,850

$/Sq. Ft.               $284

Lot Size 12,384 Sq. Ft.

Year Built             1965
I really enjoy the ad:
"Re-Appraised 05/11 and reduced $5,000 from previous listing!! POOL on hill with sloped property.  Property needs work, updating, and lots of TLC. Fixer !!!!Property being sold subject 20 24 CFR 206.125 This is HUD information. Property is owned by Fannie Mae/HUD.  No Repairs – As Is Only -No Home Path Financing or First Look – No Mediation or arbitration.  All offers below the appraised value/list price will be countered to the appraised value/list price. Fannie Mae RMS HUD will accept no offers less than listing price.  Property is private, prime cul-de-sac location with fantastic mountain views, 2 car garage, swimming pool. Neutral open layout, fireplace, large pool decking area with sliding doors from open living room. Home will need upgrades/repairs.  Fantastic family location with great schools, close to freeway and shopping in Calabasas, Agoura, Woodland Hills, Warner Center."
Don't try low balling with Fannie Mae folks.  You even get a nice pool here: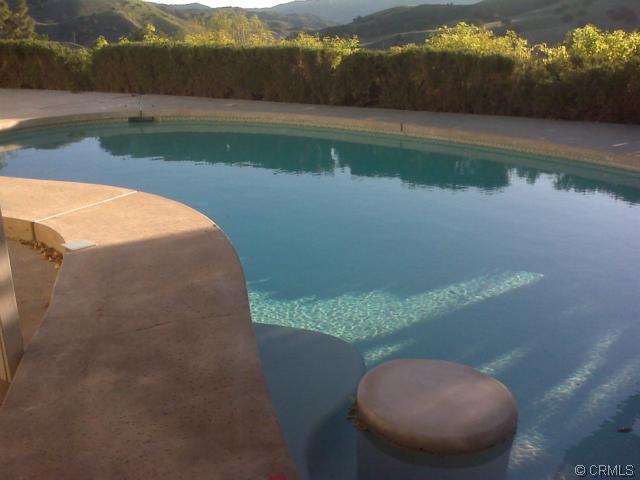 Now let us look at chasing the market down: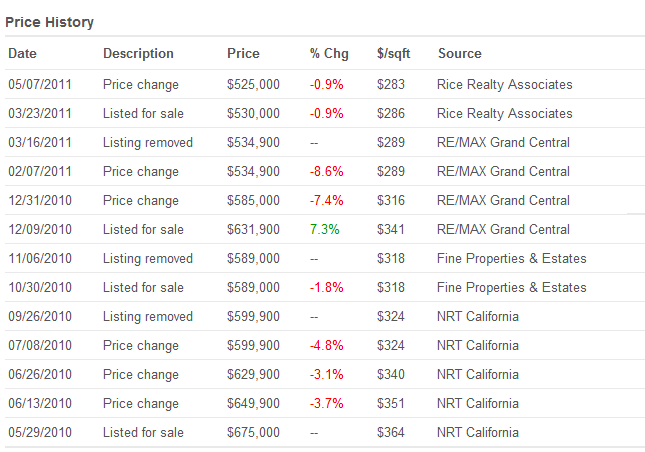 What I found interesting is the last tax assessment valued this place for $124,000!  This is the backward nature of our property tax system.  Could be a lot of refi action here but who really knows the full story.  $675,000 in Calabasas would have seemed like a steal back in 2006 and 2007 to many but now we have a chase to the bottom.  Now, you have to come up with some money and verify that income (even with record low mortgage rates the market isn't moving so fast because people are finally getting it that the real estate world is not flat).
The point of all of this is not to deny that there are large pockets of money in California.  Without a doubt, there are big bucks in the region but not a large enough critical mass as many speculate.  Why speculate when the above data is available?  Here is the psychological twist of course.  Did the economy radically improve in the 2000s to justify this historical jump?  No freaking way!  In fact, the economy is much worse today with a 12 percent headline unemployment rate and a real underemployment rate of 23 percent.  People would rather buy if the numbers made sense in most cases.  No one disputes that but the problem shows up when we look at current income figures and home prices.  Do you think if the median household income in Calabasas was $300,000 or $400,000 that the median price would have fallen from $1.39 million in July of 2010 to $877,000 in July of 2011?  You have a small number of households with truly large incomes living next to a large number of overleveraged households that are living large paycheck to paycheck.  Welcome to sunny Southern California!

Did You Enjoy The Post? Subscribe to Dr. Housing Bubble's Blog to get updated housing commentary, analysis, and information.