Attorney General Jerry Brown has most likely received a response from the top 10 option ARM lenders in California given that November 23rd was the deadline to respond to his initial request for data.  Hopefully we'll have a better sense of how deep the mess goes in the state but given the massive amount of shadow inventory, I can tell you that the rabbit hole is much deeper than you may think.  Yet some would rather wallow in denial and somehow expect that an economy with no job growth is suddenly going to reinvigorate home prices up to the bubble heydays.  I understand the nostalgia but that doesn't mean we'll be seeing peak prices any time soon.  The state of California is looking at $20+ billion deficits annually until 2015.  We have some serious rebalancing to do.   Household balances sheets are riddled with debt and the allure of real estate is forever shattered for a generation.
Ultimately property values need to reflect local economies.  This might be hard for some to grasp since we really haven't seen this for over a decade in California.  But bursting bubbles have a way of unraveling the yarn.  If California has an unemployment/underemployment rate of 23 percent, it is important to correct the employment situation before thinking about rising property values.  That is why California has seen tax revenues plummet because in the reality based economic system most of us live in, incomes are tight, stocks have taken a hit, and real estate has seen values collapse.  So the negative wealth effect is in full force just as people load up on Thanksgiving dinners and gear up for the Black Friday hamster consumer madness.
Even with the rise in the stock market, negative equity has exploded:
The number of underwater homeowners is mind boggling and a recent report now has 1 out of 4 borrowers underwater.  Here in California with toxic Alt-A and option ARMs, we have so many people underwater that we might need some scuba gear to get out of this housing abyss.  Yet we are in the eye of the hurricane here.  This is what we know:
-Alt-A and option ARMs are imploding but not making their way to inventory.  The current state is see no evil, hear no evil.
-$8,000 tax credit has spurred home buying
-FHA insured loans now finance about 4 out of 10 California home purchases
-The Fed has purchased over $1.2 trillion in mortgage backed securities pushing mortgage rates to historical lows
-Fall and winter are seasonally weaker selling seasons
-Commercial real estate defaults expected to explode in the next few years
With that said, what happens if one of these factors is removed or turns out to be worse than forecasted?  In fact, as we have discussed many times with FHA insured loans, defaults are so high that the government is now forced to confront reality:
"(SF Chronicle) Higher down payments. FHA's current minimum cash down payment is 3.5 percent. On a $200,000 house, a buyer can bring just $7,000 to the table, aside from closing costs. A purchase of a $500,000 house in a high-cost area requires only $17,500 in cash.
Critics say 3.5 percent does not force purchasers to have enough "skin in the game" to discourage them from missing payments or risking foreclosure. Rep. Scott Garrett, R-N.J., introduced legislation last month requiring a minimum 5 percent down payment for all future FHA loans. Ed Pinto, who served as Fannie Mae's chief credit officer in the 1980s and is now a mortgage industry consultant, says FHA needs to move to a 10 percent minimum."
I agree with Mr. Pinto that we need to bump up the minimum down payment for FHA insured loans to 10 percent.  That is politically not likely in this crony banking and government environment.  But 5 percent is now on the table.  As the defaults rise and the FHA goes the way of Fannie Mae, people are going to need to start forcing actual change.  Otherwise the government is simply the new subprime lender.  So what that you have a strong FICO score?  Many of those no-doc folks had strong FICO scores and how did that turn out?
The Shadow Knows – Pasadena
Today we are going to spend some time looking at Pasadena.  I want to dig deep into this city because we can see many of the above trends in full force.  Today we salute Pasadena with our Real City of Genius Award.
Let us first look at the total listed MLS inventory:
519 MLS listings
Foreclosures 22
Short Sales 42
So this is an interesting perspective of the area.  519 properties listed with 22 foreclosures and 42 short sales.  12 percent of inventory is distressed.  Not bad right?  Well let us look at the overall picture:
In reality, there are 742 distressed properties in the city that break out as follows: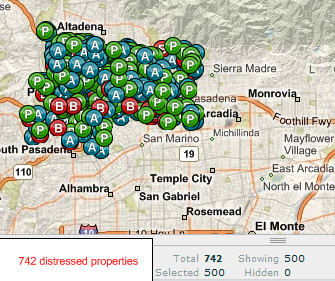 Bank owned:                           101
Auction scheduled:                  349
Pre-foreclosures (NOD):           292
This is how the data breaks down: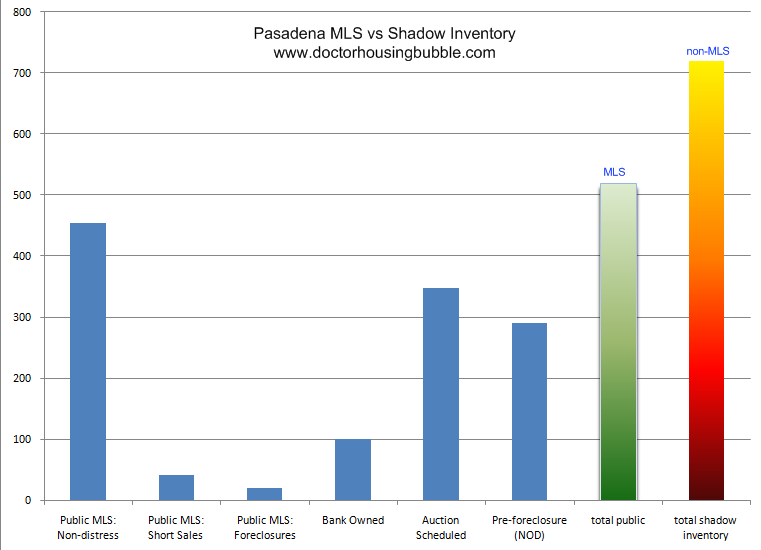 Plus, how many other homeowners have stopped paying altogether and have no NOD filed?  That is another large part of the shadow inventory.  But you can see from this data that the actual MLS only has roughly 64 properties of the total distressed list of 742.  The 742 number that the public cannot see is 42 percent larger than the entire MLS data.  There are literally two markets running parallel to one another.  The façade world of everything is okay and smiles everywhere and the other world where properties are defaulting in mass and borrowers are simply not paying their mortgages.
The real action is going on in the pre-foreclosures.  Let us look at a specific example:

This home is listed as a 4 bedroom and 3 baths home.  The data has it at 2,763 square feet so it is a good sized home.  Let us look at the sales history:
Sale History:
03/23/2000:                        $245,000
Not a bad price for this sized home in Pasadena.  Yet the action is in the details: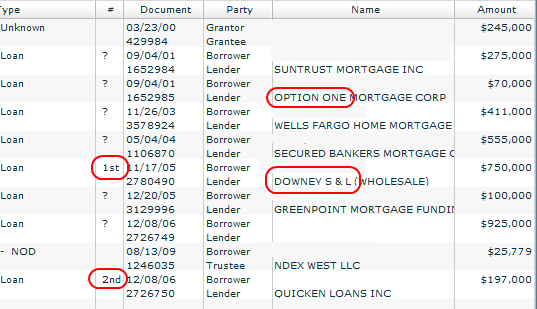 Another home equity withdrawal machine here.  The $245,000 mortgage in 2000 was modest.  Then in 2001 $345,000 in mortgages were secured by the property in what looks to be a major cash out deal.  In 2003, Wells Fargo graciously gave a $411,000 mortgage on this place.  Let the bubble continue.  In 2004 the property got another refinance up to $555,000.  Then in 2005, it was party time.  A $750,000 note and a $100,000 note making the value go up to $850,000.  Finally in December of 2006, a $925,000 loan was secured on the place almost getting to $1 million from $245,000 in 2000.  Sure seemed like a fun decade in this home.
But now this person owes $25,779 just to get current.  Even the optimistic Zestimate places the value of this home at:

To be abundantly clear, someone is likely to lose a lot of money here.  But for the time being, they can claim this place is worth $925,000.  This is the kind of world California real estate is in.  This is a historical, once in a lifetime kind of bubble.  For example on this home let us assume it sells for the Zestimate.  You would naturally think that a $300,000 loss would be reflected somewhere and it will be.  Yet the Case-Shiller is going to see a sizable jump here.  After all, the last recorded sale was for $245,000 so a sale of $600,000+ is a giant leap.  The magnitude of this bubble throws so many metrics off that we have no historical parallel.  Yet anyone that claims things are going well simply is not looking at the more nuanced data and the building pipeline.
Today we salute you Pasadena with our Real City of Genius Award.
Did You Enjoy The Post? Subscribe to Dr. Housing Bubble's Blog to get updated housing commentary, analysis, and information.