Foreclosures are still a big chunk of the housing market in California.  Of homes sold in December in California 41 percent were foreclosure re-sales.  What that means is the home has been foreclosed in the last year.  Now you would expect in a state like California with historic budget issues that people would be more cautious about forecasting booming home prices.  After all, on Friday we learned that the California unemployment rate is up to 12.4 percent bringing the overall underemployment plus unemployment rate up to 22 percent.  This in itself should put a damper on housing prices.  The major focus has been on how deep prices have fallen so therefore, home prices must bounce back.  Yet little focus is given to the actual economy which is the primary driver of home prices.  Negative equity is a reflection of bubble prices and a poor economy.
Before we examine the nature of negative equity, let us first look at a few of the biggest MSAs in California and their negative equity market share: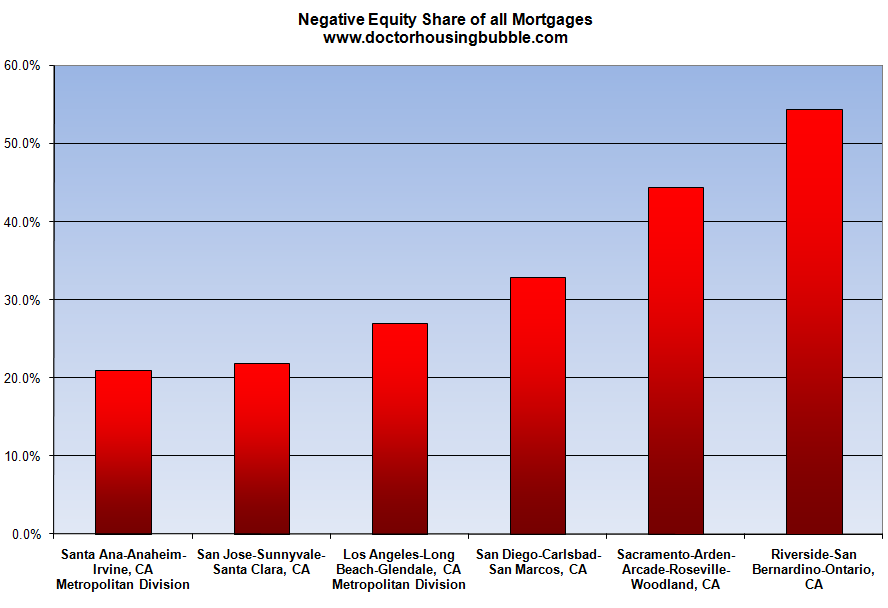 The above data comes from reports from First American CoreLogic.  It is rather obvious that nearly every major MSA in California is underwater.  North, South, East, or West it really doesn't matter.  Negative equity is a big part of the market.  Someone can look at the above chart and say well at least Orange County or Los Angeles isn't that bad.  Actually there is a large amount of shadow inventory in both of those areas as we pulled up in previous reports.  Negative equity is massive in these areas yet the above chart doesn't highlight this fact because it is focusing on what happened and not on what is going to happen.  What I mean by this is areas like the Central Valley and the Inland Empire have giant negative equity numbers but these areas have also seen the bulk of home sales in the last year.  So current prices actually reflect a more realistic valuation.  Therefore, when we analyze the data we get a more accurate look of what is going on.
Take the Inland Empire above with over 50 percent of homes with a mortgage being in negative equity.  Will prices fall further?  Hard to say but these counties have already corrected the entire housing bubble:

So even though negative equity is enormous, sales volume is indicating that the market is now getting closer to finding a stable point.  However, areas like L.A. and Orange County are largely still in bubbles as the above chart indicates.  Just because sale volume has been weak in these areas the overall market hasn't shifted much.  Plus, if we look at shadow inventory in say Los Angeles County banks are employing stalling methods to keep inventory off the market.  Take a look at the L.A. data:

So when we look at the above MSA negative equity data, it is a reflection of a market that has had lower sales volume.  These markets have a higher proportion of Alt-A and option ARM loans: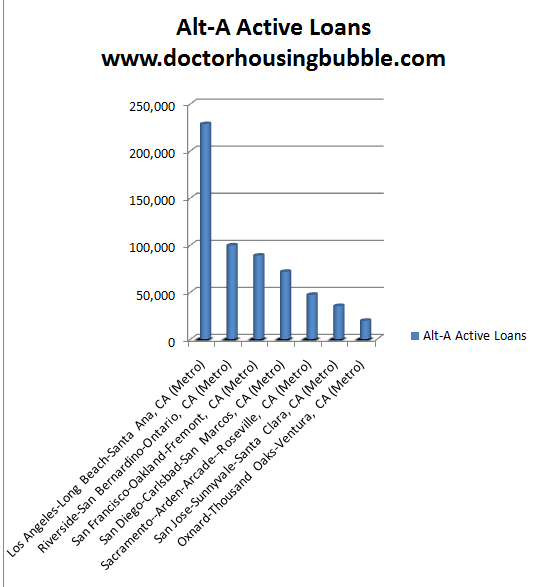 And this is really the next phase of the bubble.  Toxic Alt-A and option ARMs are now defaulting at a record pace yet the inventory isn't hitting the market.  And just because it hasn't in the past doesn't mean it won't.  In fact, some banks are now releasing inventory now that HAMP is reaching the January 31 deadline date:
"(Review Journal) Bank of America expects to release about 6,000 foreclosed properties into the Nevada housing market in 2010, or about 500 a month, an executive with the bank said Wednesday.
It's part of the so-called "phantom inventory" of foreclosed homes being held by banks as they work out loan modifications and negotiate short sales, two of the more desirable alternatives to foreclosure.
Throughout the country, estimates of homes being taken back by Bank of America range from 11,000 to 14,000 a month in the early part of this year to 29,000 to 35,000 by November and December, said John Ciresi, vice president and portfolio manager for Bank of America in Towson, Md.
The system became "clogged" by a voluntary moratorium on foreclosures while banks met the requirements of President Obama's Making Home Affordable mortgage plan program and by state legislation requiring mediation before banks can start the foreclosure process, Ciresi said at a panel discussion sponsored by the Nevada chapter of the National Association of Hispanic Real Estate Professionals."
Hard to deny shadow inventory when one of the top banks in the country is actually admitting to this.  But this is the next phase.  California will start seeing more price pressure in certain areas as more distress properties compete in the market.  Clearly foreclosure sales have driven down the price on lower priced areas but they will also do the same in the mid to upper tier markets.  If it isn't because of sheer price it will be because of the poor employment situation.  12.4 percent unemployment?  We are in record territory.  And for those that think every family in California makes $250,000 that is not true:

Negative equity is here because people over paid on homes.  And those prices are still too high.  Some have argued that inflation will bring prices back.  Really?  For over a year we've been experiencing deflation so I'm not sure where the price pressure for homes is going to come from.  One simple rule to remember is people in the area have to be able to afford the homes.  In California, it was nothing down through Alt-A and option ARM products.  Nothing down and not verifying income brought this massive bubble:

At one point in the bubble over 40 percent of new homebuyers went with nothing down.  Now, FHA insured loans allow people to buy homes with 3.5 percent down which isn't that much better.  Since we know negative equity is a big reason for foreclosures, after all if you had equity you would just sell, then why are we allowing people to buy homes that are on the edge of negative equity already?  A 5 percent price correction will put tens of thousands more into a negative equity spot. Yet the policy with the housing market has been driven by the banking and housing industry since all they care about is churning volume.  They don't care if you end up broke and unable to make your mortgage one year down the road.  They already got paid.  The system still has the inherent flaws that led us up to this mess.
And those counties with the supposed low negative equity still are enjoying bubble level prices.  Look at the five most expensive counties by price increases: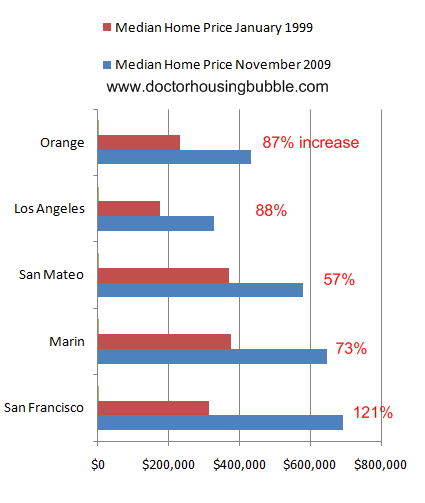 Now why are we to expect that these counties don't correct?  Income levels are off.  Their economies are worse off in comparison to how they were in 2000.  Yet people somehow want to believe that a correction won't happen in their area.  It will.  This bubble was a decade in the making so two years isn't going to right the ship.  Those in the housing industry would like to believe that just because interest rates are low and you can buy a home with the price of a flat-screen TV that somehow this will save the market.  Yet the economy is still in a mess.
I get e-mails with complex plans of how to save the housing market.  It is rather simple.  First, a minimum 10 percent down payment for any government backed loan (no tax credit or seller kickbacks).  If you can't save 10 percent then you should rent.  Nothing wrong with that.  Next, the Federal Reserve needs to stop buying mortgage backed securities just to keep interest rates low.  You do realize that by this occurring, home prices stay artificially high?  Remember Alan Greespan and his low rates and support for adjustable rate mortgages?  Without this support prices will find a more normal equilibrium.  Finally, no foreclosure moratoriums or back up programs for the banks.  Notice how lower priced areas like the Inland Empire now have tons of sales activity?  Because prices have corrected!  That is really it.  Will it be painful?  Of course.  But isn't the pain already here anyways?  The only folks not feeling the pain are the banking industry and Wall Street.  If changes don't occur, we risk putting our entire economy at further risk merely for the housing market.  Banks and those in the housing industry would love nothing more but you can see what happens when we follow their policy guidance.  It is time to listen to folks like Paul Volcker and Elizabeth Warren.
Did You Enjoy The Post? Subscribe to Dr. Housing Bubble's Blog to get updated housing commentary, analysis, and information.