The Federal Housing Administration (FHA) has picked up a lot of slack from the implosion of the toxic mortgage market.  Today the FHA announced that it would be imposing stricter standards but that isn't saying much given their current track record.  Delinquencies on FHA insured loans are blowing through every historical benchmark of sustainability.  This wouldn't be such a big problem if this happened a few years ago when FHA was insuring a tiny part of the market.  That is no longer the case.  In 2009 FHA insured loans backed up $360 billion in loans.  That amounts to 30 percent of all home purchases, 20 percent of all refinances, and a jaw dropping 50 percent of all new buyers.  Without the FHA insuring loans, there would be a very different housing market.  It would be one thing if FHA actually imposed strict guidelines but right now we are heading into another mega bailout because giving loans to people with 3.5 percent down (actually near zero with the tax credit) is simply repeating history.
Take a look at the current delinquency rates: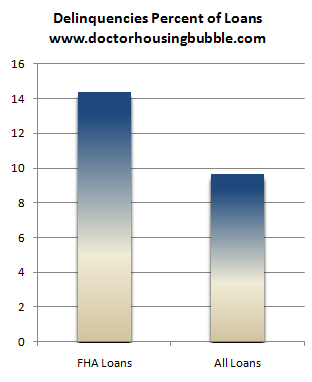 Over 14 percent of FHA insured loans are now in some stage of delinquency.  This is horrible.  The overall market that is a mess is slightly above 9 percent.  And some FHA backed lenders are pumping out enormous amounts of toxic mortgages that it has caught the eye of regulators.  As we have learned, you must be doing a Bernard Madoff to catch the eye of regulators.  Actually, I take that back, Bernard Madoff flew under the SEC radar for years and only his fund implosion led him to his demise.  This is going to be another major bailout just waiting for us in 2010 something akin to Fannie Mae and Freddie Mac.
FHA insured loans have exploded from 2007 by a factor of four because of the toxic mortgage market disappearing: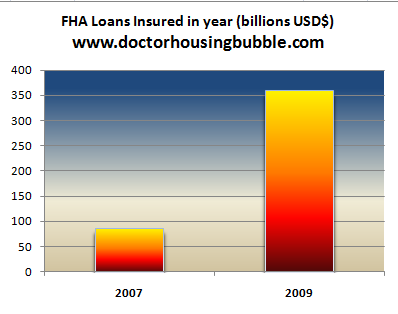 So what are they doing to "tighten standards" on FHA insured loans?
"(CNN) The FHA will also require borrowers to have at least a credit score of 580 to qualify for the agency's 3.5% downpayment program. Those with lower scores will have to pay at least 10%. However, this rule may have little practical effect since Stevens recently said the average borrower score is 693.
The new policy also will reduce the amount of money sellers can provide to homebuyers at closing to 3%, down from 6%, of the home's price. That change will bring the agency in line with industry standards and remove the incentive to inflate appraisals."
Bwahahaha!  The OCC OTS would categorize this as follows:

So if this is their metric, it isn't much of a standard.  This is basically saying as long as you don't fall into the subprime category, come join the party.  But overall, the average FICO score is actually good for FHA insured loans.  That isn't the issue.  The problem of course is you have people buying homes with nothing or close to nothing down.  That is the issue.  As we learned [are learning] with Alt-A loans, you can have a solid 800 FICO with an income of $100,000 a year but if you take out a $750,000 mortgage you are destined to fail and your FICO score will quickly plummet overnight.  Instead of increasing the down payment requirement, the FHA is now pushing for higher premiums which will actually hurt homeowners but guess what?  It'll benefit those making the loans on the front end.  After all, if you require people to put some skin in the game then the market would slow down because we are in a deep recession!  Shouldn't we focus on fixing the employment problems first before trying to grease the wheels for people to buy homes?  Why don't we all become real estate agents and mortgage brokers and sell homes to one another?  The fact that they are hiking up premiums only means borrowers are going to pay more for the front end problems and lack of underwriting on a monthly basis.
And these loans are imploding at a quick pace: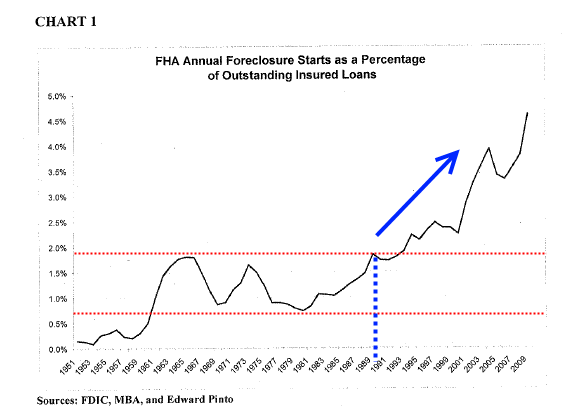 The above is a daunting chart to look at.  FHA insured loans were already having problems during the boom times!  And now this is where we are focusing 30 percent of all mortgage volume.  In areas like Southern California, 40 percent of last month's sales came from FHA insured loans.  This is going to be the next crisis but at this point what qualifies as a crisis?  People don't seem to care that the banking industry is pretty much sucking the productive economy dry.  Don't you think that it would be smart to fix the system before we continue to make so many loans through the FHA?  This is just absolute madness.
And a few have said, "but doc, surely people in California are putting a good down payment when buying a home."  Think again: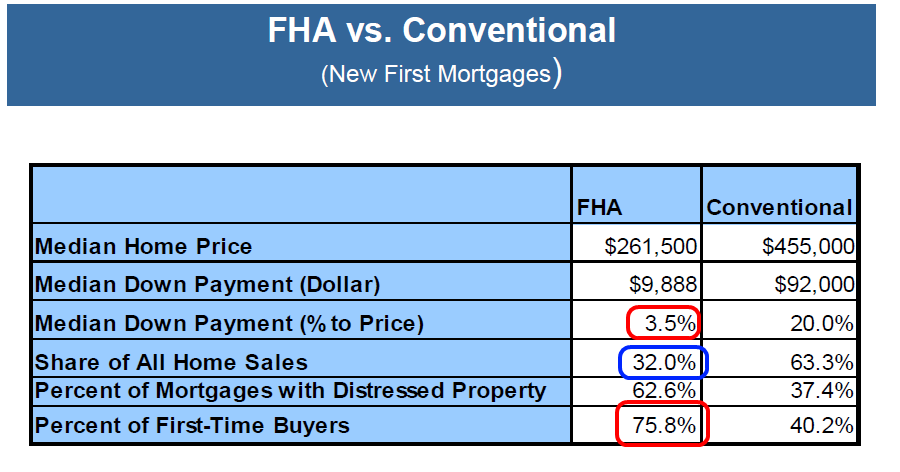 Not at all.  The median down payment is 3.5 percent or $9,888 in California.  But with the tax credit, it is the cost of one month of rent.  So we went from toxic no doc pretend Alt-A and option ARM products to virtually no down payment FHA insured loans that basically look at your W-2 and as long as your FICO isn't subprime, you are good to go.  Banks are squeezing people into loans like an elephant trying to fit into a two piece bikini.  Do you think they actually do a thorough analysis of your overall household budget?  What do they care?  Once the loans are backed by the government it is off their hands.
And that is how perverse our current system has become.  We went from conventional 30 year mortgages with 20 percent down payments to a system where basically checking your W-2 is considered due diligence.  Oh okay, so basically because we aren't pretending that people working at Wal-Mart make $150,000 a year that somehow we are now practicing prudent lending?  Over 14 percent of all FHA insured loans are now in distress!  They are months away from eating away their "reserve" and going for a bailout.
Take for example the Southern California market.  You have nearly 40 percent of all homes sold last month going through FHA insured loans.  Then, you have roughly 25 percent of purchases with all cash buyers!  There is nothing normal about this market.  From this we can gather the following:
-The vast majority of people are strapped for cash, even for a down payment
-Those cash buyers are thinking they can flip that home to people in the future (for cash flow prices still don't make sense unless you look at some Inland Empire areas)
People hear what they want to hear.  Someone e-mailed me and stated, "doc, when you decide to buy real estate cows will be flying."  I've actually been buying for years.  Just not in California.  And for roughly one year, I've mentioned that it may make sense to buy in the Inland Empire.  Some niche cities in L.A. and OC have also seen prices collapse and you might find some deals there.  Also, some condos are now moving near comparable prices for monthly rents.  But here is the thing.  Those that are in this camp want to buy a prime Santa Monica home for 1970 prices.  Come on now.  That is such an exaggeration and missing the entire market.  The California median price is still down nearly 50 percent and these people are so focused on a tiny market that they miss the overall trend.  Plus, these mid to upper tier markets are going to correct.  This will happen with Alt-A and option ARM issues that will hit in the next few years.  Just because it isn't happening today doesn't mean it won't happen.  The same arguments were made back in 2005, 2006, and even 2007 about whether housing was in a bubble.  Now, you have these people saying, "well X area isn't Y or Z or etc" but when you look at the underlying issues like shadow inventory for example, the future for these areas looks to be in a challenge.
With FHA insured loans and the fact that they back 4 out of 10 purchases in SoCal, we can safely assume we'll be seeing a bailout in this industry in 2010.  Keep in mind that this is even more troubling because these are supposedly bread and butter 30 year fixed loans.  So what?  With no job or lost wages it can be a 200 year fixed rate but if you don't have the monthly nut you don't have the monthly nut.  You can't squeeze a mortgage payment out of a turnip.  How about we focus on fixing the economy first before trying to satisfy the banking industry nostalgic desires to bring back the housing bubble?  Every time you hear someone say "we want affordable housing" you can call them a liar because the market is bringing prices back down to what people can realistically afford.  HAMP, FHA insured loans, moratoriums, the Fed artificially lowering mortgage interest rates by buying up $1.25 trillion in mortgage backed securities all create a sort of artificial market.  In fact, it makes homes unaffordable.  The only real winners here are the banks but this is something you probably already know.
Did You Enjoy The Post? Subscribe to Dr. Housing Bubble's Blog to get updated housing commentary, analysis, and information.