California is an odd sort of beast.  Our economy and politics feel like a speedboat going around in circles while the passengers stare at the gas needle dropping to empty.  Given this context it should be no surprise that we took the housing bubble to an entirely different level.  Many Californians suffer from a sort of cognitive dissonance whereby they desire high levels of public service yet do not want to pay for it.  We see this in polls where people desire to have higher services yet rather not pay for it.  Obviously these kinds of desires encounter reality traps once we factor in numbers.  That is why only a few days ago the Controller of the State released data showing that for the current year, after optimistic budget assumptions, we are now behind by a whopping $700 million from initial budget plans just released months ago.  When we see similar patterns play out it is understandable why some are seeing another housing rally even in spite of no evidence.  California is still a state with an incredible amount of distressed properties.  One shocking thing that I saw in the data was for last month of California sales the typical mortgage payment for those who bought was $964.
California foreclosure action
The notice of default pipeline perked up in the third quarter for California: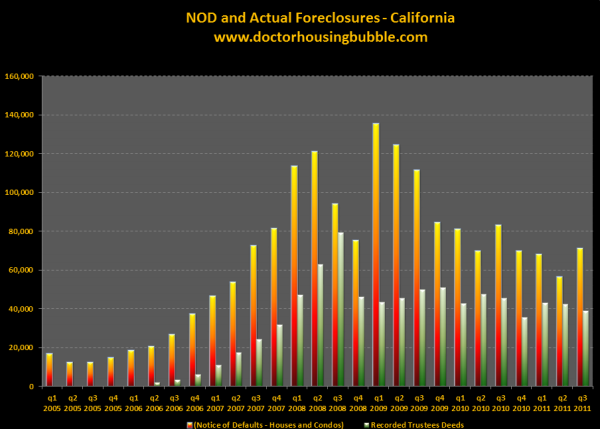 This is the highest NODs filed since Q3 of 2010.  Much of this came from banks revamping and moving forward on foreclosure activity.  Part of this desire stems from banks moving forward on their large shadow inventory backlog.  Some fascinating data on California sales for the past month:
September 2011 sales data
Median price:                    $249,000
Foreclosure resales:       33.8 percent
Short sales:                         18.7 percent
The short sale figure has been steadily growing over the last year.  The market is still largely dominated by distressed property sales.  What is interesting is that actual completed foreclosures as noted in the chart above fell again for the second quarter in a row.  The bounce in NODs however assures us that we will have more distressed sales for months to come as the pipeline fills up again.
People forget that once the foreclosure process commences it may take up to six more additional months (at least) just to sell a property in California: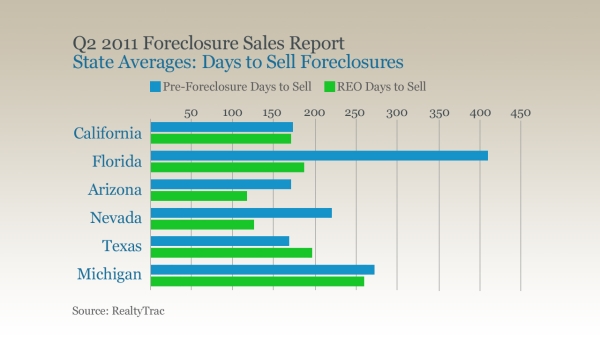 Source:  RealtyTrac
What this means is that much of the Q3 NOD shadow inventory will be entering the market sometime in spring of 2012.  This is something to be mindful about.  When the NOD count starts getting into the 20,000 filings per quarter then we can say the market is starting to level out.  At this point, there is very little evidence to assume that we are going to see some sort of big bounce in housing for the state.
Home values reflect the nature of what is currently going: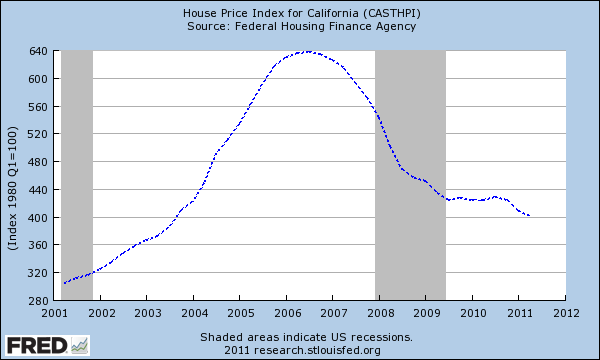 No sign of home prices going up here.  Also, you have these odd perspectives based on little facts.  Some folks think that in prime areas you have truckloads of people buying homes with tons of cash.  This perception is live in Irvine California for example.  Some seem to think that of homeowners, most have no mortgage attached to their home.  This is not true:


Only 16 percent of Irvine homeowners own their home free and clear compared to over 30 percent nationwide.  The typical homeowner cost of those who own is $3,000.  So why the disconnect?  Again, I believe this stems from the California mentality that people want high expectations from their surrounding environment without paying for it.  This is why you see reluctant sellers wanting peak home prices for their sale even though the bubble has long ago passed.  We have some tough decisions to make as we plug along.
This is also another reason why the typical mortgage payment for last month sales in the state was $964.  What is going on here?  People can only afford so much home and a large part of the cash sales are going to investors seeking out cash flow or investment properties, not properties in mid-tier markets that are still in bubbles. The lower mortgage payment is also helped by the artificially low mortgage rates pushed down by the Federal Reserve.
The state still has a 12 percent unemployment rate and an underemployment rate of 23 percent.  A $700 million shortfall means more cuts or taxes coming soon.  How does all of this seem like a positive for home values?

Did You Enjoy The Post? Subscribe to Dr. Housing Bubble's Blog to get updated housing commentary, analysis, and information.