There seems to be a heavy rush into everything real estate.  This is to be expected in a low interest rate environment where the market is encouraging dramatic credit borrowing.  According to the Case Shiller Index US real estate values are up 28 percent since 2010.  That is a solid increase especially when income growth has been anemic to non-existent for many household groups.  The housing market tends to garner most of the attention because that is what the lemmings in the media enjoy digesting (plus you make good money selling ad space for refrigerators, stoves, and all the other crap you fill your house with).  Yet the commercial real estate market rarely gets any sort of attention.  It is hard to believe that based on a couple of commercial real estate trackers, commercial real estate is even more inflated than residential housing.  In a widely tracked index, according to the Moody's/REAL CPPI index commercial real estate values are up by close to 100 percent only since 2010.
The boom in Commercial Real Estate
The commercial real estate market is interesting because it is a good view into business perception on the economy.  These aren't typical house humping enthusiasts chasing after crap shacks.  These are business people trying to turn a profit.  You open up a small business and want to make sure you have enough revenue to cover your lease and to make a profit once all expenses are factored in.  Also, builders here go more by what the overall economy is doing rather than catering to individual consumers which is the single family home market.  Yet many times like in the last bubble, they obviously miss turning points in the economy.
Let us look at the chart:
We can all agree that there was a significant bubble leading up to the 2007/2008 summit in prices here.  The chart above clearly indicates that.  Prices collapsed and hit a bottom in 2010 in the commercial real estate market.  But since then, prices have not only gone straight up they have surpassed the previous peak by a sizable number.  The index has zoomed up by nearly 100 percent since 2010 while the Case Shiller Index tracking single family homes has gone up 28 percent (which is significant given paltry income gains).
Sam Zell who knows a thing or two about real estate, had this to say:
"We have distorted markets. Maybe we have bubbles." Then, on second thought, he said, "I don't even know what a bubble is, so I wouldn't want to be the definer of it. But I think that we have too much intervention and not enough market movement in interest rates – and in other assets."

"You know what the problem is? The problem is I think the Fed should have raised interest rates two years ago, and therefore today would be able to make a much more rational decision as to what to do. The problem is that they've so deferred reality for so long that I think they have a serious credibility problem if they don't raise rates."
Yes Sam, this is a bubble especially in commercial real estate.  It is a bubble because the Fed needs to manipulate rates as much as possible to keep prices where they are (in other words, you need artificial support to keep this game going).  Just because no-income/no-doc loans are not used in mass, doesn't mean that 3% down mortgages are any less dangerous.  And in commercial real estate, the game is radically different.  The price movement in commercial real estate looks dramatic when compared to residential housing: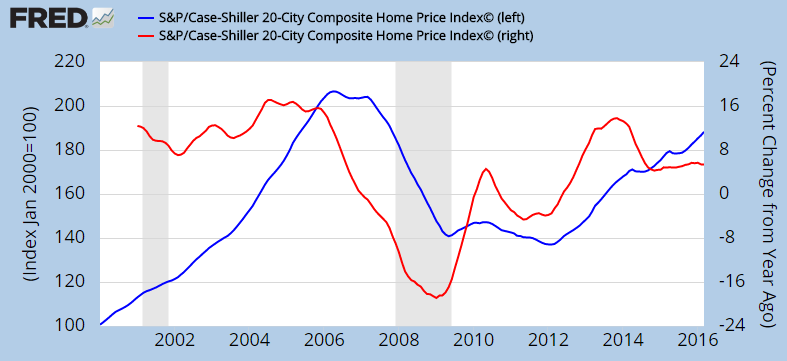 It looks like commercial real estate is in a deep bubble here.  But as Sam Zell mentions, there has been a distortion in the market because of cheap capital and the belief that this is a "forever" thing.  Millennials can't buy because they are at home living with mom and dad or their incomes are too weak even for a rental.  Taco Tuesday Jimmy Buffet baby boomers would like to sell and get their hands on some juicy equity but where will they go?  Plus, many have their offspring living back at home in their rooms playing on their Nintendo and Snapchatting about their Uber experience.
Commercial real estate is usually valued through a cold business perspective.  That is, business owners will only enter into a lease if they think they can turn a profit.  But with longer term leases, businesses also miss turning points and that is why commercial real estate can bust much quicker as well.  If a business income dries up, you can forget about those lease checks coming in.  If enough of this dries up, good luck servicing the debt even if you borrowed for rock bottom rates.
You'll notice that when values crashed they crashed quick, but also recovered fast.  If you look at the first chart, you'll notice that office space valuations are shifting a bit.  The economy and cheap credit needs to continue to keep this going.
Ultimately the price ramp up in commercial real estate is being driven by investor hunger and artificially low rates.  But as we all know, that game can't go on forever and the system is already facing strains.  If you need any more proof that the status quo isn't going to stay just look at this year's election.

Did You Enjoy The Post? Subscribe to Dr. Housing Bubble's Blog to get updated housing commentary, analysis, and information.