When it comes to all cash buying people usually think of select housing markets in expensive cities.  While this is true in places like San Francisco or San Marino, there are currently some lower priced markets where all cash buying is massive.  Many cities in Florida have close to half of all home purchases being made by all cash buyers.  Cleveland is also seeing a similar trend as well.  Investors are aggressively targeting lower priced housing markets to load up on properties.  Investors in large numbers pulled away from expensive cities in California over a year ago.  Value is being seen in other areas where all cash buying is dominating.
All Cash Buyers
While it comes as no surprise that all cash buying is still big in today's low interest rate market, it does surprise me to see the level of all cash buying happening in places like Florida.  What this indicates is that many regular families are still having a tough time buying a home.  Even a $200,000 property is expensive if you need to buy it with all cash.
The chart below highlights the volume of all cash buying in various markets: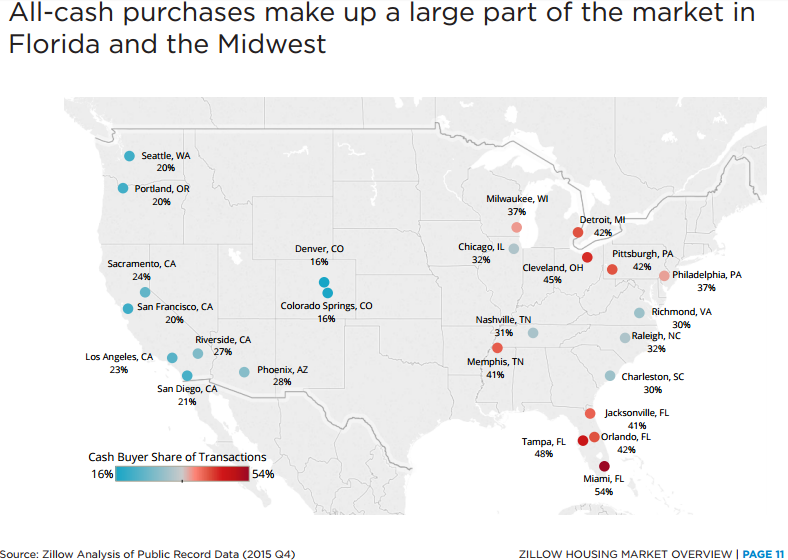 Source:  Zillow
What I'm most surprised with is Florida:
All Cash Buyer Percentage
-Miami                  54%

-Tampa                 48%

-Orlando              42%

-Jacksonville       41%
That is simply mind boggling in this current market.  House humping California has the following numbers:
-Los Angeles                      20%

-San Diego                          21%

-San Francisco                   20%
In other words, it looks like there is way more investment activity in Florida at the moment.  While California all cash buyers may dominate certain cities, overall most purchases are being made with mortgages.
You see places like Cleveland and Detroit also having high all cash buying rates of 45% and 42% respectively.  In these markets it is clear that investors are trying to find deals.  The rental Armageddon machine continues to plow through this country.
While all cash buying may have slowed down in California, it is still going strong in many parts of the United States.  As you would expect regarding rents, cities with NIMBYism policies tend to have the fastest growth in rental rates: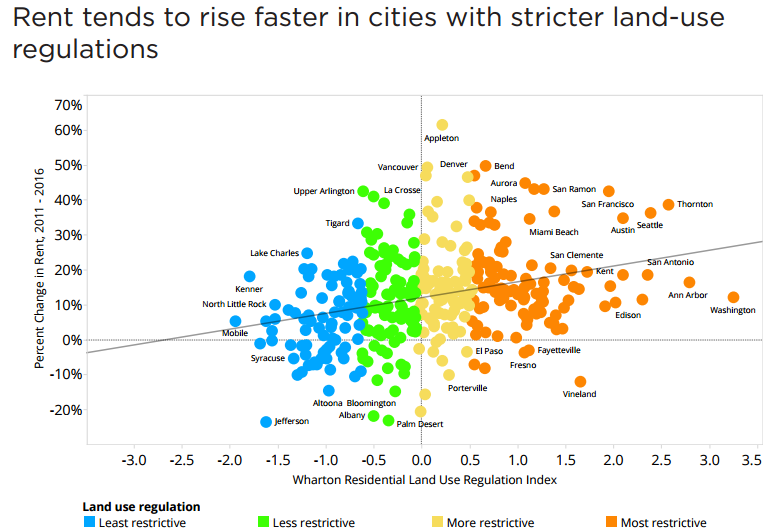 Of course this assumes a growing and booming economy.  We've been out of recession since the summer of 2009.  The business cycle is simply part of life and we shall see what happens when this runaway train starts slowing down.

Did You Enjoy The Post? Subscribe to Dr. Housing Bubble's Blog to get updated housing commentary, analysis, and information.