Since the Great Recession hit, we have added 10 million renter households.  The trend to renting was largely spurred by the crash in the housing market but also over qualifying Americans to purchase a piece of the American Dream.  The trend has slowed down but not in states like California where a renting majority is now solidly in place.  Even Orange County, a place that was once thought an untouchable red region turned all blue.  Then you have places like the Inland Empire that went solidly red.  The bottom line is that many new households are opting to rent versus purchasing a home.  This decade long trend is showing some signs of slowing however as rent price growth is slowing.
The trend to renting
The stock market has been on a massive bull run since 2009.  This is one of the strongest stock markets we have seen in a generation.  You would expect that home buying would be hot given all of the wealth being created. But not all Americans are participating in this and many are in deep debt.  Student debt is over $1.4 trillion, auto debt is over $1 trillion and credit card debt is also more than $1 trillion.  That is a lot of debt Americans are carrying.
In California, it is no surprise that you have millions of adult Millennials living at home with parents.  Not enough money to rent let alone buy a home.
The trend to renting over owning is very clear: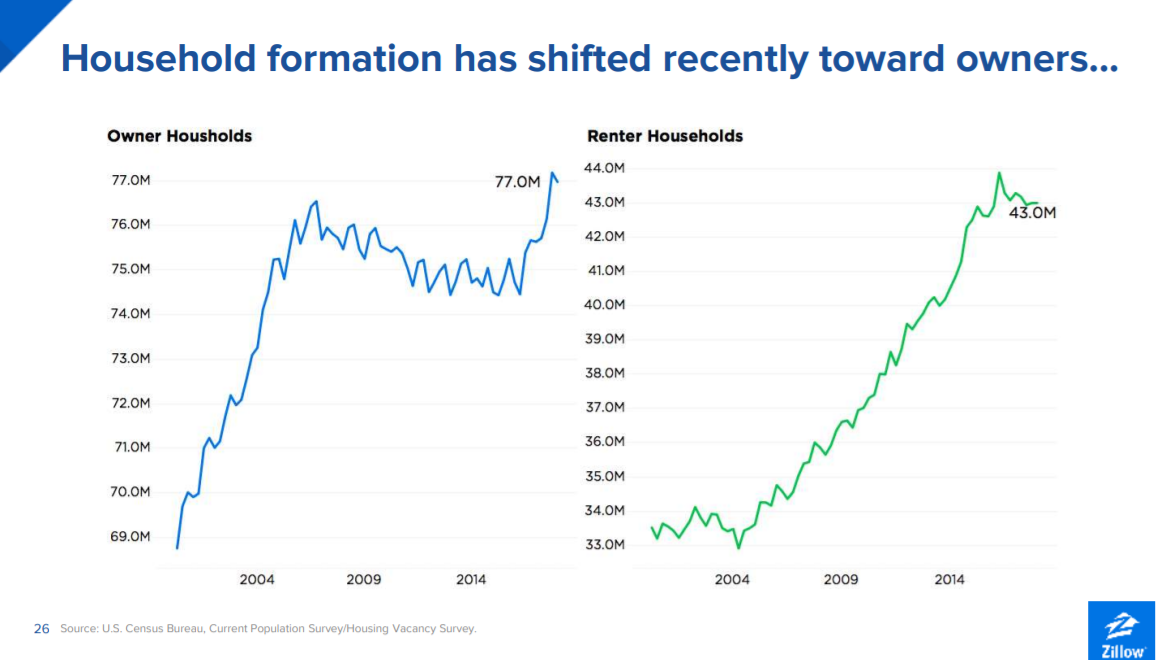 The number of owner households is now barely above pre-housing bubble levels.  Many that lost their home went into rentals and many younger Americans are opting to rent.  So of course, this added some big pressure to rents: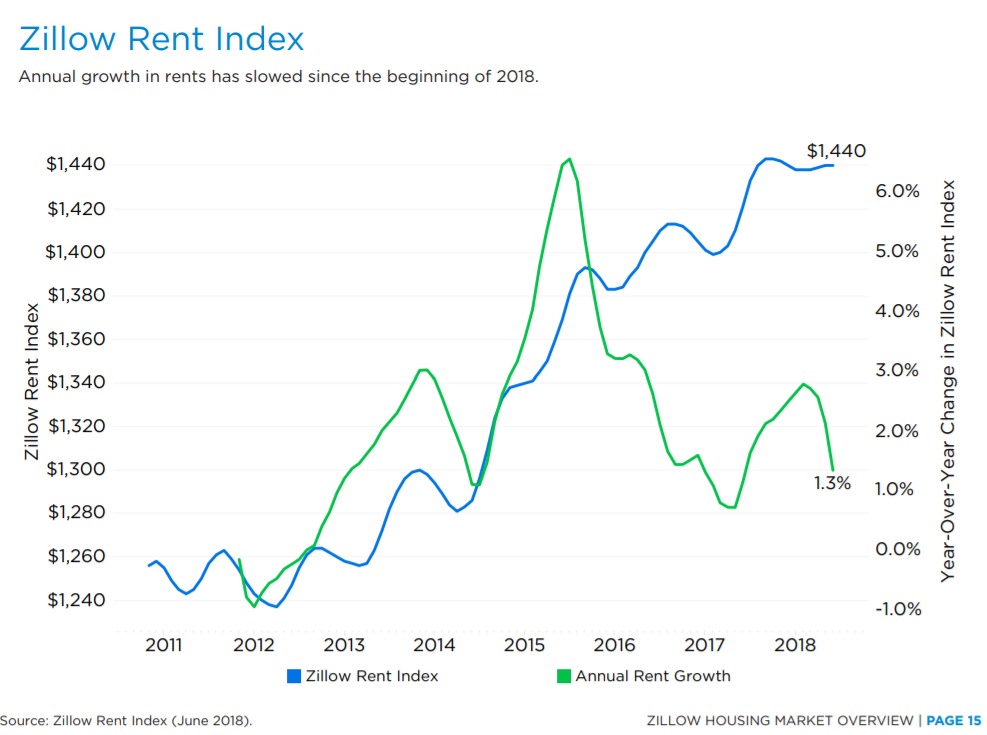 The pressure on rents have come from the large 10 million new renter households being formed.  But now both prices and rents are softening indicating a bit of a slowdown.  You also have more Americans buying in areas and states where homes are moderately priced.  In California, you have a renting majority so of course voting is going to reflect that.  Some people feel they can live in gated enclaves while the rest of the population is living 10 to a house just to make the rent.  You get a very clear split in the population and the new tax policy is going to hammer many California homeowners who have mega mortgages and deduct everything from SALT and other items.  2019 is going to be a shock to many California homeowners.
The reality of course is that many Americans are having smaller families or choose not to have children.  Kids are expensive especially when both parents must work.  Just look at childcare costs in many large areas where they can cost $1,200 to $1,800 per month per child.  People don't factor these things in but many Millennials are and this is reflected on the overall trend that we are seeing.
Los Angeles County, the largest county in the nation in terms of population is a renting majority area: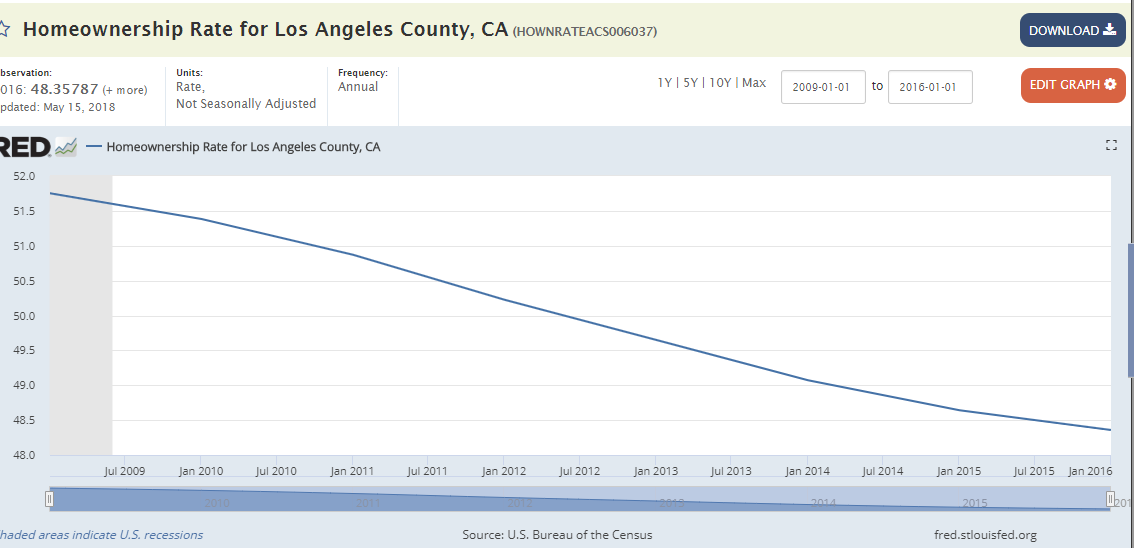 It is also one of the most expensive to live in.  So you have many Millennials (those next in line to buy homes) not being able to afford to buy but deciding to either rent or to live with their parents.  This trend will continue unless two things happen:
-1.  Prices adjust lower to reflect lower incomes

-2.  Incomes rise to provide more purchasing power
Since the economy now appears to be slowing, it looks like number one is the more likely option.

Did You Enjoy The Post? Subscribe to Dr. Housing Bubble's Blog to get updated housing commentary, analysis, and information.