Housing prices in most urban areas will face pressure in the upcoming years because of a variety of factors.  Last month as prices fell in many areas including Southern California, some were surprised because a belief that a trough had been hit had already set in.  This is not the case.  For the most part the bulk of home sales are still coming from the distress side.  These homes do not yield the bank the full balance of the mortgage and consequently push overall prices lower.  In many troubled states like California, Florida, Nevada, and Arizona many of these homes are secured by questionable mortgages so the gap between the current mortgage and the market price is rather large.
We also have issues on the supply side.  During the peak days of the bubble housing starts were running at a stunningly high rate of 2 million per year.  This at a time when household formation was closer to 1.2 million.  So this enormous imbalance occurred.  The current stall in housing starts is simply allowing the overall market to catch up.  That is one of the big questions regarding when housing will recover.  When will housing starts pick up?  Today we are going to look at 5 major trends that will keep housing prices low for the next few years.
Reason #1 – Household Formation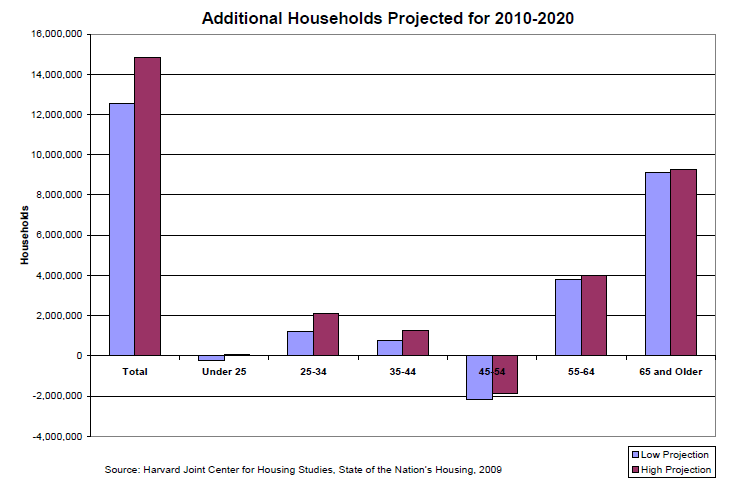 Source:  The Urban Land Institute
The Urban Land Institute put out an interesting paper in January examining the future of housing.  One of the main trends they found revolves around younger generations living in urban centers.  In fact, on their survey they found that many would accept a smaller living space in order to be closer to work, friends, and entertainment venues.  Another important factor they highlight is those from 25 to 34, a peak household formation range, have seen wages fall in real terms by 12 percent for men and 3 percent for women.  What this translates for housing is less money for housing.
Another big problem keeping households from forming in the current market is the high unemployment rate.  Many of these people are doubling up, moving back home, or simply taking on cheaper rental housing.  Once the employment market picks up we can see a pent up demand for housing slowly pick up but that is why we keep discussing that without solid employment growth, there is little reason to believe home prices will suddenly move up.
The unemployment rate for those from 20 to 24 is 15.8 percent and for those 25 to 34 it is 9.9 percent.  Both of these rates are higher than the current headline rate of 9.7 percent.  Until job prospects improve, the demand for more expensive housing will remain muted.
Reason #2 – Overbuilding and Housing Starts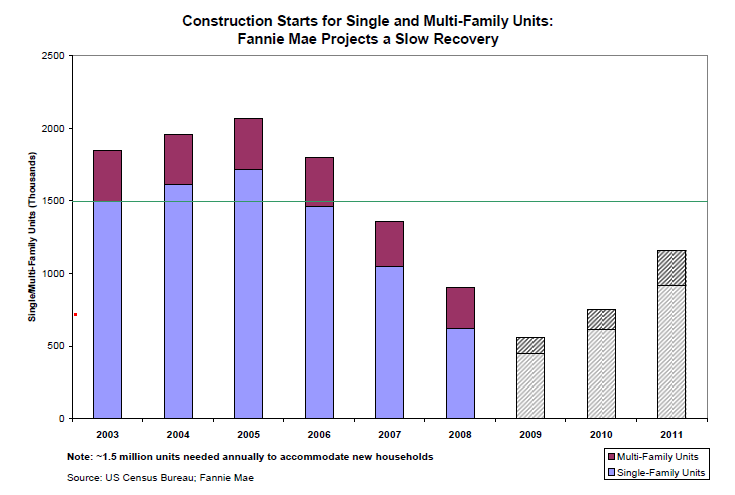 The above chart shows the massive overbuilding that occurred during the housing bubble.  With housing formation steady the rate is closer to 1.2 million but we were building closer to 2 million.  Now, this has translated into a massive glut of housing.  So the housing start rate plummeted in 2007 as we worked our way through too much demand.  In addition, we added a large number of new homebuyers that were never qualified to own a home to begin with.  This is the group that took out subprime or option ARM loans on homes that clearly were unsupported by their incomes.  As we now know, most of these loans are now gone so now millions that once were "qualified" to buy are out of that buyer pool.  So demand is also falling because people don't qualify with tighter loan standards.
If we look at the housing start side of the equation, builders clearly realize that the demand side is still weak for new construction: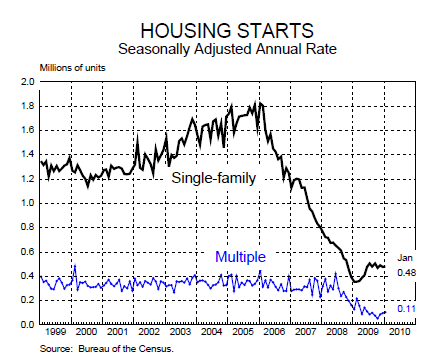 Although housing starts are up from their depressed levels, they are nowhere near a healthy market level.  We still have inventory that we need to work through before builders start growing at a pace of even 1 million.
Reason #3 – Single Family Home Sales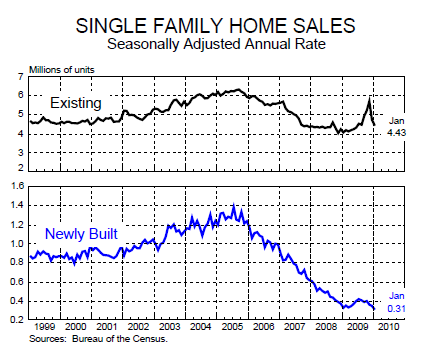 If you examine the above chart carefully, you'll notice that up until 2007 both existing and new home sales tracked very closely.  For example, close to 5 million existing homes were selling on a seasonally adjusted rate while roughly 1 million newly built homes were selling from 1999 to 2002.  Then even in the over building days both of these tracked together.  The disconnection has started in 2009 where existing home sales have perked up while newly built home sales are still near the bottom.  Why?  The reason has to do with the amount of distress sales.  The big driving factor in home sales is home price.  In a price conscious market people are gravitating to foreclosure re-sales and short sales where prices are lower to meet with the new economics of households.
Newer homes that carry a bigger price tag have seen demand simply disappear.  In areas even like California, areas that have lower home prices like the Inland Empire have seen sales pick up briskly but prices remain low.  Those areas that still have higher prices have seen sales completely stall.
Reason #4 – Home Prices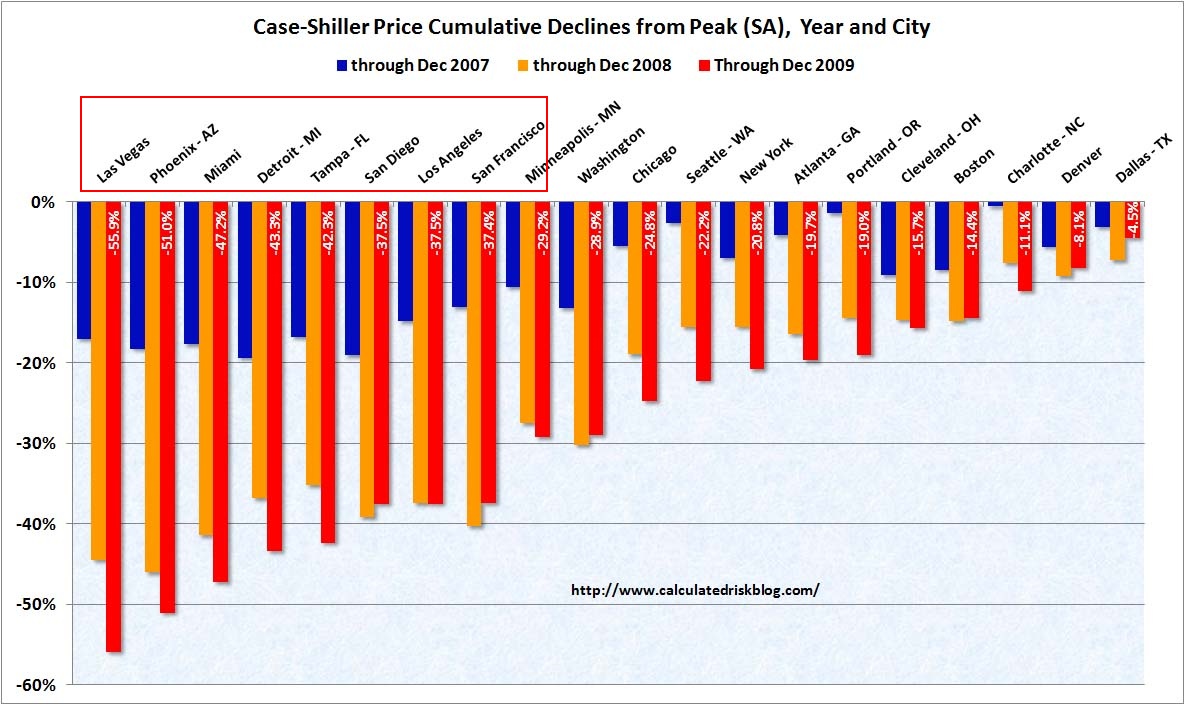 Source:  Calculated Risk
If you look at the above chart, the top eight areas with depressed home prices are California, Nevada, Florida, and Arizona.  The one exception is Detroit but this area has seen low prices trending even before this current housing collapse.  One recent stat shows that 70 percent of mortgage holders in Nevada are underwater.  In California that number is 35 percent.  So with these kinds of market indicators it is very likely that in these states prices will continue to trend lower.  Throw in the high unemployment rate in these regions and you can understand why it is so important to get jobs growing in this country again.
Ultimately prices have to reach a level where local households can afford the mortgage.  This crisis has gone on long enough where younger households, hit by a double whammy of low wages and higher home prices have seen older generations now lose their home or struggle simply to pay on a mortgage so big that nearly all disposable income is eaten by the mortgage.  The idea that real estate is "always a good investment" is now gone for a generation.  That is why in recent surveys many are looking to live in city urban centers as opposed to suburban tract homes.  This is another reason why home prices will remain low for a good portion of time.  I just don't see a massive flood of the household formation generation heading out and purchasing homes in suburbs like baby boomers did.  They will buy but nowhere close to what baby boomers did.
Reason #5 – Homeownership Rates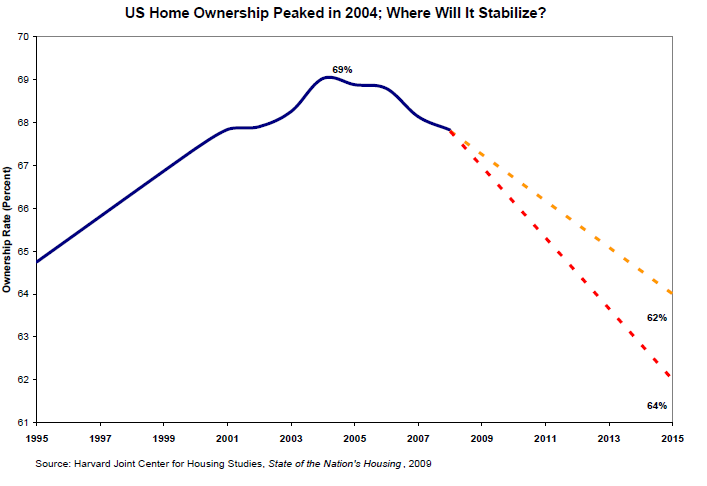 Buying a home is an opportunity that should be given to those that have demonstrated some ability to save and pay their mortgage.  That is why down payments were so important.  A 10 percent down payment at least demonstrates that you can save for a few months or years for a big purchase.  This is how it was for generations.  But with no money down loans and easy financing those who should have never bought were allowed to buy to feed the Wall Street beast hungry for any mortgages to securitize.  Now, the only game in town is government backed loans.  And as we saw on Friday, Fannie Mae lost in 2009 over $70 billion.  I just keep recalling the day when we were told that these GSEs were going to turn a profit.  Yeah right.
But we have bigger issues.  The FHA with FHA insured loans is allowing people to buy homes with only 3.5 percent down.  It actually is lower because people can use the tax credit in combination and make this close to a nothing down purchase.  Is it any surprise that FHA default rates are now at historic levels?  Homeownership is not a right but a privilege we have.  This is no different from buying a luxury car.  I'm sure many of us would trade in our current vehicles for a Ferrari if we could but that isn't how the market works.  But when you allow everyone access to mortgage debt they cannot support it shouldn't be a surprise that people took on too much debt.  The above chart shows that consumption part of the equation.
But now the homeownership rate is falling as millions lose their homes to foreclosure.  Many more will lose their homes as toxic mortgages do what toxic mortgages do.  The trend for the homeownership rate will be lower for years.  Also, the weak economy is going to keep pressure on housing prices since people do pay for their home payment out of income they get from their jobs.
When we step back, the market is already telling us many things.  Lower home prices will get more Americans to buy homes so having Wall Street and the government trying to prop up prices is a bad thing.  In markets where demand is high prices will remain high because of supply and demand forces.  Why the need for government backed easy money mortgages?  Why the need for all these support programs that only prolong the misery?  There is absolutely nothing wrong with renting and frankly, it is a shame that many in this country look down upon that.  This is similar to those "keep up with the Joneses" folks that had to keep up with their neighbors jet skis, Hummers, and other items that sunk many families.  Just look on eBay and Craigslist and you'll see many people selling these items trying to downsize.  Buying a home is the biggest purchase most Americans will take on and should be entered with caution.
There is a delicate balance to all of this and currently the market is still out of balance.  How anyone can see home prices booming in the next few years is hard to understand.
Did You Enjoy The Post? Subscribe to Dr. Housing Bubble's Blog to get updated housing commentary, analysis, and information.