The net worth of U.S. households fell by $1.5 trillion in the second quarter of 2010.  Recent data from the Fed shows that even during the recovery, U.S. households continue to move backwards in making financial progress.  Who are we really kidding here?  Does this feel or have the taste of a recovery to anyone?  In fact, new data now coming out from the Census shows that from 2008 to 2009 the U.S. lost 1.3 million households.  That's right, because of the economy people have had to consolidate households.  Yet as we will show later, much of this was shouldered by renters.  Another thing that will impact the housing market going forward is the student loan bubble.  That is right, higher education is in one giant inflated blue debt bubble and thankfully the mainstream media is now picking up on this.  Many young potential buyers won't be able to buy a home because theoretically they already did with the cost of their education.  The numbers don't look pretty for recent graduates with red all over their balance sheets before they even start their professional life.
New generation saddled with debt not seen in the past
College students are facing skyrocketing college tuition that recently surpassed credit card debt:

Credit card debt has contracted down from reaching close to $1 trillion because many have filed for bankruptcy and banks have written the debt off.  But with student loan debt, it just inches higher because this debt is permanent.  Like the toxic mortgage debt that pushed home values higher, we now have toxic student loan debt allowing students to pursue degrees even at paper mills for $20,000 a year or more.  Is it any wonder why these predatory institutions prey on students in targeted areas?  And that is only one segment of this shady market.  You also have people going to top ranked universities and getting degrees that provide little viable path to employment:
"(Yahoo!) Today, however, Ms. Munna, a 26-year-old graduate of New York University, has nearly $100,000 in student loan debt from her four years in college, and affording the full monthly payments would be a struggle. For much of the time since her 2005 graduation, she's been enrolled in night school, which allows her to defer loan payments.

This is not a long-term solution, because the interest on the loans continues to pile up. So in an eerie echo of the mortgage crisis, tens of thousands of people like Ms. Munna are facing a reckoning. They and their families made borrowing decisions based more on emotion than reason, much as subprime borrowers assumed the value of their houses would always go up.

Meanwhile, universities like N.Y.U. enrolled students without asking many questions about whether they could afford a $50,000 annual tuition bill. Then the colleges introduced the students to lenders who underwrote big loans without any idea of what the students might earn someday — just like the mortgage lenders who didn't ask borrowers to verify their incomes."
$100,000 in student loan debt from four years of study only!  This is pure madness.  Do we need to do a Real College Degrees of Genius series?  Now I have heard some say, "well when I went to school, I walked through the snow in shoes made of paper bags and worked to pay for my tuition."  College costs have changed since that time and just like the housing bubble at its peak, even the crappiest home in the worst part of town was selling for a premium because everyone qualified for a toxic loan.  As things stand today in the student loan market, that is still the case with loans covering virtually any college.  And just like Fannie Mae and Freddie Mac the government subsidizes the bulk of student loans.  We even have nice old Sallie Mae.
We know student loan debt is immense.  Over $829 billion in student loan debt is outstanding.  The implication for housing is large.  It is safe to assume that this debt isn't with households that have paid off their mortgage long ago.  These are people entering their household formation years.  The average student loan debt is now the price of a brand new car:
"(Atlanta Post) According to a recent study by the College Board, I am in plenty of good – or unlucky – company as almost one-out-of-five graduates with bachelor degrees will not be able to make payments on the average undergraduate loan debt, which now stands at a whopping $30,500 (pre-interest). If that's not disheartening enough, consider that for the first time ever, student loan debt now outranks credit card debt."
So right off the bat, a good portion of disposable income is going to go to servicing this debt.  Unlike a bad mortgage, you can't walk away from student loan debt.  So there is a major liability already on the books for many prospective buyers.  Compare this to a blue collar worker back in the 1960s with no debt purchasing a home.  No need for a college degree to buy a home with one income.  Today, you have this new college graduate that is probably making less on inflation adjusted terms from this blue collar worker and is unable to purchase a home without taking on more debt or combining two incomes.  You have to wonder how many college graduates with large amounts of debt are unable to purchase homes because of their student loan debt?  Keep in mind that 1 out of 4 Americans have a 4-year degree so this is supposedly a group that is prime for purchasing real estate.
As is the case with most anything where the banking industry has gotten its crony hands on, there is definitely a major bubble in higher education.  Banks are lending away because the government backs up their crappy loans with no oversight.  Think of FHA insured loans or GSE backed mortgages (basically the entire mortgage market).  The long-term repercussions will be felt in many different ways.  Nothing is being done here so higher education costs keep growing exponentially like an expensive green pine tree:

One bubble after another and when they pop, it is usually the taxpayer that pays the bill.
Disappearance of 1,300,000 households – Renters shoulder bigger impact
From 2008 to 2009 U.S. households shrunk by 1.3 million.  Yet one group took the brunt of this:

We actually added owner occupied households yet renter households declined by a stunning 2.3 million.  Why did this occur?  A few reasons:
-a.  The long drawn out foreclosure process.  With government gimmicks, banks ignoring non-payments, and other loan modifications a "home owner" can stay put for much longer than a renter that'll be out in the street in a few weeks from their missed payment.

-b.  Bias and subsidies to home buying.  Tax incentives and low interest rates are subsidized by taxpayers.  Banks influence legislation and they rather have a hot body in a home than another vacant property.
The decline in households is troubling and shows weaker macro trends.  How many recent college graduates with massive debt unable to find jobs moved back home?  This is a group that would be out getting their first apartment and creating a new household.  The decline is significant and shows the real structural challenges facing our economy.  It is also a reason why multi-unit commercial properties have record vacancy rates.
Poverty rate
43 million Americans now fall into the poverty category: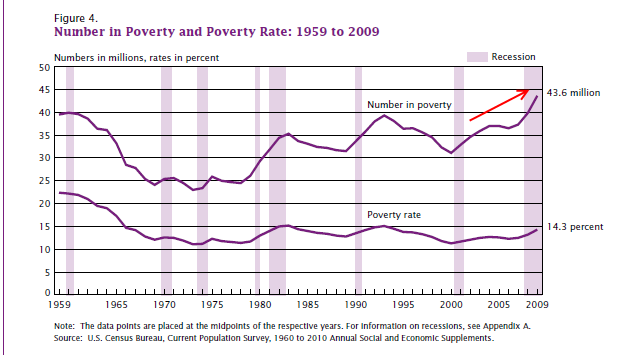 This is horrible news on many levels.  Where are these people coming from?  Many are coming from the middle class.  For many in this group they were part of the 1.3 million reduction in households.  This housing and debt bubble has deeper societal ramifications that are now playing out.  This goes beyond stabilizing home prices but reshaping what we want out of our economy.  For too long the focus has been on housing and keeping prices inflated.  Yet the latest household income data shows that U.S. households now make less than $50,000.  With that said, home prices should be lower to reflect what people can afford.
Sadly many of the poor get sucked in the web of the for-profit education debt paper mill system.  I was up late one night and saw an ad talking about a video game degree from a fly by night school.  The youth was sitting on what appeared to be a La-Z-Boy playing an Xbox or Playstation.  Now I'm no computer programmer but do know a few and I can tell you that you don't program a video game by playing on a recliner the latest version of Guitar Hero.  Yet it'll cost you $20,000 a year to get this degree with debt you'll never be able to pay off.  Are we creating a new class of people that will be stuck in perpetual poverty because of debt?
Shifting demographics
The baby boomers are coming!  The shift in demographics is not pretty for the future of housing.  I ran a few scenarios with Census data and what we find is a growing older population:

Talking with many baby boomers many haven't thought about their entire stock portfolio scenario in a deep way.  What is the purpose of a nest egg?  To have money in retirement.  But the only way to extract the money is by selling it in the market.  What happens when millions of baby boomers start selling into a stock market with low volume because younger workers are flat broke or have no money to invest after servicing student loans, credit card debt, and other commitments?  We already have a giant amount of property on the market plus another enormous amount in shadow inventory.  Many boomers will want to downsize and sell their homes in this market.
The above scenario would work perfectly if we had a giant comparable group to the baby boomers that were affluent and giant in size.  That is not the case at all.  In fact, earning potential is down even with advanced credentials and we already know about the two income fallacy.  There is a forced austerity built into the cards.
Summary
We are reaching peak debt with higher education.  Many are catching on that simply having a 4-year degree in any major from any school will no longer be a ticket into the middle class.  In fact, even going to a good school but choosing the wrong degree may leave you with a good education but no earning potential.  Try explaining that to the student loan collectors.  This is only another bubble but the implications are deep for housing.  Without any reforms, you have a large cohort of younger Americans that will put off home buying for many years because of other debt commitments.  What will this do to future projections of housing?  Just like the toxic mortgage funnel, we have new factors that change the calculus of housing for the next decade.  The shrinking household number is a reflection of our massive misguided bias to home buying.  Who really wins here?  We already pointed out that the net worth of Americans fell by $1.5 trillion in Q2 of 2010, a supposedly good time for the economy.
It is clear that massive debt pushed by the banks is the issue here.  The same too big to fail banks are also the top pushers of student loan debt (and credit card debt).  It would be one thing if they pumped out their own money but they are now wards of the country and have mismanaged so many things that we are setting ourselves up for another crisis soon.  That is why the student loan bubble is now converging with the housing bubble.  No wonder why the Federal Reserve is doing everything it can to inflate itself out of all the bubbles it has helped to create.  The only problem of course is that it isn't working as they would like and their taxpayer experiment is failing miserably for the country overall.

Did You Enjoy The Post? Subscribe to Dr. Housing Bubble's Blog to get updated housing commentary, analysis, and information.