The Southern California housing situation is deteriorating even further with the recent report showing that the median price is now back to $250,000; at this level we would have to go back to February of 2002 which means we have erased 6 years of price gains.  And we are not far from 2000 price levels.  The median price of a Southern California home on January of 2000 was $209,000.  Many doubted that we would face a lost decade but here in California we are certainly going to have our lost housing decade similar to what Japan faced in their overall economy. In this report, I'm going to put to rest some misconceptions floating around and once again, we hear the bottom callers out in full force but their conviction is weaker since they have been proven wrong over and over again.
First, the new $275 billion Homeowner Affordability and Stability Plan will not help California, especially Southern California.  Why?  First, the plan virtually rules out all Option ARM loans since it will only cover loans guaranteed or backed by Fannie Mae and Freddie Mac.  In a way, the plan will force toxic waste lenders or those who have these notes on their books further into their corners.  Another point is the plan will only refinance loans up to 105% of the actual home value.  Well, in SoCal where the median price is now $250,000 all those that paid the peak $505,000 price are nowhere near 105% ratios especially if they paid the negative amortization portion of their Option ARM.  This I view as good.  These toxic mortgages had no right in the marketplace.  The plan will also open up the door to mortgages being reworked in bankruptcy court which is important.  In addition, there is a portion looking to lower the balance of mortgages via the government and lender through a matching program.  They are trying to get debt-to-income ratios below 38%.  Overall, this plan isolates places like California and Florida which is the right move since most of the toxic products reside in these states.  I'm not sure why the bottom callers think this plan will help California when the program will most likely help Americans in the heartland (aka, homes around or below $200,000).
Initial claims on unemployment still remain high with 5,000,000 Americans receiving some form of jobless benefits.  These are definitely tough times and this will be the longest recession since the Great Depression.   California has one of the highest unemployment rates yet some people still think that this bodes well for housing prices and are calling bottoms.  Insanity.  They fail to examine the facts and spend two minutes to think through the logic and math of it all before blurting out "bottom!"  These people calling bottom fail to realize that the Dow is now below the November lows.  But what do you expect from people that justified housing prices on their way upward?
Before we move on, let us first look at a chart I put together looking at the entire Southern California region: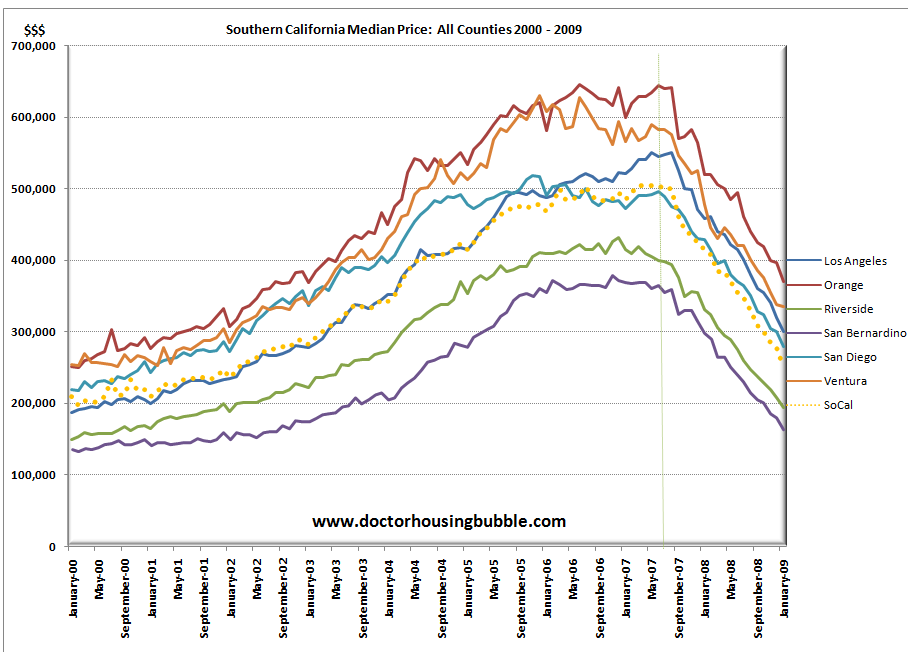 *Click for shaper picture
What is stunning is the velocity of prices falling is much quicker than the process upward while we were in the bubble.  This is typical in bubbles.  The crash is more ferocious than the mania.  What do I mean?  Let us look how long it took us to go from $250,000 to the peak of $505,000:
Median SoCal Price
February 2002:  $246,000
March 2007:       $505,000
[5 years and 1 month to reach peak from $250,000]
July 2007:             $505,000
January 2009:     $250,000
[1 year and 6 months to lose 5 years of gains]
And this is how bubbles burst.  That is why I urge you to read the 10 reasons California will not hit bottom until 2011 because many factors are at play here.  The media many times is quick to report headline data from certain sources which can be misleading.  Sales have jumped but what areas reported record sales?  Perris, Victorville, Temecula, and other areas in the Inland Empire.  What is the median price for the Inland Empire?
San Bernardino:                                $162,000
Riverside:                            $195,000
And you'll get many cherry pickers pointing out that the median price for the region is down because of these two regions but across all counties, prices are down from 40 to 50 percent from peak prices.  Don't think so?  Let us look at two of the most populace and high priced counties:
LA Peak:                               $550,000 (August 2007)
LA January 2009:               $300,000
Drop of $250,000
Orange County Peak:     $646,000 (June 2006)
Orange County Jan 09:   $370,000
Drop of $276,000
So as you can see, even the counties considered to be "more prime" are seeing prices collapse.  And they will continue to come down.  People are having a sigh of relief given the California budget being passed but fail to even read the actual budget.  Massive cuts and tax hikes are coming.  How is this a sign of relief?  Do you think this is going to help the California housing market?  It will not.  We have further to go especially given that 2009 will be the first year with major Option ARMs coming home to roost.
One of the headlines I saw today stated "Southland home sales surge" but let us see how this looks on a chart: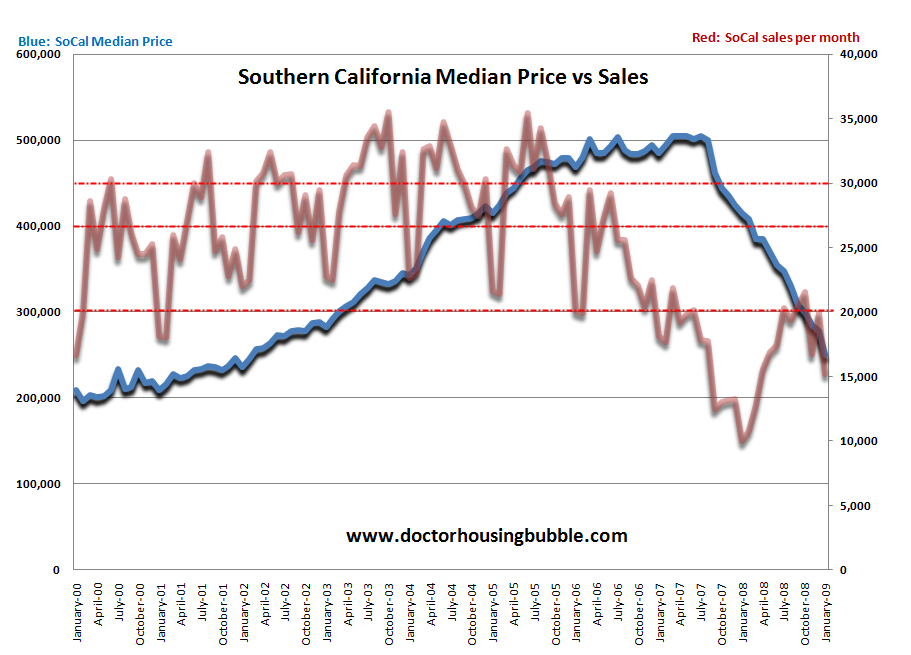 38% of all homes sales last month were in the Inland Empire.  And keep in mind the home sales that did occur in the other counties were mostly at lower prices.  Foreclosure resales now make up 58% of all homes sold for Southern California.  But looking at the chart above, that "surge" doesn't seem to really stand out.  Sure, we are up from the absolute rock bottom point but the only reason homes are moving is that prices are being slashed to the point where the entire region is now off by 50%.  That bottom if you recall was a point of massive delusion where many people simply refused to lower prices.  I remember only a few years ago when people would comment on the blog thinking a 10% drop was impossible in California.  Those days are long gone and so is that argument.  The bottom line is prices are still too high given local area incomes, employment, schools, and neighborhood data.  Given the severity of this bubble, we may see rent to PITI ratios come much closer in line.  That is, owning a home at some point will only be slightly more expensive than renting a home.
I've added some grid lines to the chart above to show that not once since mid to late 2006 have we crossed the 25,000 a month homes sold line.  Forget about 30,000 or 35,000 which we crossed many times during the bubble heyday.  So the fact that we sold 15,227 homes in SoCal last month is nothing to shout about but since when have the mainstream headlines come close to being right this past decade?
Did You Enjoy The Post? Subscribe to Dr. Housing Bubble's Blog to get updated housing commentary, analysis, and information.