Trying to figure out the aggregate housing price decline of a state as large as California is no easy task. For a state with over 36,000,000 people getting a simple statistic on housing is challenging and requires the ability to look at multiple sources of data. During the height of the housing bubble median price reports for the same location would sometimes be off by as wide as $100,000. How can that be? Some sources look at repeat sales while others combine new homes and re-sales in their data.
The major point is now that housing prices are correcting, the major sources of housing price data for California are starting, albeit slowly to come together and are showing a more standard price point.
We are going to look at three major sources of housing price data for California. The three sources we are going to look at are the Case-Shiller Index, the California Association of Realtors (CAR), and DataQuick monthly reports. The Case-Shiller Index to begin with looks at same home re-sales over time. That is, how does one single home do over a length of time? By most industry standards, this seems to be the most accurate and fairest representation of price changes since you are looking at one home and its performance with future sales activity. The index figure is not a price but rather, an adjustment from the base year of January 2000. The base figure is 100 and prices move as a percentage. So for example an area with a 200 Case-Shiller Index point has doubled in price since January of 2000.
The other two measures from the CAR and DataQuick look at new home and re-sales in a given month. For example, we will look at all home sales for the month of May and determine a median price for that month. This data usually gathers sales that occurred 30 to 45 days prior since escrow accounts and tax records take 1 to 2 months to update. This offers a good view of what is occurring on an overall perspective yet may miss some of the nuisances on a single home traveling through time.
First, let us take a look at California as a whole and look at the peak prices from both the CAR and DataQuick:

What you will notice is that in regards to the peak month, both the CAR and DataQuick came rather close at pinpointing the same peak month. April and May of 2007 seems to be the peak month in their data. Yet you will notice a stark difference in the actual peak price. Both report the median sales price yet the difference from both is $113,640! That in many parts of the country will buy you a starter home so this is no minor detail.
However, look at the current correction median price and you'll see that both data sources are quickly converging on a single point. The difference from both sources is $40,250. That seems like a much more reasonable difference.
Another stunning point in the data is how quickly prices are declining. It is hard to believe, whichever dataset you choose to look at, that the median California home price early last year was nearly $600,000 or $500,000. Now, the median price is starting to hover around $300,000 to $350,000. That is a stunning amount of wealth destruction in one year for a state with 13,170,000 housing units.
Now let us use the Case-Shiller Index data to see if the data coincides with the CAR and DataQuick information:

Unfortunately, there is no statewide measure for California from the Case-Shiller Index but we can look at three of the largest metropolitan areas to see what is going on. The Los Angeles component of the Case-Shiller also includes Orange County.
What you'll notice is the divergence in peak months for Los Angeles, San Diego, and San Francisco. Los Angeles hit its peak almost 1 year after San Diego. In addition, these peak prices occurred much earlier than the CAR and DataQuick. In fact, we are looking at 1 to 1.5 years earlier. Now why is that? Again, the Case-Shiller Index looks at a single home over time. That is why those that were still arguing that there was no bubble in 2006 and 2007 simply because prices on an aggregate scale were rising were not looking at the emerging trend in the Case-Shiller Index.
For these major metro areas the overall percent decline is from 25 to 28 percent from the peak reached. Keep in mind that this doesn't factor in inflation over these few years so the actual real price decline is much higher. Let us look at these three areas in terms of dollar amounts from the CAR data:

In terms of percentage declines, the CAR shows a steeper price decline for Los Angeles and San Diego but not for San Francisco. Again, that is why it is important to look at various sources to get a better overall perspective of what is occurring in the overall market.
What is common amongst the three sources is California is facing the steepest and most quick moving housing correction in history. The amazing fact is we still have $300 billion in Pay Option ARMs that were made during these peak points sitting and waiting for a recast anniversary.
The new housing bill now fully signed into law by the President will do very little to help California. Why? First, lenders should they wish to participate will need to have the property reappraised at today's market value. Given the above data and across the board correction, this will force lenders to take a major haircut. In addition, the lender will be required to cut an additional 10 percent from the current appraised value. Well in places like Los Angeles where the median price is off by 35.65 percent an additional reduction of 10 percent will bring the one year correction to nearly 50 percent! That is astonishing and to be honest, I see very few lenders who will elect to do this (if they even can). It will force them to bring Pay Option ARMs that are current on a low payment looking like they are profitable into major losses were nearly half the balance is now gone. The weak balance sheet of lenders will implode if they elect to go this route.
Another reason that this won't fly in states like California is many borrowers even with the new bailout program will not be able to make their payments on a 30 year fixed. How is that? Let us do a quick Pay Option ARM versus 30 year fixed calculation. We'll use the peak Los Angeles price and current median price as our reference points. Let us take a look at the Pay Option ARM terms:

As you can see from the above, the minimum payment is only $2,053 on a $616,230 loan! Simply insane and ridiculous. What should be a $3,626 a month payment is artificially lowered by nearly half. Keep in mind that data on option arm loans tells us that approximately 80 percent of people make the minimum payment and we are not factoring in taxes or insurance above.
So with that said, let us assume the lender decides to participate and that home valued at $616,230 is now appraised at $396,560. How will the numbers work out now? Well first the lender will need to take off 10 percent off the appraised value plus a one time 3 percent fee from the note to participate in the program:
$396,560 x .13 = $345,007 new 30 year fixed mortgage
According to the Freddie Mac website the current 30 year fixed rate is 6.63%.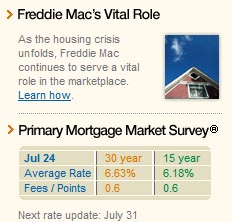 So let us assume the borrower now goes with this loan. What does his monthly principal and interest payment work out to be?
30 year fixed new principal and interest payment = $2,210.26!!!
So even after the massive haircut the lender will take from the 35.65% market correction, the additional 10% in reduced appraisal terms, and the extra one time payment the borrower actually has a higher payment than the initial Pay Option ARM payment for a loan that was $271,223 larger.
So for all the e-mails I've gotten about the bill and California please read the article looking at the gritty details of the FHA program and see why California is not going to be helped by this bill.
And if you think we have seen the recasts on these loans yet just take a look at the WaMu Option ARM portfolio which is "worth" $52.9 billion with $26.3 billion here in California: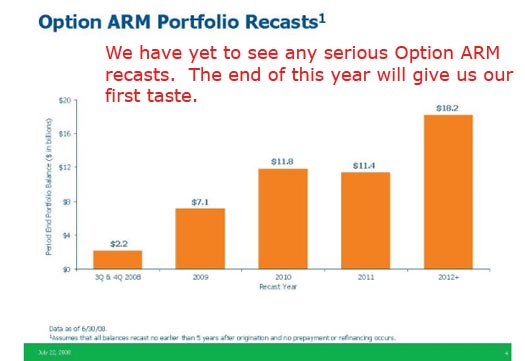 Use the multiple price measures above and follow the trend. Housing prices in California are still nowhere close to a bottom. Even though the 3 sources above don't completely agree at least they can agree that the trend is heading lower.
Did You Enjoy The Post? Subscribe to Dr. Housing Bubble's Blog to get updated housing commentary, analysis, and information