The economic unraveling is happening at the speed of light now, imploding faster than a collateralized debt obligation.  This week is going to be a busy end of the month with major reports coming out one after another.  As individuals and families start collecting those needed W-2s and gear up for tax season, many government agencies are in for a shocker by what corporations and individuals have to report.  On Friday, I warned of those investors calling a financial or housing bottom and only a few hours after I reported how horrible the 8.4% California unemployment rate was, we get a release that the unemployment rate in California now stands at a stunning 9.3%.  Double-digit unemployment is here and many counties are already "officially" there.
In this article we are going to examine 5 observations that only a market collapse like this, something we haven't seen since the Great Depression can generate.  The Nasdaq now has a Government Relief Index so we can track the demise of our tax payer investments.  The index measures companies that receive over $1 billion in government relief.  This by current estimates is probably every single crony company on Wall Street.  Next, we will discuss how one of the government sponsored entities, from the two stooges camp of Fannie Mae and Freddie Mac are already back at the well for more money.  That was fast!  Again those calling for decoupling are being schooled once again by the unraveling of the Euro and British Pound while the U.S. dollar remains relatively strong.  There will be a slew of information next week so get ready with your swim goggles to drink water out of a fire hydrant.  And finally we will discuss the California unemployment numbers and will dig deeper into the report.  The news is not good and is even worse than the 9.3% headline number.
The Nasdaq Government Relief Index
I'm not sure if the Nasdaq Government Relief Index is a cruel joke of transparency since we all know that most of the money being dumped in these companies and failing banks is not coming back.  Too bad there wasn't an easy way to short this thing when it opened on January 5th, 2009.  Let us see what the index is about:
"(Nasdaq) This Index allows taxpayers and other investors to measure the performance of U.S. companies that are participating in the government's financial relief plan," said NASDAQ OMX Executive Vice President John Jacobs. "We believe the NASDAQ OMX Government Relief Index will be useful in helping investors evaluate the government's investments and the impact of the relief plan on the economy during this period of historical significance."
The NASDAQ OMX Government Relief Index consists of companies across multiple industry groups that have received a direct investment from the U.S. Government greater than $1 billion. The Index is the first of the Government Relief Index Series that NASDAQ OMX will be launching in the coming weeks.
The Index is calculated in real-time across the combined exchanges and is disseminated in dollars. The index began calculation with a value of 1000.00 on January 5, 2009."
Why not call it the Bailout for Upper Management (BUM) index?  Let us now take a look at how things look on the index shall we?

A 34.5% drop in 3 weeks.  Glad our government money is being spent well!  If this is what we had in mind with transparency, maybe we should go back to simply thinking money is being flushed down the toilet and sticking our head back in the sand.  Maybe we don't want to see the painful details of the actual money being eviscerated into the money shredder.  When I think of transparency, I hope we are talking about being open BEFORE we make the investment, not after.  This money is gone into the abyss.  Remember that small cadre of Kool-Aid drinkers who were telling us we were going to turn a profit on all this?  Maybe in a distant future but nothing in the short run.
Yummy – Can I have some more Government Cheese?
Mortgage giant Freddie Mac is now back looking for $35 billion from the government.  Let us take a trip down memory lane to July of 2008 when I talked about how we would be on the hook for billions of dollars if we went down the path of digesting the two giant mortgage organizations.  Remember this memorable quote from Paulson?
"I'm not here recommending putting taxpayer money into these institutions at this time. I am recommending we increase the backup facility temporarily to minimize the chance that the taxpayer will be involved," he said. "If you have a squirt gun in your pocket, you may have to take it out," he said. "But if you've got a bazooka in your pocket, you may not have to take it out."
Not only have we taken out that proverbial bazooka but we've also added RPGs, ninja stars, ray guns, light sabers, F-16s, stealth fighters, nukes, tanks, and every other imaginable weapon of financial destruction.  The market was not impressed with Paulson's bazooka.
In the Freddie Mac 8-K filing we get a glimpse of what they are looking for:
"Based on preliminary unaudited information concerning its results for these periods, management currently estimates that the Federal Housing Finance Agency, in its capacity as conservator of Freddie Mac (Conservator), will submit a request to the U.S. Department of the Treasury (Treasury) to draw an additional amount of approximately $30 billion to $35 billion under the $100 billion Senior Preferred Stock Purchase Agreement (Purchase Agreement) between Freddie Mac and Treasury."
Awesome.  If you need any more reason to not use the government as a source for future projections, look at the CBO estimate which was released in July of 2008:
"NEW YORK (CNNMoney.com) — The Congressional Budget Office on Tuesday estimated that a government plan to stabilize mortgage giants Fannie Mae and Freddie Mac could cost government coffers an average of $25 billion.
The CBO said it thinks there is probably a better than 50% chance that the Treasury would not need to step in. It also said there is a 5% chance that Freddie and Fannie's losses would cost the government $100 billion."
Bwahahaha!  Don't go betting with the government because they have a track record that is horrifically wrong.  We are already over that $25 billion mark and this $35 billion additional draw simply shows how off their estimates are.  That 5% chance is a lower end of the losses.  Fannie Mae and Freddie Mac will have significant losses because now, they are virtually the only game in town but also, many "prime" loans are going to start faltering given the economy and many analyst did not factor these things into their equations.
Currency Spaghetti – Decoupling meets eHarmony
If you need to understand why decoupling is a myth or what it is, please read the article "the Myth of Decoupling" which talked about this in detail.  Basically, the premise was that the U.S. would go under while the entire world flourished.  Little did many of these people realize that the balance sheet of most industrialized countries followed the same delusional crony capitalistic model and is in many cases, is worse off than the U.S.
Nothing highlights this more than looking at 3 major currencies over this economic crisis; the U.S. dollar, Euro, and Pound.  Let us look at this on a chart since August of 2007, when the gates of economic hell opened up: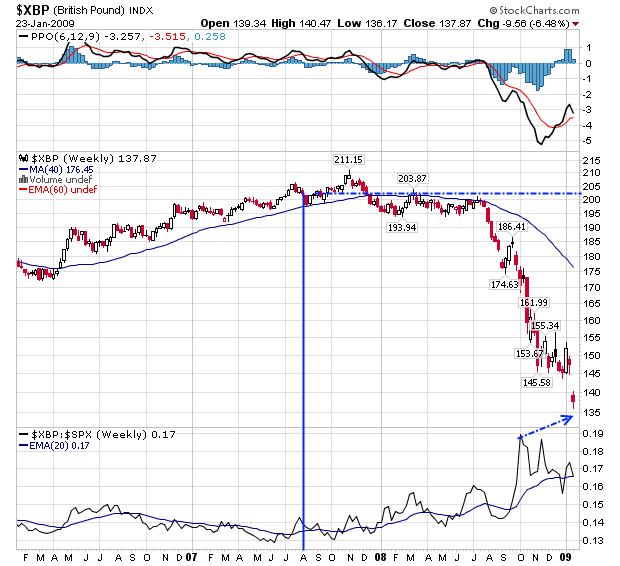 Since August of 2007, when the U.S. bubble burst on the global stage, the following has occurred as you can see from the charts above:
U.S. Dollar:                +6%
Euro:                          -6.1%
Pound:                        -35.5%
The Euro's demise is largely based on its emergence as a reserve currency trying to rival the U.S. dollar but once we found out that European banks acted in the same crony fashion, investors started returning to the "safe play" which is the U.S. dollar.  That is why since that time, the U.S. dollar has risen virtually the same amount as the Euro has fallen.  If you look at the chart of the Euro, it hit a peak of approximately 160 only in May of 2008 when the decoupling myth was going strong.  Since that time, the Euro has fallen 20% in less than a year.
But the currency that has taken it harder on the chin is the British Pound.  The Pound over this time has cratered nearly 35.5%.  As it turns out, the U.K. not only has a housing bubble rivaling the U.S., but they have banks that are running on a crony level as well.  Yet they don't have the fortune of being a major reserve currency like the U.S. dollar or the Euro.  The 35.5% drop is simply astounding.  The currency markets tell a very different story from pundits and politicians.  That is, they believe this is going to be a long and extended downturn and people are seeking safety.
Week of Massive Information – Welcome Case-Shiller to Yahoo! Calendar!
I like looking at the week ahead and trying to get a sense of what to expect.  Next week will be a fun-filled week of earnings and major data releases.  Let us look at what to expect:
-Existing home sales
-Consumer confidence
-S&P Case-Shiller Composite
-FOMC Rate decision
-Initial claims
-New home sales
-GDP
-Chicago PMI
-Michigan sentiment
What does this mean?  Get ready for an extremely volatile week.  But one awesome thing that I am now seeing is the legitimacy of the Case-Shiller Index because it is now officially in the Yahoo! Finance calendar:

This is the first time I see it appear here so hats off to finally making it to the official economic calendar where Census, BEA, BLS, and other "official" reports make it.  It is hard to see how the market is going to react.  Expect reports to say a lot of "better than expected" since expectations are set so low.  GDP estimates are at -5.2% for the fourth quarter which if we come in or better than this, expect a bunch of spinning since the number is on the lower end.  If it misses however, expect major downward pressure but this is toward the end of the week so you won't have much time to digest this data.
We can expect home price to be lower with the Case-Shiller Index and the FOMC report is pointless since we are already at 0.25 so expect the media to dissect the wording in the report.  Home sales are already expected to be in the crapper so any upside should expect a pop.  Consumer sentiment should come in higher simply because of a new administration and higher hopes.  Yet unfortunately, the data on the street is still very bad.
California Unemployment – Worse Than Reported
I have gone into painful detail regarding the California housing situation and need to reiterate that housing will not bottom in 2009.  The reason I continue to beat this drum is so people don't drink the Kool-Aid (again) and go out buying a home simply because it is half-off and you saw a kid spinning a neon colored sign.  I've heard a few pundits going off this line of argument again and they are simply wrong.  After posting an article with the dire 8.4% number from November, we got a release telling us unemployment had shot up to 9.3% in December.  That number is stunning.  Keep in mind that since 1976 (data from the Census) the highest unemployment rate for California was 11%.  I expect us to break through that.  In fact, we are already there if we calculated the number accurately.
You need to remember that part-time workers looking for full-time jobs or those not working who have given up are not counted in the unemployment numbers.  I know personally many people that are working one or two part-time jobs but want full-time employment.  I'm sure you personally know of cases like this as well.  Basically 1 out 10 people in the state is without work.
What is more startling in the report is the massive amount of involuntary layoffs:
California unemployment data
December 2007 unemployed:             1,079,000
December 2008 unemployed:             1,732,000
November 2007 unemployed:             1,566,000
What that means is in one month, California saw 166,000 people added to the unemployment lines and in one year, the number has jumped a stunning 653,000!  That is simply jaw dropping.  And as I expect with our current budget deficit still in shambles with a $40+ billion budget deficit for the next couple of years, and the fact that we have yet to see the massive recasts with option ARMs, the state is in for a tougher 2009.  So we will break that 11% mark.
But if we dig deeper into the data, we realize even more deterioration:
Of the unemployed:
782,200 were laid off
125,300 left voluntary
Others:  new entrants or reentrants into the labor market or temps
The number leaving the workforce by choice is tiny.  This is an across the board cut down in the employment sector.  That is why the California 2009 forecast I put out will hold true since we've relied so heavily on the finance and real estate industries.  What is disturbing is the growing number of those on unemployment insurance:
"In related data, the EDD reported that there were 655,445 people receiving regular
unemployment insurance benefits during the December survey week. This compares
with 593,670 last month and 451,098 last year. At the same time, new claims for
unemployment insurance were 87,979 in December 2008, compared with 80,920 in
November and 56,984 in December of last year."
Those filing for unemployment insurance is skyrocketing.  Some of you may be aware of this insurance but I think it is important to know what it is:
"The amount for benefits available is based on the claimant's earnings in the base period. To qualify for benefits in California, a claimant must have (1) earned at
least $1,300 in the highest quarter of the base period, or (2) have earned at least $900 in the highest quarter and earned total base period earnings of at least 1.25 times the high quarter earnings. For example, if the claimant has $900 earnings in the highest quarter, he/she is also required to have earned a total of $1,125 in the base period ($900 x 1.25 = $1,125). The maximum amount of a regular UI claim is either 26 times the claimant's weekly benefit amount or one-half of the claimant's base period wages, whichever
is less."
Just before leaving office, former President Bush did sign a law extending unemployment insurance by 13 weeks from the current 26 weeks.  So 39 weeks or three-fourths of the year will be covered.  The max anyone can receive is $450 per week in California.  So let us run the numbers to see how much is going out per week:
Number currently receiving unemployment insurance:  655,445
(max) Average $450 per week:                       $294,950,250
Average $300 per week:                                 $196,633,500
(lower end)  Average $250 per week:             $163,861,250
Keep in mind that unemployment insurance is financed by employer taxes who pay up to a maximum of $7,000 per year.  Do you think with the bottom line being hit with many companies that some can actually afford this?  Keep in mind when the extension was signed in November, many people had already started exhausting their funds.  The government had to dig deeper in to its pockets, money which it doesn't have.
So think about it, I know many people criticize "make work" programs but already in a state like California, anywhere from $163 million to $294 million is going out a week to people who aren't working.  Shouldn't we at least put some of these people to work if they can't find a job?  I think this would be a better use of money because at least folks will be working and generating an income and have a stake in helping the economy even if it means repairing roads or fixing up a school.  This is how things are going to be for some time.
Japan has many lessons for us with its lost decade.  It is probably more likely we will head down toward a Japan route instead of a Great Depression world if we do have a major economic calamity here.  The fact that we have already sunk trillions into the economy and zombie banks and now we are on path for a major fiscal stimulus program, we can expect a sluggish next 10 years.  Much of our future money is being spent right now.  Maybe a lost decade is better than a major Great Depression?  That seems to be our choice.  Any pundit that tells you we are going to have a second half recovery needs to be banned from ever appearing on the air again.  Really, do you think things will be shiny again by July?
Did You Enjoy The Post? Subscribe to Dr. Housing Bubble's Blog to get updated housing commentary, analysis, and information.