One of the many problems facing the housing market is the lack of qualified first time home buyers.  Household formation for the purposes of buying a first home typically occurs in the 25 to 34 age group.  Yet this recession has hollowed out the middle class and we have found out that millions in this age category simply moved back home or don't qualify to buy even with historically low interest rates.  Typically this group would be renting and saving for their starter home.  However with a poor economy for young professionals this step is being stunted.  A big part of the market is being driven by lower cost distressed properties being purchased by investors.  The young professional household is facing challenging times ahead especially with so many coming out with tens of thousands of dollars in student loan debt.  The old fogey remembers the days of hundred dollar annual tuition and working part-time to pull through college with no debt but with many public quality universities now routinely charging $15,000 or more a year, it will be hard to cover your costs by working at Wal-Mart part-time (especially when you are competing with millions for those part-time spots).  One aspect largely missed in the press is the connection between incredible levels of college debt and the impact this will have on the starter home market.
First the scariest graph on mortgage debt once again
I had mistakenly assumed that most people already realized that the government was pretty much the entire mortgage market: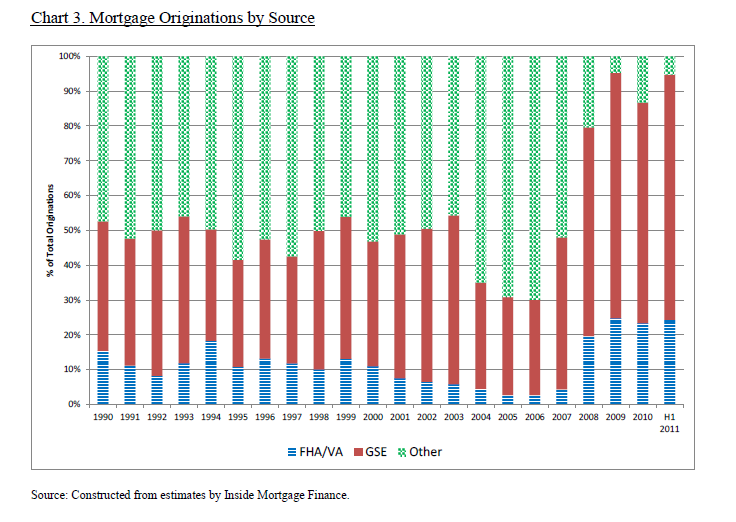 As it turns out, most people think because they refinanced at Bank of America or receive their monthly statement from Chase that they somehow own the mortgage.  This is not true.  The government with the ultimate banker in the Federal Reserve has pretty much turned into the mortgage market since the crisis hit.  Bank balance sheets are a mess and banks are willing to lend to qualified buyers with sizeable incomes and a good down payment.  Suddenly banks are tight with their funds but more than willing to roll out taxpayer dollars.  But look at the above chart and you will realize what banks are realizing.  The entire U.S. financial system is being supported by the government.  In other words, investment banks and the too big to fail are largely wards of the state only alive because of taxpayer bailouts.
Yet look closer at the graph.  Notice that blue line?  Those are those low down 3.5 percent FHA insured loans.  Even in the non-bubble year of 1995 FHA made up roughly 10 percent of the entire mortgage originations for that year.  This year it is well over 20+ percent.  Current default rates are not good on these documented loans because of the poor economy.  In essence banks are like a Hollywood set for the public pretending like they have money and making loans but in reality are nothing more than a shell that is empty.
This brings us to our next issue with student debt.
Mortgaging education and housing
If the above chart on mortgage debt was startling this below chart should give you the chills: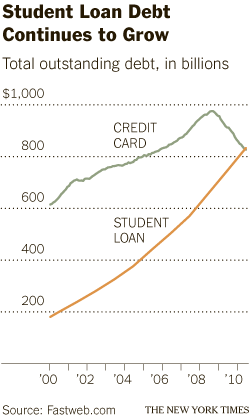 Source:  NY Times
The student debt market is now much larger than the credit card debt market in the United States and the trend is making a clear move to $1 trillion.  Now this wouldn't be such an issue if graduates were earning a nice ROI on their investment.  More and more evidence is showing that with over 4,000 colleges in the U.S. some degrees are simply not worth it.  In fact, it is like purchasing a Real Home of Genius except you have absolutely no ability to walk away.  You bought a shack at the peak and now have to pay for all the debt associated with the place.
It is ironic that large segments of the education pipeline are looking like the exotic mortgage financing sector during the boom days of the bubble.  Just look at borrowing rate of those going to for-profit institutions: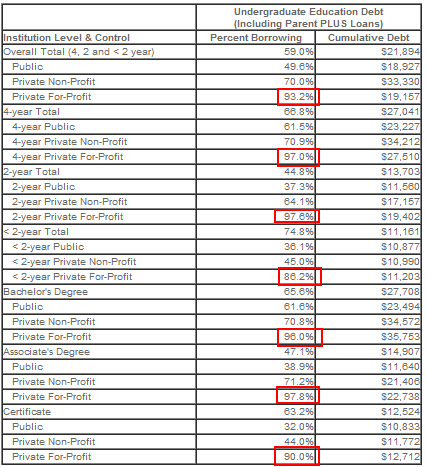 Source:  FinAid.org
Over 90 percent of those going to for-profit colleges borrow!  This is like the 100 percent financing brought on by the toxic mortgages.  It is actually worse because some will actually use a credit card to finance that last 5 or 10 percent making it a truly nothing down move.  The amount of debt is sizeable.  For those getting a 4-year degree at a for-profit the average cumulative debt is $27,510.  Assume this person is looking to buy a $100,000 home.  Their ability to borrow is already impaired unlike previous generations of graduates who came out with either no debt or very little debt.
In spite of the costs, just like the housing bubble, as long as easy accessible debt is available more and more people will enroll if they perceive some added benefit.  After all, any education is good right?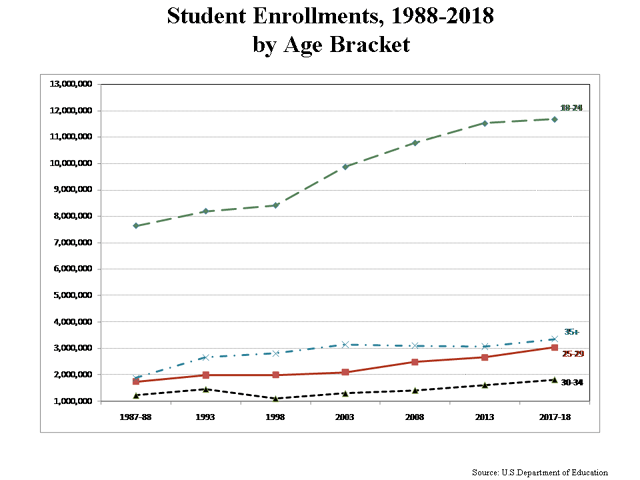 Higher education is definitely in a bubble.  One of the ways that a bubble was spotted in housing was when home prices went right into the stratosphere yet household incomes went stagnant.  What pushed demand was the false delusion that real estate would always go up simply because it had in the past and debt was accessible.  It disconnected from market fundamentals.  This can only go on until it bursts.  In housing the bubble ran for a good 10 years (from 1997 to 2007 and picking up steam at the end).  In higher education we are already one decade in as well.  A reader sent this troubling chart:
Source:  Businessweek
What you are looking at is basically real college graduate pay going down by roughly 10 percent for the last decade while the real cost of going to college soared by 20 percent during this same period.  In other words this is a bubble.  Of course timelines for predicting bubble pops are unpredictable by definition since they are driven more by psychology, greed, and mania instead of fundamentals.
Given the blue collar job market disappearing it is true that many of those graduates are merely looking at ways of becoming more competitive to enter into the middle class.  Since home ownership seems to be such a cornerstone of that dream, many will dive into massive debt pursuing a college degree even from an institution that is essentially a step above a paper mill.  This is the problem when you hollow out your workforce.  You start having an unstable economy.  Bubbles pop up everywhere as long as the financial system is able to pilfer the pockets of the taxpayers.
Access to college was another stable part of the American Dream for the last few decades.  Affordable community colleges that had a direct pipeline to public universities with low prices for many stood strong.  That system is quickly being changed and tuition is soaring.  Now that some have gotten this deal, they seem to be saying tough luck to future generations and pay me a peak price on my inflated home!  Yet the irony is that the system is self-reinforcing since to be competitive younger professionals are pushed into college debt just so they can pay higher prices for housing.  Yet because of the college debt they carry they are able to borrow less for a home purchase.  Ultimately we have debt piled upon debt and we seem to be pricing out a generation of those starter households that are the prime candidates for first time home purchases.  One thing is certain and that is higher education is in a bubble and when it pops the implications on housing will be hard to predict.

Did You Enjoy The Post? Subscribe to Dr. Housing Bubble's Blog to get updated housing commentary, analysis, and information.