The housing market is in a state of adjustment. Inventory is up dramatically in many places. In the last housing correction, Las Vegas was a leading indicator for California and we are now seeing some dramatic increases in inventory in the area. Las Vegas inventory is now up 106 percent year-over-year. In Seattle, inventory is up 168 percent year-over-year. For anyone looking to buy, the market has dramatically shifted. There is no urgency anymore and the tides have turned as affordability has collapsed. In California, many counties are now renting majority areas and the government is looking to cater to the majority of voters. Last time inventory rose this sharply price adjustments followed. What is in store for the housing market in 2019?
Las Vegas a canary in the real estate mine?
Markets across the U.S. are seeing a sharp rise in inventory. One key area:
"(Calculated Risk) Active inventory (single-family and condos) is up sharply from a year ago, from a total of 4,352 in January 2018 to 8,957 in January 2019. Note: Total inventory was up 106% year-over-year. This is a significant increase in inventory, although months-of-supply is still somewhat low."
First, the Las Vegas market has been on an incredible uptrend like many markets: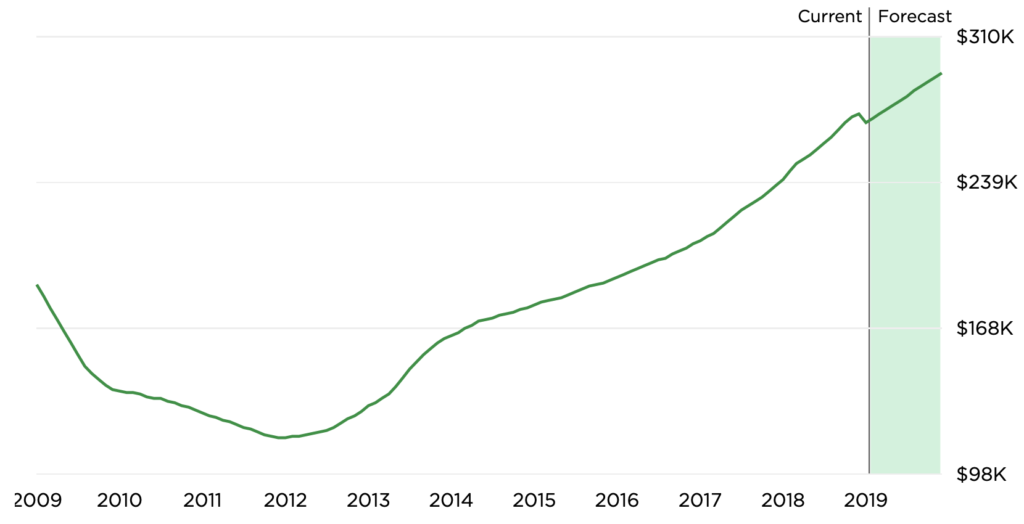 Prices have more than doubled since 2012. This market has been incredibly hot. However, the Las Vegas market is highly dependent on the overall economy doing well. The nature of Las Vegas employment is highly linked to people feeling wealthier to spend on vacations and entertainment. This is a cycle that was seen in the last housing bubble as well. Speculation has been happening for a couple of years now but to a lesser degree from the last housing bubble.
Looking at things as they stand today, why would you expect any sort of correction? The only thing we are seeing is that inventory is rising sharply but prices are still holding steady. However, having inventory rising by 106 percent year-over-year is definitely going to add more supply to the market which means buyers will have more options.
As mentioned before, a good portion of the employment in Las Vegas hinges on people spending freely: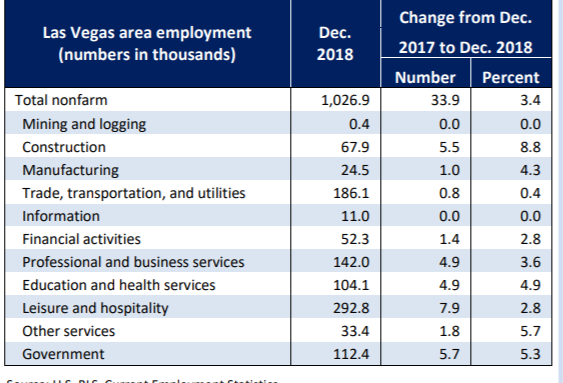 Leisure and hospitality alone is 30 percent of the employment market. The Las Vegas market reacts quickly to changes in the overall economy faster than other areas because it is a barometer on people's non-essential spending. Obviously someone is going to cut back on taking the family to Las Vegas first before cutting back on other essentials in the home. And since this market is heavily tied to California, it also signals what is happening in the adjoining area.
Sales volume is tapering off a bit in California while inventory is up: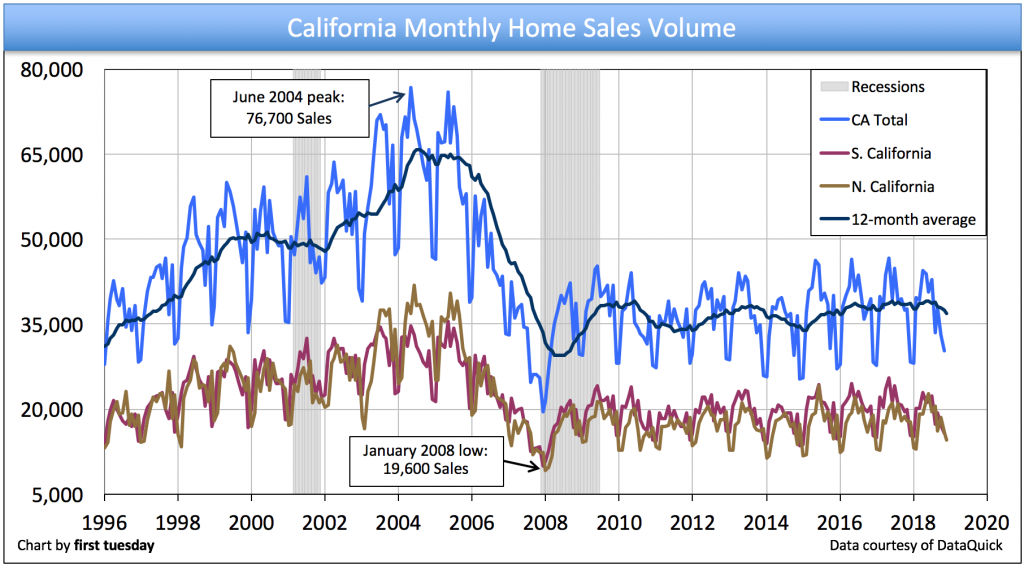 It will be interesting to see if there is any significant bounce in the housing market in spring as winter is usually a seasonally slower period as the chart above highlights.  The large rise in inventory in Las Vegas is very telling and signals that a slowdown is here.  The only question that remains is if this rise in inventory will translate into price corrections.       
Did You Enjoy The Post? Subscribe to Dr. Housing Bubble's Blog to get updated housing commentary, analysis, and information.