It was only a matter of time before inventory started hitting the market and unsold homes started to pile up.  Not that home sales ever saw big volume increases but given the low inventory, any normal amount of homes sales pushed home values into the stratosphere.  So here we are with unsold housing inventory now hitting 6-year highs.  The problem of course is affordability causing a decade long shift for households into renting.  The Southern California News Group came out with 36,923 listings in the four-county region which amounted to a 22 percent year-over-year increase.  Housing markets are slow to shift and this bull market is getting close to celebrating a decade of moving up.  The troubling sign is that real estate is now in a boom and bust cycle and with rates still near historical lows, there is little ammunition from the Fed should things go south.
Inventory is back in SoCal
 "(OC Register) New cracks in the housing market are demonstrating that the cooling trend is here to stay," wrote Steven Thomas of ReportsOnHousing that tracks homebuying patterns found in real estate broker networks.

Thomas' biweekly report found a stark change in the market for existing homes as of Sept. 20 vs. a year ago: selling time was 26 days longer as listings grew by 22 percent. ReportsOnHousing watches supply (active listings); year-to-date increase in supply; demand (new escrows in past 30 days); and "market time" (a measure of selling speed, estimated days it takes a typical listing to enter escrow)."
Inventory is moving up in many California areas: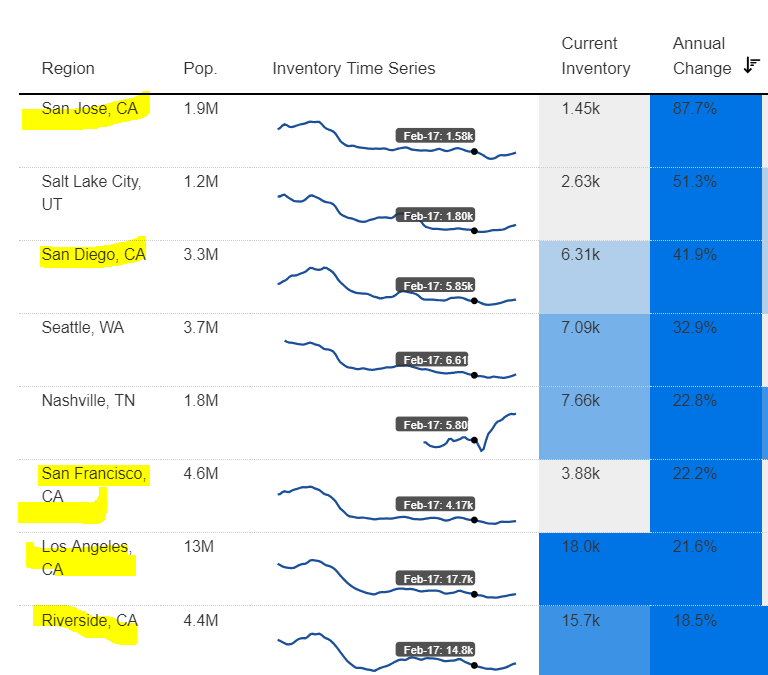 Part of this has to do with slowing sales and also people trying to cash in while values are high.  The market is incredibly frothy and sellers know this.  There is now almost a uniform consensus that home prices will not go down or the other variant that believes home prices will moderate down in a controlled fashion.  Of course as we now know the market is highly unpredictable but what we can derive from the data is that recent buyers are using high levels of leverage to buy.  There are many artificial barriers in California that have pushed prices up and now we hear talks about rent control.  One of the largest issues in California is the high levels of NIMBYism
Sentiment is important in housing and the tide is now turning.  You have to remember that housing values are hovering near current levels thanks to near full employment, extremely low interest rates, constricted supply, and tax cuts.  Yet we do have major issues pending in that we are running ridiculous deficits, have a national debt that will never be paid back, and continue to have this insatiable addiction to uncontrolled debt.  In a complex economy as our own, Black Swans are itching to come out.
Want an example?  Here is what you get for $1.4 million: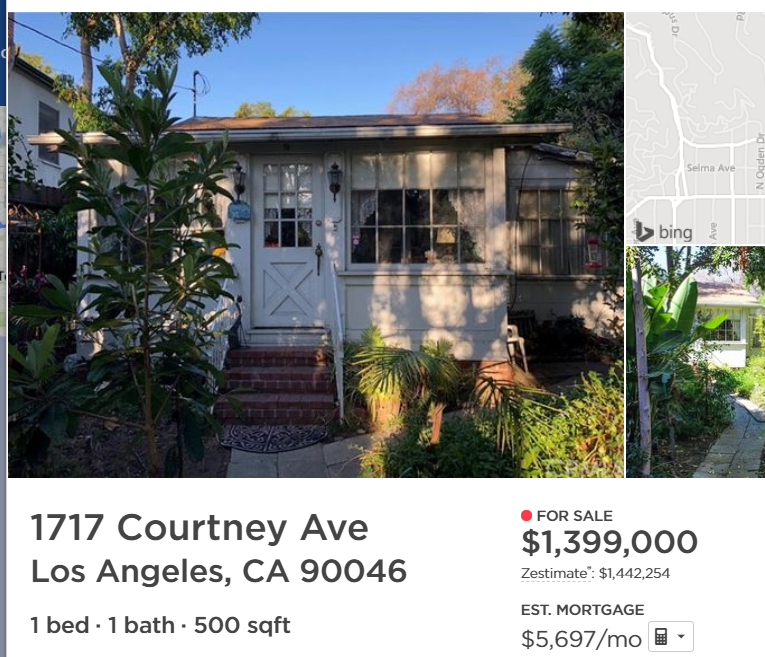 Nice place for you.  And of course we have a price cut here:

$100,000 off the original list price.  The market is shifting.  Inventory is back.  Buyers are being more cautious with their tight resources.  Market cycles are real and we are definitely seeing signals of a plateau.

Did You Enjoy The Post? Subscribe to Dr. Housing Bubble's Blog to get updated housing commentary, analysis, and information.