There are bigger implications to the economy when rental rates are increasing at a rate faster than wage growth.  This is important because we have added 7 million renting households in the last few years.  For the moment, it simply looks like more money is going to be funneled into the housing market versus other segments of the economy.  If your rent went up by $100, that is $100 that is not being spent on other sectors of the economy.  Amazon already showed some hints that consumers are looking tapped out.  Of course the holiday spending orgy is around the corner so we shall see.  Falling gas prices help a bit but for consumers, housing is the biggest monthly line item expense.  Landlords like home sellers are going to charge as much as they can.  And with many homes now being owned by large investors, we are seeing steady rent increases in many markets.  How far up can rents go?  For rental rates, you are capped by what local area households can pay from actual income.  It might be useful to examine the rate of increase between wages and rents.
Wages and rents
The trend of investors buying up single family homes is largely a new one.  It will be interesting to see the impact of the massive amount of investor buying in single family homes unwind over the next decade.  Rents may have increased at an even faster rate because some investors bought run down foreclosures and upgraded the property.  These upgrades were then used as reason to hike rents up.  This happened in the Inland Empire and also in places like Sacramento.
The trend of higher rents seems to be a nationwide event: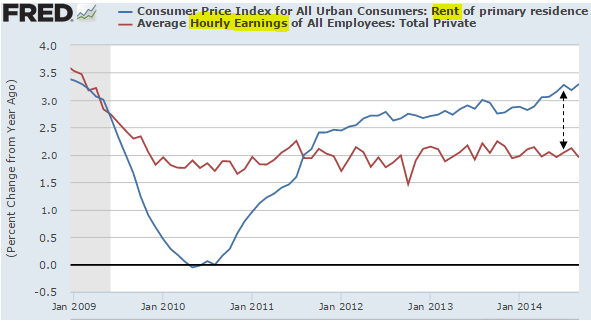 This is a rather telling and disturbing trend.  You see starting in 2011, rents started diverging from wage increases. When this happens, all you have is more money being allocated to housing.  Real estate rents don't necessarily cause a boost in economic activity.  All those large investors are likely funneling rents back up to fund holders or are simply looking for ways to create rental streams from the money they are collecting.  You get more bang for your buck from people actually creating jobs and creating products and services in the economy versus people simply jacking up rents and taking more disposable income from families.  Plus, these investors had the luxury of going in with artificially low rates and had front row access to foreclosures when the deals were great.  Many great deals went to the all cash crowd via auctions or direct REO sales with banks.
The chart above shows a divergence from wages and rents.  Rents are increasing at over 3 percent per year while average hourly earnings are increasing slightly below 2 percent.  This gap has been going on now for three years.  This is unsustainable of course but in the mean time, more money is flowing into the new feudal landlords.
This is crucial to examine because we have added a very large number of renting households.  In L.A. and Orange counties we have a renting majority.  This certainly is impacting many people.  Folks in San Francisco are seeing a rental market on steroids.  The paths are currently unsustainable so by definition, something is going to give.  The growth in renting households has been astounding: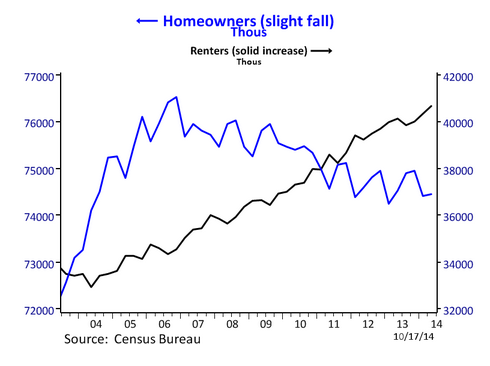 The growth is rather dramatic and will change perceptions on housing.  In California we have 4.1 million people of food stamps (up from 2.6 million in 2009).  These people are living somewhere.  Then you have a larger number of people living paycheck to paycheck just having enough to pay the rent.  We also have 2.3 million adults living at home because of financial reasons.  Even for tiny stucco boxes of say $450,000 a household would need to save $90,000 for a 20 percent down payment.  Overall most people are not able to do this and that is why we now hear rumblings from the FHFA about lowering the down payment requirement from 5 to 3.5 percent.
Having rents grow at a faster rate than wages is problematic.  This split is causing a pull on GDP lower because it suppresses household formation, takes a direct hit to consumer spending, and also constricts labor mobility.  This is simply unsustainable but for the mean time, more money is being diverted in the form of rents.

Did You Enjoy The Post? Subscribe to Dr. Housing Bubble's Blog to get updated housing commentary, analysis, and information.