The latest report from First American CoreLogic shows that 11.3 million properties with mortgages are now in a negative equity position.  If we add in those "near" negative equity we find that roughly 30 percent of all homes with a mortgage balance are underwater.  For California, that number is higher with 35 percent of homes with a mortgage being placed in the negative equity camp.  If we ran the numbers for Alt-A and option ARM loans I wouldn't be surprised to see that number above 70 percent.  The market is clearly still in deep distress.  As I have stated from the start, we will have no real recovery until job growth enters the picture.  This is such an obvious statement but the banking and real estate industry seemed fixated on housing as the panacea to a full economic recovery.  Housing and the banking industry led us into this mess to begin with.
I took a look at data from the Employment Development Department (EDD) of California and last year was another record year for California in terms of unemployment claims paid out:
"(EDD) A record high 1.4 million Californians were certifying for UI benefits in November 2009, according to the most recent information available. In all of 2009, EDD paid $20.2 billion in UI benefits that not only helped sustain families during this difficult time, but also helped support local communities struggling to survive the economic pressures.
The prior record of UI benefits paid in a single year was set not too long ago in 2008, when the EDD paid out $8.1 billion in UI benefits to out of work Californians.
That's a 149 percent increase in the total UI dollars pumped into the State's economy in 2009 at a rate of about $80 million a day.
The $20.2 billion paid in benefits in 2009 translates into an economic impact of about $32 billion dollars when you look at how UI dollars spent on basic necessities leads to further spending in the general economy. The U.S. Department of Labor estimates the economic multiplier is $1.60 for every dollar paid out in UI benefits."
Did you get that?  In 2008, an already bad year $8.1 billion in UI benefits were paid out.  Last year, that number went up to $20.2 billion and we are still near the peak unemployment rate of 12.4 percent: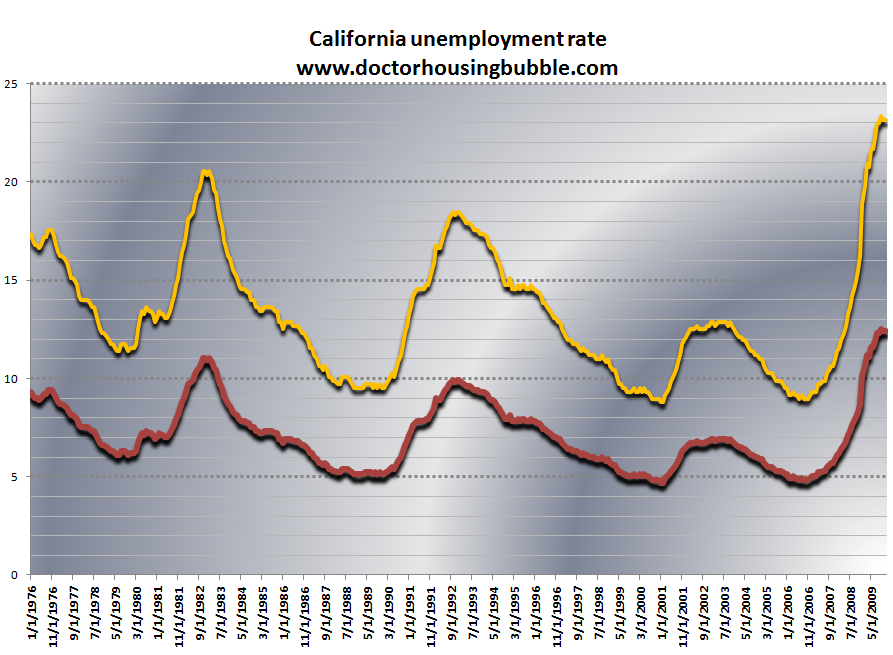 Source:  BLS
I've had this conversation with a few colleagues in the real estate industry.  Whenever they mention that California real estate is at a bottom I always ask them what industry is going to make up for the million and more jobs lost.  They don't have an answer.  Heck, in the 1990s it was all about the tech sector so that was supposedly going to give every Californian with basic HTML coding abilities and a Geocities account a $60,000 a year job with no college degree.  When that bubble burst, it then was every Californian was going to work for the real estate industry making $100,000 simply by popping on a suit or a skirt and pushing mortgages or property in the mania of the century.  That bubble burst.  So what gig is next?  Can we at least get some jobs going before we start jumping on another real estate price bandwagon?
One major flaw with the current thinking in the housing market is assuming mortgage rates are somehow going to stay low forever: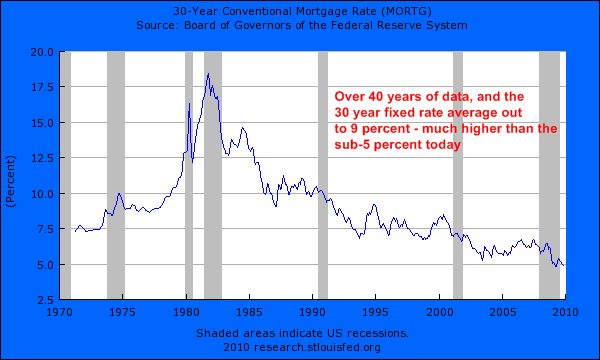 Examine the above chart very carefully and enjoy that sub-5 percent rate because that is not going to last.  We are at the lower bound.  Even if we revert to historical averages of 9 percent, that will absolutely tank the California housing market.  Keep in mind that a large part of the above is because of the Federal Reserve buying up $1.25 billion in agency mortgage backed securities debt.  That game is quickly ending and this in itself has probably shaved off 100 to 200 basis points.  In other words, mortgages are going to get more expensive.
But let us show this massive disconnection with another on the ground example in Pasadena.  We'll even pick a prime zip code in the area.  Today we salute you Pasadena with our Real Homes of Genius Award.
Pasadena Dislocation
I decided to pull data on 91105 zip code in Pasadena.  A middle class two income area where the median home price is now $657,000 (down 25 percent from last year).  So certainly this area has seen a correction but is the correcting over?  A good way to measure market metrics is looking at lease rates and home prices for the immediate area.  First, let us look at our home for sale: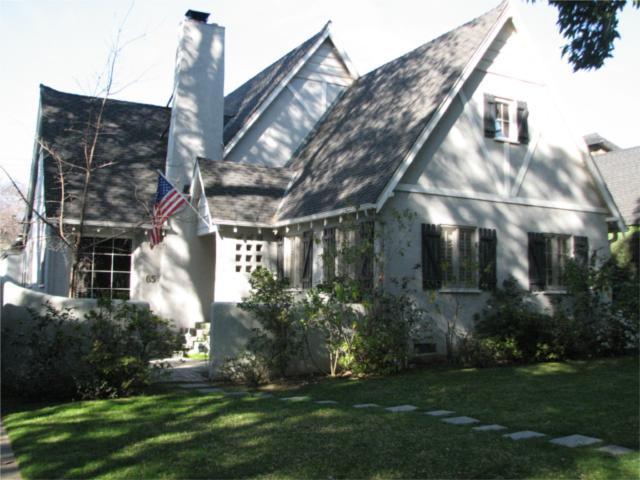 The above home is listed as a short sale which now seems to be gaining further momentum thanks to programs like HAFA.  The home is a 3 bedroom and 2 baths home and is listed at 1,978 square feet.  It has been on the market for over 40 days.  Let us look at previous sales history:
Last Sale Info:
Sold 08/17/2006:              $1,000,000
Not too long ago this was a million dollar home and the current list price is $949,000.  So I went ahead and tried to search for a rental in the immediate area.  These are hard to find but are extremely illuminating in giving us a sense of whether current prices are too high or low.  So I found this home on the next street over: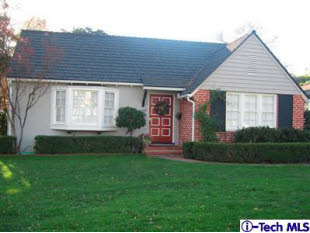 The rental is a 2 bedrooms and 2 baths home listed at 1,504 square feet.  The current asking rent is $3,500.  Now let us run some numbers.  We'll assume that you are putting 20 percent down for the home purchase:
20 percent down payment:         $189,800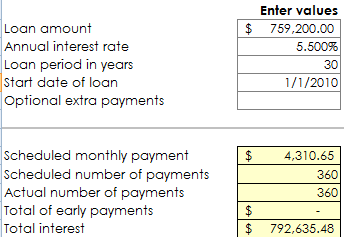 The latest tax data shows the home running $11,381 in taxes in 2009.  So we'll assume the monthly carrying costs:
$4,310 (PI) + $948 (T) + $395 (I) = $5,653 for each monthly payment
I'm assuming for the insurance that you are actually vigilant enough to get earthquake insurance in California (many homeowners don't even have this).  So this is a significant difference.  But let us assume you buy this home.  And rates increase modestly to 7.5 percent in five years and you plan to sell.  What is the future buyer looking at?
$5,308 (PI) + $948 (T) + $395 (I) = $6,651 for each monthly payment
With a modest interest rate increase, the payment jumps up $1,000 to $6,651.  This is why we have a lot of correcting to do.  Rates are artificially low and many are assuming the current environment is going to stay this way for a long time.  It will not.  I've mapped out these properties just in case you think they are miles apart: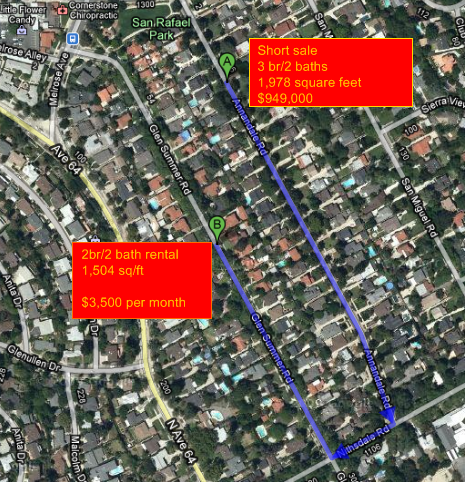 Are these homes exactly the same?  Of course not.  But this is as close as you are going to get to seeing the insanity in the mid-tier of the market.  Now here is the reason ignoring jobs and subsequently income data will lead to additional corrections.  Let us assume you gross $10,000 a month in Pasadena and want to buy this home.  Can you?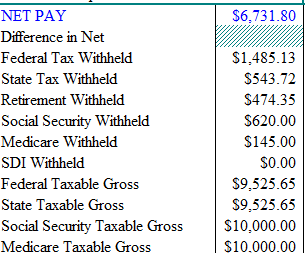 Not even close.  Your monthly payment is up to $5,653 and you are netting $6,731.  Sure you can up your withholdings but that won't change the numbers drastically.  Your housing payment remains fixed.
When I see examples like this it tells me we still have another phase to this housing story.  Today we salute you Pasadena with our Real Homes of Genius Award.
Did You Enjoy The Post? Subscribe to Dr. Housing Bubble's Blog to get updated housing commentary, analysis, and information.