California is in a split market.  In some areas, buying a home makes economic sense and the numbers actually workout even with a conservative financial budget.  But in other markets, you have people delusional about prices and thinking that somehow prices will remain high even though many areas are mired with foreclosures and toxic Alt-A and option ARM products.  Yet somehow bubble prices will remain.  We always hear that California home prices are more expensive than the overall U.S. market and are somehow expected to take this at face value.  They mention the sun.  Arizona has sun.  They mention the good weather.  Florida has good weather.  They talk about beach front property.  South America has gorgeous beaches too.  So there has to be other reasons.  This current bust should tell you that in fact California prices can crash significantly.  For example, the national median home price is now at $173,500.  Two counties in Southern California in the Inland Empire, Riverside and San Bernardino, are near or below that mark.  So in many cases, California homes are even cheaper than the national median price.
Yet in many other cities in the mid to upper tier markets prices are still with bubble valuations.  People have a hard time visualizing what a bubble city looks like versus a more normal market so we'll use an example today.  Today we salute Culver City with our Real Home of Genius Award.
Culver City Rent or Buy Analysis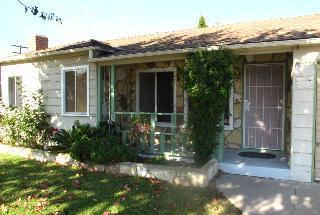 How do you know if a home is priced at a right level?  We have various metrics that we can use including common sense which seems to run in short supply.  That is how we spotted the epic California housing bubble years ago while the real estate denial cheerleading crew thought that prices would simply continue to go up.  In these mid-tier markets underlying incomes do not support current prices.  It really is that simple.  What is happening in these markets is this; homes are building up in the shadow inventory since fewer homes are actually selling but defaults are still rising as many Californians are unable to make their payments.  The above home is an excellent example in mid-tier Culver City.  This home is a 3 bedroom and 2 baths home that was built in 1950.  This is what many would consider a starter home.
The above home has been listed on the market for nearly 60 days.  The last sale price on this home takes us way back in history:
11/02/1972: $27,500
Now what is the current sale price?  The current sale price is $744,500 for a 3 bedroom in Culver City.  The median sale price for this zip code in Culver City is $540,000 so I'm not sure exactly what pricing angle they are going for here.  Now prices like this are common.  These are the markets where people really think this price point is "fair" and what the cheerleading crew will try to tell you is the market value is what anyone is willing to pay.  This to a certain extent is correct.  Yet that doesn't make financial sense in the long-run.  It means another sucker is lining up to buy like many that took on Alt-A and option ARMs and now find themselves massively underwater.  And those that think prices are without bubble valuations rarely use thorough analysis or market valuation methods because their analysis falls apart when you think of more macro issues.  We'll look at a rental right on this street to prove our point but also, interest rates: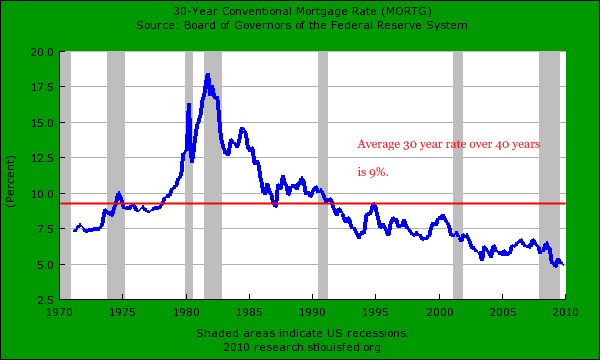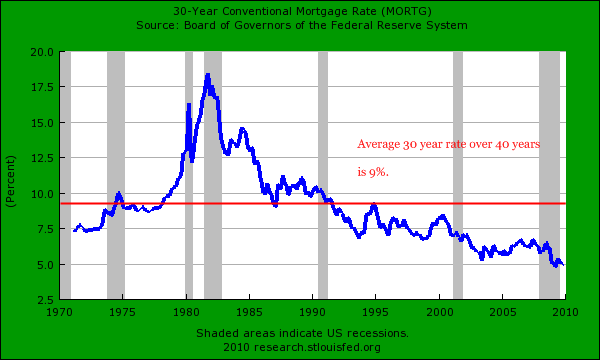 One flaw used in many current analyses is assuming the current mortgage rate is going to stay static.  It will not.  We are at historical lows.  The average 30 year rate over 40 years of data is 9 percent.  We are a long way from that.  But let us assume you buy this above home with an FHA insured loan with a 5 percent down payment: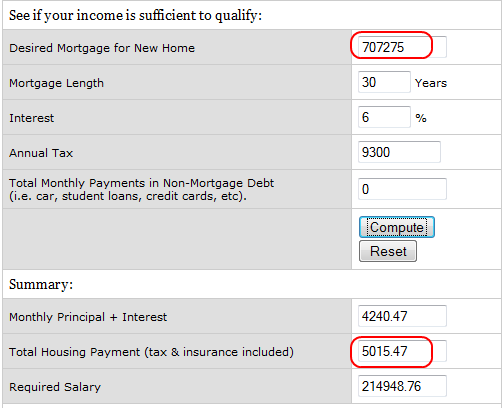 Down payment:                               $37,225
Monthly PITI:                                 $5,015
Needed Income to qualify:          $214,000
Now something tells me that a person or couple making $214,000 a year is not going to buy this home (by the way, the median household income for Culver City is $82,000).  Even if they did, are they willing to shell out $5,015 in a monthly nut for a 3 bedroom home in Culver City?  And let us hypothetically say that things somehow change in the next five years forcing rates up.  Let us now assume mortgage rates are back to their historical average.  How do the numbers workout?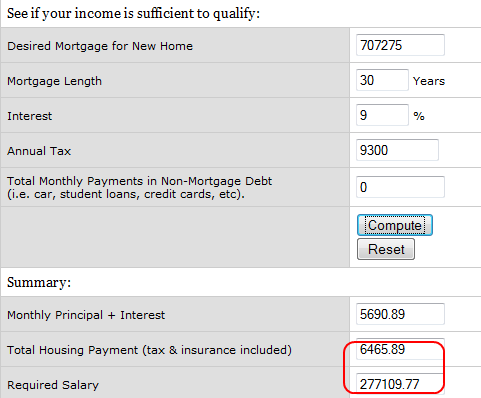 And here is where people miss the point.  Say you want to sell the home in the future, say 5 to 7 years but rates are up to 9 percent.  Now, to sell for the same price (no increase in home price) a prospective buyer will need an income of over $277,000 to buy this home!  Their monthly payment shoots up to $6,400 just because rates went up by 3 percent.  Of course, this part of the analysis is missed by those cheerleaders.  These markets are littered with examples like this.  Alt-A and option ARMs were tools used for people to buy homes like this during the peak with teaser rates.  After all, over 93 percent of option ARM borrowers went with the minimum payment.
But you want more data right?  Okay, let us look at a rental on this same exact street:

You can see the home we've been talking about highlighted above in red with the $744,500 listing price.  I've circled the other home on the same street that is currently a rental in this market.  The rental listing has the place at 2 bedrooms and 2 baths.  Only a few houses away and 1 bedroom less.  What is the monthly rental price?  $2,250.  You can rent two of these places for the price of the mortgage on the other place!
This is the kind of metrics that scream housing bubble.  And keep in mind rental prices are more sensitive to monthly data because you are paying this amount out of your net income.  No tax breaks, toxic mortgages, or any other gimmick.  One simple rule when evaluating real estate is trying to figure out a home price based on rental income.  One I use is the following:
$2,250 x 12 months x 10 = $270,000
Now this is a quick analysis that I use when viewing potential investment properties and trying to gather a starting price point (other factors will shift the price up or lower but not by much).  So what we do is multiply the annual net rent income times ten to get a rough estimate of value.  Now of course, the other home is a 3 bedroom but here we are being told that we shouldn't expect much more than say $2,250 in rents for a 2 bedroom.  Let us guess high and say we can rent the home for $2,750 because of the extra room:
$2,750 x 12 months x 10 = $330,000
$330,000 is a long way from $744,500.  There are places in the Inland Empire where these numbers actually work on certain homes.  I'm not sure if I would buy them as rentals given the local economies but if you live there and your income is secure, then buying might make sense.  But not in Culver City.  And keep in mind the California unemployment rate is up to 12.4 percent, a number unseen since the Great Depression.  The actual underemployment rate is up to 22 percent and the California budget is in such a deep mess, that it is hard to see what will be done to remedy the shortfall.
It should be obvious that prices are much too high in these market.  Plus, people don't even have the income to support these levels!  A couple making $100,000 or $120,000 trying to buy this home is way out of their league.  This isn't stretching your budget but more like putting a financial albatross around your family budget.  No matter how you slice it, the above home does not make sense.  Yet this is real market data.
The MLS lists 93 homes for sale in Culver City.  Yet the shadow inventory is much higher:
Notice of defaults:          79
Auctions scheduled:      90
Bank Owned:                     18
On the MLS only 2 foreclosures show up and 17 short sales show up (most of the short sales are condos).  Yeah, this looks like a healthy market.
Today we salute you Culver City with our Real Home of Genius Award.
Did You Enjoy The Post? Subscribe to Dr. Housing Bubble's Blog to get updated housing commentary, analysis, and information.