The mainstream media is finally taking a notice of the Alt-A and pay Option ARM issues that await the California housing market late in 2009 and will run deep into 2012.  A few of you have sent articles that started appearing within the last month.  This is a really important factor in determining a housing bottom.  And more to the point, Fitch Ratings came out last week stating that they project prices will drop 12.5 percent nationally from Q1 of 2009 but more importantly, they stated that California prices still have 36 percent further to go down.  They also stated that prices will not turn around until the second half of 2010.  This coincides with our prediction made last summer that California will not face a housing bottom until 2011.  The exact date is irrelevant since prices will remain depressed for years but I am glad seeing the mainstream media coming more in line with more realistic projections instead of conjuring up back of the napkin calculations.
To quell the housing bottom callers, I did a detailed post of the Westside of L.A. showing how more prime areas will start facing declines in late 2009 and all of 2010.  This still doesn't seem to be enough.  Anecdotal stories of people over bidding and paying top bill for some reason get people worked up.  The reason I've been trying to put out dates on a bottom is so people can take a deep breath and relax.  For some reason some people are just itching to blow through two or three years of savings just to buy right now.  I've gotten a couple of e-mails of people looking to buy in Pasadena and this is the exact place where prices will be coming down late this year and into 2010.  Why?  Current prices do not reflect local area incomes.
Pasadena has a population of 146,518 and is located 10 miles north of downtown Los Angeles.  A nice city famous for the Tournament of Roses and the Rose Bowl football game, which is a familiar scene for many local college football fans.  Pasadena has 51,000 households and is what many would consider a "prime" middle-class location.  Of course, in the last few years prime and L.A. meant you would be shelling out $750,000 for a Real Home of Genius.
Here is where things get interesting.  The median household income as of 2007 is $66,465 and the average household income is $92,125.  Not bad for aggregate figures.  In Pasadena only 48 percent of households actually own.  This is typical of L.A. County which is a renting majority county.  The bubble started in 2000 so how many people bought or moved into their new location between 2000 and 2007?  A stunning 58 percent. So keep all this data in mind as we move along.
The distress sales are now making their way into the market.  How so?  I've put together all homes in the pre-foreclosure stage and the amount is astounding: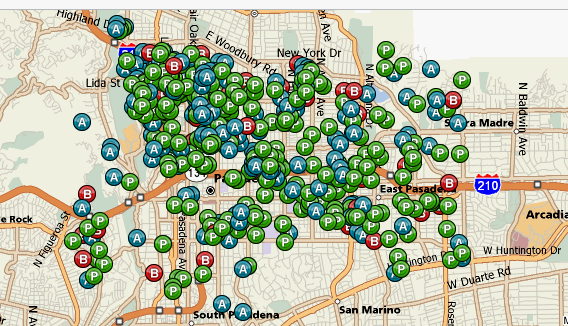 Source:  Foreclosure Radar
When I ran this report, there are 348 homes in Pasadena that are in pre-foreclosure.  What does this mean?  It means these places have those infamous notice of defaults (NOD) I keep talking about which will hit the market like a tsunami later this year.  This is important because most of these are flying under the radar.  Many don't show up on the MLS.  Many aren't even being sold.  As we now all know, lenders are so behind that your typical 3-month NOD filing may take 6 to 9 months meaning many people are living payment free.  Consider it a personal mini-bailout.
The data from the chart above is troubling because this is a giant amount for this city.  Currently, there are only 277 single-family homes listed on the MLS for Pasadena.  If we include condos and multi-family units we are up to 570.  So that 348 number is big.  If we are to include bank owned homes and notice of trustee sales for Pasadena, we add another 300+ homes.  In total, we have over 600 distressed properties in the city while the current listing only gives us 570.
Here is how you realize how screwed up the data is.  The current MLS only has 11 homes showing up as foreclosures.  How can that be when we have REOs and scheduled auctions above 300?  Alt-A and pay Option ARMs are rampant in these areas.  Take a look at one of those 11 foreclosures: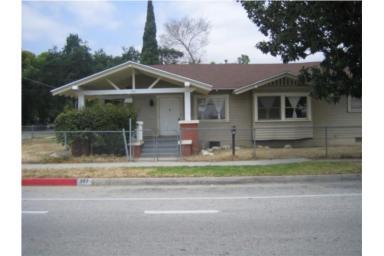 This home is a 2 bedroom and 1 bath home.  It is 1,038 square feet and was built in 1911.  Yes, prior to the Great Depression.  We are told that there is easy access to the 210 freeway.  Let us take a look: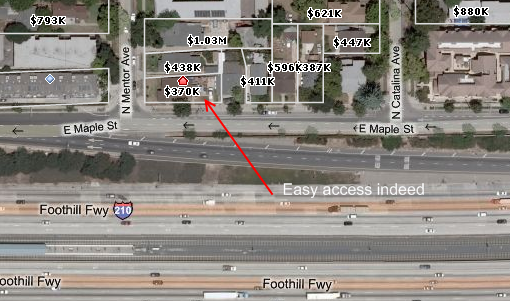 Any closer to the freeway and you'd be in the center divider.  This home is currently listed at $369,900 and has been on the market for 46 days.  Let us look at some sales history here:
09/08/2005: $462,000
08/23/2000: $145,000
So we see typical bubble behavior here.  It is hard to say how much this home will sell for but it is already down nearly $100,000 from the peak price.  Just think about that.  In many places of this country, $100,000 will buy you a home.  But this is a home already in foreclosure.  What is going on with those homes in pre-foreclosure?  Ah yes.  This is where the action is taking place.
Let us take a look at a $1 million condo in Pasadena.  $1 million for a condo?  That is correct.  This one gets really at the point of what we are going to face.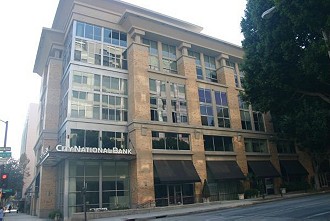 There are many units in this place.  This condo has 2 bedrooms and 2 baths.  It is a good size condo coming in over 2,000 square feet.  It sold in January of 2007 for a stunning $1,000,000.  So who made the loan on this place?  None other than old faithful IndyMac Bank:

This is really where you can dissect what is going on.  IndyMac first made an $800,000 mortgage on this place plus a $100,000 loan.  Looks like a 10 percent down deal on a million dollar home.  Only six months later after the purchase, E-Loan allowed the borrower to take out an additional $188,350 from the condo basically rendering this a place with no equity.  So that would assume of course that the condo had a value of:
$800,000 + $100,000 + $100,000 (down) + $188,000 = $1.18 million.
This is the kind of math that was occurring during the bubble.  So in six months this condo went up in value by $188,350?  Come on now.  I can't tell what kind of loan this is but Indymac was an option ARM specialist and that is one of the reasons they have imploded.  Well as you can tell, a notice of default was filed on March of 2009 with payments of $24,084.  This is what I was talking about that once someone misses a few payments on a place like this, the aggregate amount gets big quickly.  Do you really think this place is going to fetch anything close to the peak price?  Who is going to buy this in this market?  You would need jumbo financing which is much higher than conventional financing.  No doubt this condo is very nice and has some extensive work done but is it worth $1 million?  You tell me.
Looking at Pasadena carefully you realize that there will be many foreclosures coming online in the next few months and accelerating in 2010.  The Alt-A and pay Option ARM tsunami is building up and is going to hit with full force.  Just look at these examples.  Last month, over all zip codes Pasadena had 78 homes sold.  If you look at the MLS figure of 570, we would have about 7 months of inventory.  Not bad right?  Wrong.  Just take a look at the pre-foreclosure, REO, and NTS data above and you double the amount of inventory.  I'm glad Fitch is now in our camp.  California will see no bottom until 2011.
Did You Enjoy The Post? Subscribe to Dr. Housing Bubble's Blog to get updated housing commentary, analysis, and information.