There were two housing stories that stood out to me today.  One shows the pure absurdity of housing in California, in particular Northern California.  As we've discussed before a home is expensive or affordable only as measured by incomes in the local area.  Well for Palo Alto, it looks like having a salary of $250,000 per year could qualify you for subsidized housing.  Of course having this income puts you in the top 2 percent of all U.S. households but in Palo Alto you might as well be eating Purina Dog Chow with a nice class of Manischewitz.  The Bay Area is running on hot money from the tech industry.  Another story focuses on the continuing rental revolution we are undergoing.  In Q3 of 2015 100,000 apartments came online, the most since the late 1980s.  And most were rented within 12 months.  I think these stories really highlight the larger theme in housing – extreme money for hot enclaves and renting for the vast majority.  The middle is being cleaned out like using a melon baller on a cantaloupe.
You are broke on $250,000 in Palo Alto
People in the Bay Area are so far removed from reality that $250,000 now could qualify you for subsidized housing.  It is so preposterous yet in an area where tear downs go for $1.5 to $2 million, you would need a sizable income to buy a home here.
"PALO ALTO (CBS SF) — Palo Alto is seeking housing solutions for residents who are not among the Silicon Valley region's super-rich, but who also earn more than the threshhold to qualify for affordable housing programs.

The city council has unanimously passed a housing plan that would essentially subsidize new housing for what qualifies as middle-class nowadays, families making from $150,000 to $250,000 a year."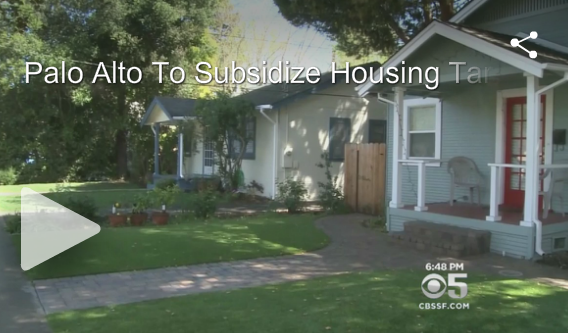 This is simply mind boggling.  First, there should be absolutely no subsidy here.  This is nuts.  If you look at the current political climate things like this only add fuel to the anger that small bubble areas are completely out of touch with most Americans.  A third of this country has no retirement savings and yet we are going to subsidize households making $250,000?  Also, large mortgage interest deductions truly only benefit the super wealthy.  With more and more people renting, expect some changes if this trend continues.  The standard U.S. house costs around $200,000 so most people get tiny benefits from the mortgage interest deduction once you factor in standard deductions.  The vast majority of benefits go to high income households taking on giant mortgages, like for example in Palo Alto.
Perspective is also lost in the area:
"Prices have just gone through the roof, making it unaffordable for middle-class people, your firefighters, your teachers, and, frankly, some of your doctors," Palo Alto Vice Mayor Greg Scharff said."
Since when was $250,000 middle class?  Only in Northern California can you get this kind of thinking going on.  On the other hand, since most Americans are living paycheck to paycheck renting is becoming the only option on the table.
100,000 apartments added in Q3 of 2015
There is a big demand for rental units.  In Q3 of 2015 nearly 100,000 apartments came online. Most were rented within 12 months: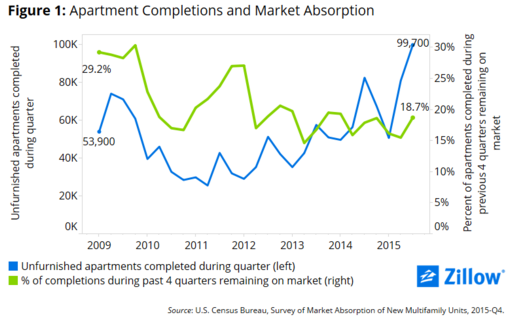 Hot rental markets are found in California, Florida, Nevada, Arizona, and Colorado (former bubble states):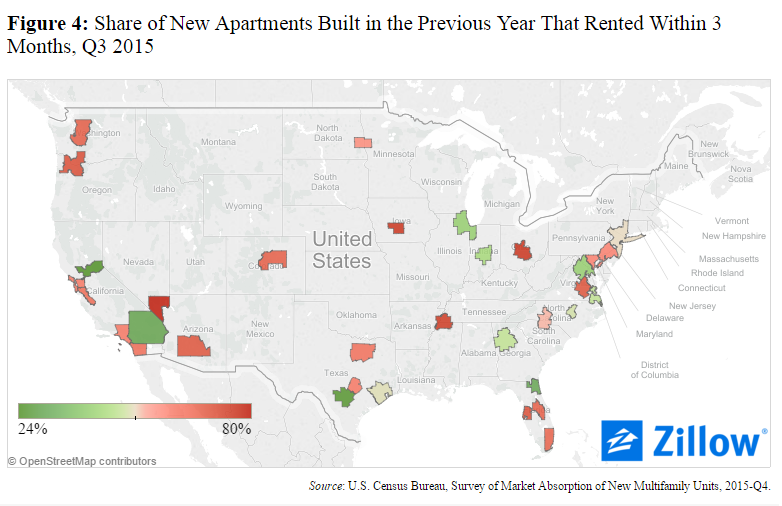 Some flavor to the rental revolution trend:
"(Zillow) Renters currently have an insatiable appetite for newly constructed units, quickly gobbling up record numbers of recently opened new apartments, according to the Census Bureau's Survey of Market Absorption of New Multifamily Units (SOMA).

Almost 100,000 new apartments came online nationwide in Q3 2015 (the latest quarter for which apartment completion and leasing data are available), 21 percent more than a year earlier, 73 percent more than two years earlier, and more than at any point since the late 1980s. New apartment production has trended sharply upward since late 2010/early 2011, when new apartment completions hovered under 30,000 per quarter."
In other words, you have plenty of people that are in the market to rent, not buy.  This is why the homeownership rate has done the opposite: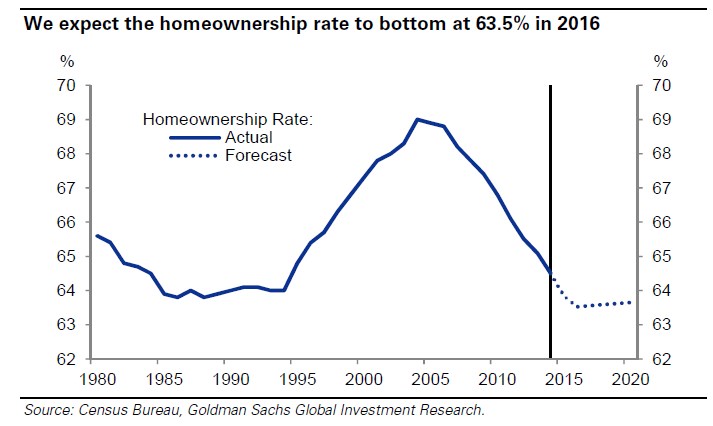 On the one hand, you have places like Palo Alto trying to subsidize housing for people making $250,000 per year and on the other, you have apartments being gobbled up like turkey on Thanksgiving.  Welcome to the new American Dream – overpriced crap shack living or living in high density apartments.

Did You Enjoy The Post? Subscribe to Dr. Housing Bubble's Blog to get updated housing commentary, analysis, and information.