The last hurrah in the previous housing bubble included a massive desperation of people to buy any sort of real estate.  Forget about crap shacks, let us go with crap condos!  That is the point we've now reached as well.  A recent report shows that condo prices in Orange County have now reached a record level.  This makes sense given the blistering horny buyers that can't get enough of the tiny amount of inventory out in the market.  The same shtick is being pumped out there from last time including "condos are a great way to build equity so then you can buy a home."  How convenient!  Of course people got massively burned by condos in the last bust because condos in many cases are apartments with 30 year mortgages.  And in Orange County, you have absurd levels of HOAs that actually can go up.  Buy that condo now or be priced out forever.
Condo mania
Condos are simply a way to get into the real estate market and given current home prices, many people are jumping in because this is all they can afford.  Why rent an apartment when you can own one?  It isn't any surprise that during the last bubble, the peak in condo prices was nearly identical to the peak in housing values – this is just a cheap alternative.
But take a look at this timeline:

Source:  OC Register
The last peak was reached in 2006.  At that time condos in Orange County were running at $470,000.  Prices then corrected and hit a bottom in 2009.  So let us just say that condos track inflation overall.  What should the cost of a condo be today?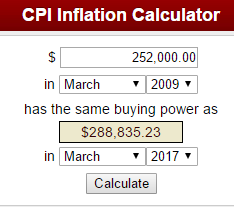 Source:  BLS
So if you bought at the trough in 2009 for $252,000 that condo if it tracked inflation would cost $288,835.  Instead, that condo today is now going to cost you $475,000.  That is an 88% jump in prices since 2009.  Did household incomes go up by 88%?  Interest rates in 2009 were low as well.  But right now everyone is humping any piece of real estate and condos are the less than attractive person at the club looking for someone at 1:59am.  "What the heck" you might say since many are drunk off of the current mania.
The market is hot with the little inventory that is out there: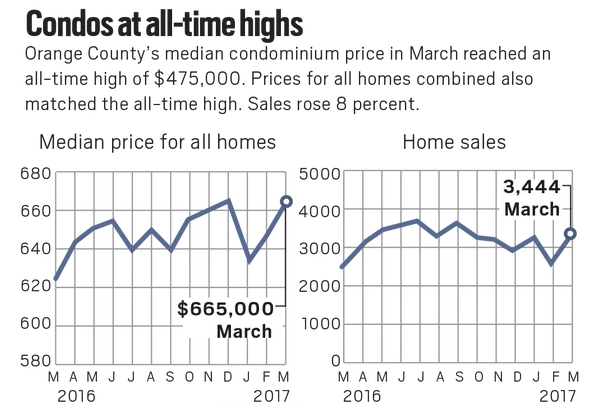 That is what is pushing the market.  But really condos are nothing more than apartments with mortgages.  Take a look at this condo in Irvine for example: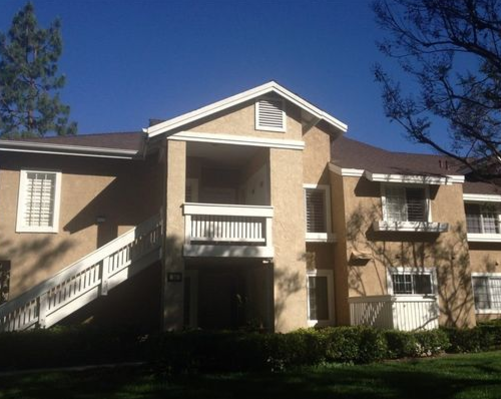 93 Greenfield # 100,
Irvine, CA 92614
2 beds, 2 baths listed at 1,159 square feet
This place last sold in 1983 for $101,000.  The current list price is $549,000.  Plugging this into the inflation calculator yields a current price of $251,778 which is very close to the trough price seen in 2009.
But here is where the fun comes in.  Take a look at the HOA:

All this nonsense rhetoric that once you pay a home off, you have no expenses is a lie.  In this case, you have HOA, property taxes, and insurance that you will pay forever.  Sort of like rent.  Funny how that works out.  In this property, HOA + Property Taxes + Insurance will likely run you close to $1,000 per month.  I'm just saying that this is far from being free.  You could rent a similar place for $2,100 to $2,300 per month.
But of course, you will never get this kind of math being sent your way because of the delusional mania we are currently in.  People have forgotten that stocks and real estate do correct.  Orange County has once again shown why it is the number one most expensive county in Southern California.

Did You Enjoy The Post? Subscribe to Dr. Housing Bubble's Blog to get updated housing commentary, analysis, and information.