There is something darkly comical about the way some aspiring sellers price their properties in California.  They reduce the price of their property by $50,000 in one single action as if they failed to realize that this was the median household income across the United States as families struggle to adapt to a lost decade in wages.  Many in California have lost complete perspective and even with the bubble popping in surround sound some still seem delightfully stuck in the mentality of the mania.  Foreclosures and short sales still dominate the market roaming aimlessly like zombies.  The pricing action on some properties tells you how out of sync some people are with true economic reality.  I can understand adjusting your price by say a percent or two over a few months if no buyers are biting.  Yet some are pricing homes as if all they needed was some delusional sucker and a Countrywide mortgage broker to get the deal going and a $2,950,000 price reduction was somehow ordinary.  In today's market you actually need some cash and resources to buy and not made up paperwork by some mortgage garbage pusher.  Today we'll look at a couple of Huntington Beach homes that highlight this manic pricing behavior.
Million dollar rollercoaster by the beach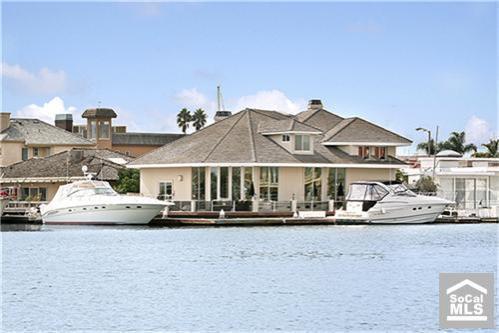 3341 BOUNTY CIR, Huntington Beach, CA 92649
Listed    05/01/10
Beds      4
Full Baths             3
Partial Baths       2
Property Type   SFR
Sq. Ft.   5,303
Lot Size 6,952 Sq. Ft.
Year Built             1965
The above is a very nice home in Huntington Harbour with two boat docks.  This place has 4 bedrooms and 3 bathrooms and is listed at 5,303 square feet.  Certainly a nice home in Huntington Beach.  Yet when we look at the pricing history we have to wonder what in the world is going on?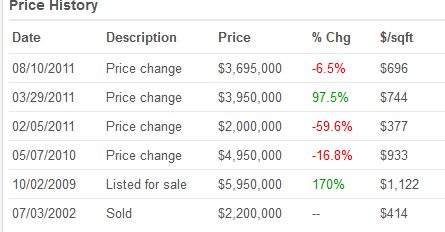 So going back to 2002 this home sold for $2,200,000.  Seven years later the place was listed for $5,950,000!  What in the world?  We're talking about in the height of the economic crisis this place was listed at nearly $4,000,000 more from the 2002 price.  Of course no one bit.  So seven months later it is listed for $4,950,000.  Dropping by $1,000,000 as if this was par for the course.  Then, I suppose to generate interest, they list the home for $2,000,000 seven months later.  They dropped the price of the home by $2,950,000 in the matter of seven months (a 59% price decrease and a price lower than the 2002 sale price).  Of course this must have generated some interest.  Only one month later they nearly double the price to $3,950,000.  In August of this year they reduced the price to the current listing of $3,695,000.  Bwahahaha!  What in the world is going on in Huntington Beach?
This is one of those pricing behaviors that only appear in some sort of mania.  We are talking about millions of dollars in price changes only over short periods of time.  So what does this tell us?  Some people are flat out just wishing a price and using no sort of economic model to base this behavior.  This worked during the bubble when you could be flaky on your income and we had a plethora of shady mortgage operations and loans to support your whimsical desires.  Today the market is dominated by government backed loans and you have to document income.  The game is very different now.
Just imagine if this was a car.  You go to a dealer one day and the car is listed at $10,000.  You come back a few months later and it is listed at $50,000.  Then it is listed at $20,000, back down to $10,000, up to $30,000.  Wouldn't you conclude at this point that the dealer has absolutely no idea what he was doing and was only hoping for one eager sucker to bite?  If this is our new model of selling, I might have a bridge to sell you.
No one is going to argue that this is a nice home: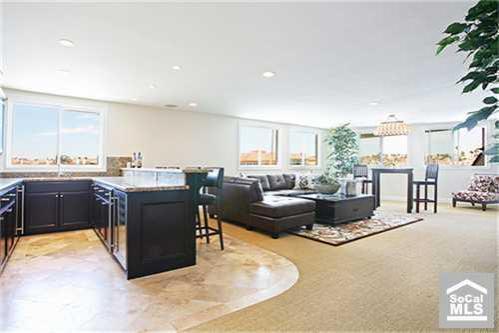 Yet this kind of listing behavior is fascinating and entertaining.  What are your thoughts on what is going on here?
Contrary to what people are saying and are artificially low rates, home sales are not even close to the bubble days: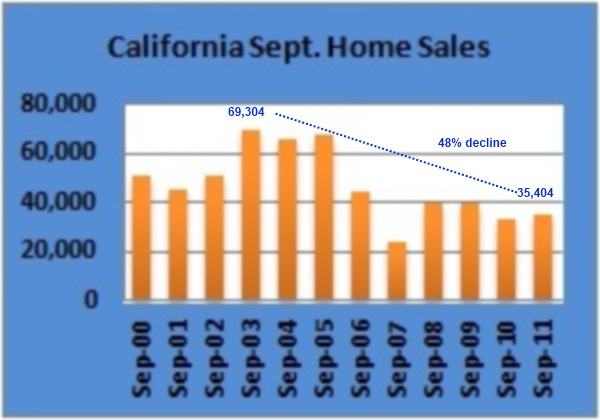 Source:  DataQuick
So why would anyone pay bubble prices?
Reduce the price by the median household income in the U.S. until someone buys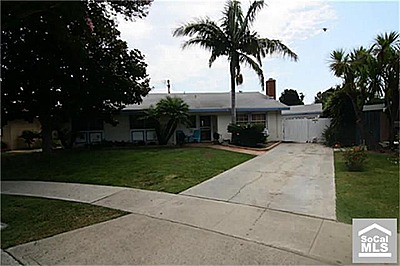 6962 CARLA CIR, Huntington Beach, CA 92647
Listed    07/05/11
Beds      4
Full Baths             2
Partial Baths       0
Property Type   SFR
Sq. Ft.   1,617
Lot Size 7,120 Sq. Ft.
Year Built             1963
Here we have a starter home in Huntington Beach.  The place has 4 bedrooms and 2 bathrooms.  This place is very different from the previous home but you also see some fascinating pricing history as well: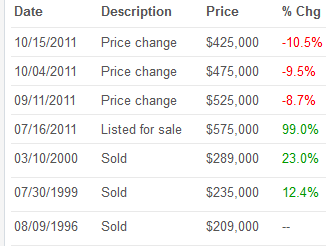 You'll notice that the 1996, 1999, and 2000 sales prices were much more within a sane world of pricing.  Then in July of this year they list the place for $575,000!  This is a 99 percent increase from the price in 2000 while over the decade the inflation rate overall has been 30 percent.  Of course no one bit so they shaved off $50,000 which coincidently is the median household income of a family in the U.S.  Still no buyers?  How about another $50,000.  Still no one?  How about another $50,000.  This is the state of California housing in bubble markets.  People are still wildly making prices up like throwing darts while blindfolded assuming that we still have no-doc loans and unscrupulous mortgage brokers and eventually the bull's-eye will be hit.  Even at the current price of $425,000 some sucker is going to have to jump in with some down payment.
Are you seeing any other whacky pricing history like this in other markets?

Did You Enjoy The Post? Subscribe to Dr. Housing Bubble's Blog to get updated housing commentary, analysis, and information.
[rent trap]
Low rate today but how about those that buy in future?