The recent housing data seems to come as a monstrous shock to most reporters.  What in the world is happening with lower home prices if mortgage rates are at all-time lows?  Contrary to the fact that for the past decade mortgage rates were already at comically low levels thanks to an activist Federal Reserve, demand for home buying is muted if people are not seeing their household income rise.  Even if they want to buy, household incomes are weak and long gone are the banana republic mortgages and nothing down Monopoly products that use pretend money and Herculean leverage.  Five years after the housing bubble burst the media is still largely absent when it comes to making the crucial connection between home prices and household incomes.  Even in prime Southern California communities the bust is hitting.  People tend to think that the housing bottom is already set but the data is showing a very different picture and some locations are showing another story.  Today we take a trip to the beautiful beachfront city of Malibu.
Who foreclosed on Barbie?
The upper-tier in California has been massively hit because of the limited supply in the jumbo loan market.  Long gone are the days when a $150,000 income was leverage enough for a million dollar mortgage.  Million dollar home sales have been crushed in California: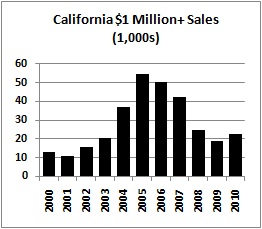 Source:  DataQuick
The peak year was in 2005 when over 50,000 million dollar homes sold.  In 2010 we had just above 20,000 million dollar home sales.  These prime communities had a large number of easy-debt posers jumping in with exotic Alt-A and option ARM products and shadow inventory is immense in these locations.  Let us take a look at one of those 50,000 million dollar home sales back in 2005: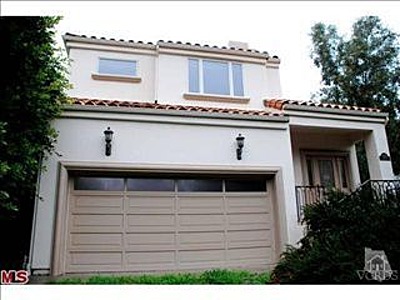 31869 SEA LEVEL DR Malibu, CA 90265
3 bedroom, 3 bathroom, 0 partial bath, 1,891 square feet, SFR
Nothing special about this home.  This home sold for $1,900,000 back in 2005 when California had a peak in million dollar home sales.  Apparently even property in Malibu got ahead of itself.  Let us look at the pricing history on this REO: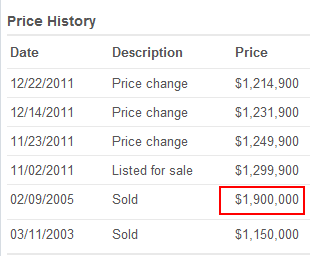 The going price today is now $1,214,900 (a 36 percent price cut from the peak).  Not bad when you can "save" $685,000 just by waiting a couple of years.  Even in the crème de la crème communities you have massive REO discounts.  What is more troubling is the reality that the MLS only lists 15 REOs in the Malibu area while the shadow inventory is up to 102 properties.  Keep in mind that the million dollar home market has few sales by the nature that very few people make this much money to support a giant mortgage.  And those that buy with all cash are likely looking for more flashy nests.  The anomaly years of being lax with income documentation and using maximum leverage are now long gone.  So it is revealed that even with low mortgage rates people have a hard time mustering large down payments for these moderate homes in prime locations.  These seem to be taking the front hit of the correction.
Another pattern I'm seeing is high-end quality properties selling for cheaper but real money is jumping in on these prime locations AND prime properties.  I just don't see it for places like this one so you start seeing massive price cuts in prime locations.
Contrary to bottom talks, the LA region is still moving lower: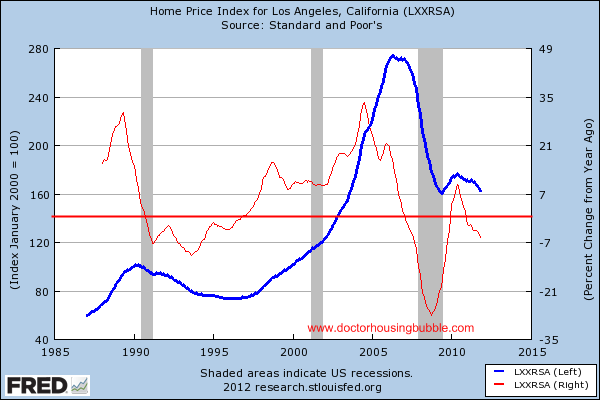 A 36 percent discount on a Malibu REO in 2012?  Welcome to the upper-tier correction.  Who would like to guess when California will breach 50,000+ sales in the million dollar home market in one year?

Did You Enjoy The Post? Subscribe to Dr. Housing Bubble's Blog to get updated housing commentary, analysis, and information.