A recent survey of potential home buyers found that many were willing to use unconventional purchasing methods.  The term used was 'aggressive' buying tactics.  Yet when we look at what was found is that people are willing to overbid and almost beg for buying a home.  This has been the case for the last couple of years in California as regular home buyers compete with flippers, big investor money, and foreign buyers.  The  chorus of housing bulls has grown especially in the last year as flippers are now on late night television shows and flip-this home type shows are now filming on US location instead of using the hyper-Canadian housing market.  What the survey found was that many were willing to overbid, borrow a down payment from loved ones, or eat up many of the seller's costs in the process.  This manic like behavior at a time when inventory is rising and some flippers are starting to see that buyers are unwilling (or unable) to pay whatever they wish may signal a turning point.
The rise in inventory
The amount of inventory available for sale is now up over 17 percent for the year: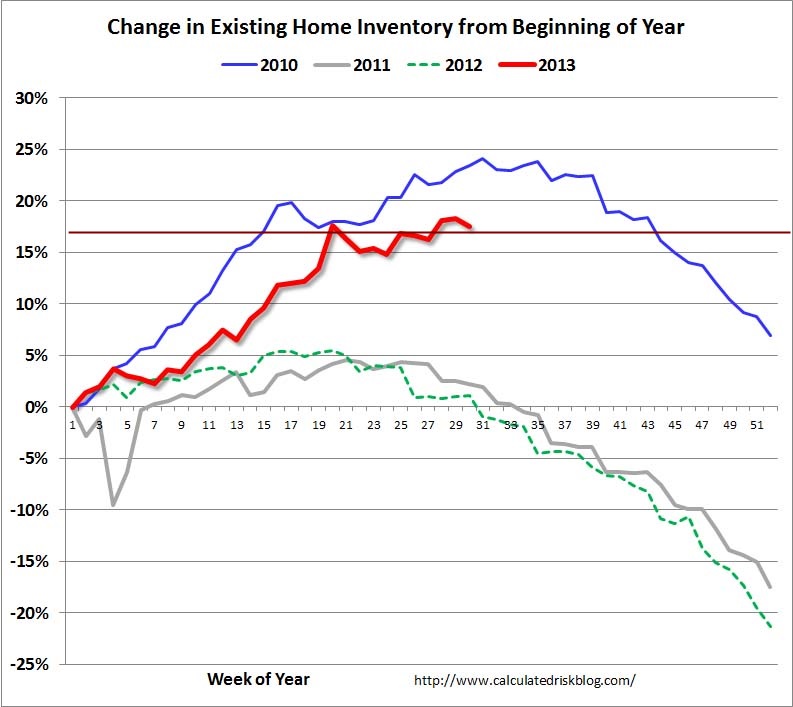 This is the first year since 2010 that overall a steady supply of inventory is being added to the market.  We are even seeing this for places like Los Angeles: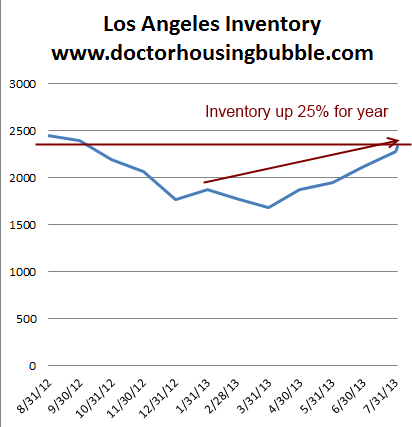 Inventory for Los Angeles is up 25 percent for the year.  This is a new trend that has not happened for over two years.  We are starting to see properties sit on the market and more supply slowly being added.  It is also part of the reasons banks have become more aggressive in putting out REO inventory onto the market to catch some of the manic like momentum.   
What constitutes a mania?  Take a look at this:
"(LA Times) According to the survey, 25% of respondents would bid 1% to 5% over a home's asking price, and the same percentage would offer to cover the seller's closing costs.

Trulia said young adults — ages 18 to 34 — are more willing to resort to tactics the firm labels aggressive, with 30% of those respondents willing to pay the seller's closing costs and 31% willing to bid 1% to 5% over asking price."
Another point was borrowing from "loved ones" for the down payment which clearly means you are not ready to buy since you can get an aggressively FHA insured loans and be on your way (plus, if you don't have the down payment you are not ready to buy).  It is odd but not surprising given the historically low supply of housing for the last few years.  Many buyers are emotionally pressured to purchase (even though the national home ownership rate is at multi-decade lows).  What occurs is that many are simply willing to use low interest rates as a method to make-up for stagnant income growth.  Lower rates allow you to purchase a more expensive home and keep your monthly nut the same.  Tax assessors are happy, banks are happy, and ultimately a buyer is simply paying more because of interest rate voodoo.
Two major things happened this year that have started challenging this trend:
-1.  Interest rates seem to have reached a bottom (going from the 3 percent range to 4.5 percent)

-2.  Inventory is rising given major home price gains
Once again, the CPI is missing the massive rise in home prices thanks to the owners' equivalent of rent (OER) measure. Take a look at this: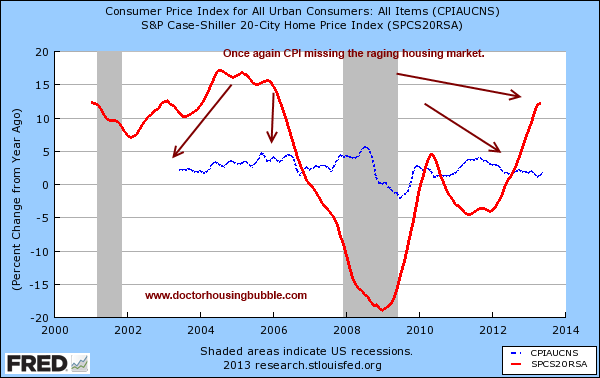 What is odd is that we know that the CPI is a poor measure of inflation especially the housing component.  Americans spend something like 40 percent of their income on housing, most own a property, yet we use the renting equivalent figure?  When you look at the above chart you miss the prior housing bubble yet here we go again.  Then, the Fed which points to the CPI for evidence that inflation is low continues to use incredibly aggressive tactics to keep the game going.  Home prices are obviously rising many times over the rate at which incomes are rising.  Yet again, the reason we are seeing some tipping point activity is that interest rates have reached a bottom and inventory is steadily increasing.
The next phase is one in which inventory rises and home prices sit much longer on the market.  Buyers will begin having more of a choice.  This is an ever changing situation and things do not happen fluidly.  Even as housing bubble version 1.0 burst the market did not turn over in one night.  It took years.  Similarly, the recent hot momentum will take some time to play out and national psychology is now back to believing housing is unstoppable and will never go down again.  This trend is completely unsustainable and by definition will change.  The only question is what will that result look like?

Did You Enjoy The Post? Subscribe to Dr. Housing Bubble's Blog to get updated housing commentary, analysis, and information.