You want to know why homebuilders are still reluctant to build even though real estate prices are up? The first reason is the demand in housing is coming for rental properties and building in multi-unit housing is up.  Good assessment on that one builders.  The other reason is that high priced metro areas are seeing Millennials move in with mom and dad.  What is interesting is that the group leading the charge in new household formation is seniors.  Yes, older folks are driving the creation of new households but this may not be what will sustain a long-term healthy market.  After all, it is unlikely that a 75-year old is going to be buying a crap shack with a 30-year mortgage.  What was interesting is that in 2015 net household formation came in at the lowest rate in a generation only behind the epic disaster year of 2008.  So what does this mean for housing overall?
Household formation collapses
We keep hearing that Millennials are entering their procreation years and that somehow this is going to unleash an epic wave of buying.  A wave so big long board surfers will have a smile from ear to ear.  Yet it never happened.  Instead a large portion of Millennials moved back home mired by student debt and incomes that simply do not support manic levels in housing prices.  The slowdown in housing was real and household formation highlights this: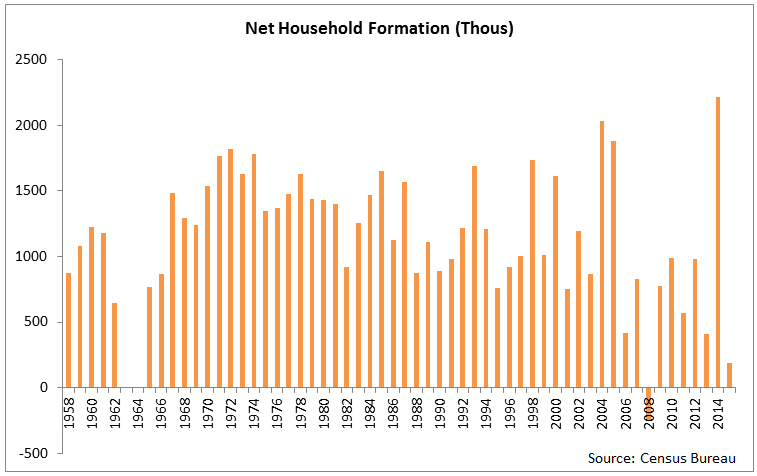 Source:  Census
In 2014 household formation hit a nice stride at 2.2 million (but a large part of this was in rentals). For 2015 household formation hit a brick wall coming in at a net 191,000.  If you look at the chart above that is a bad year only rivaling that of 2008 when the market completely collapsed.
This is not how a housing boom looks like.  Builders are not building because the need for McMansions is dropping: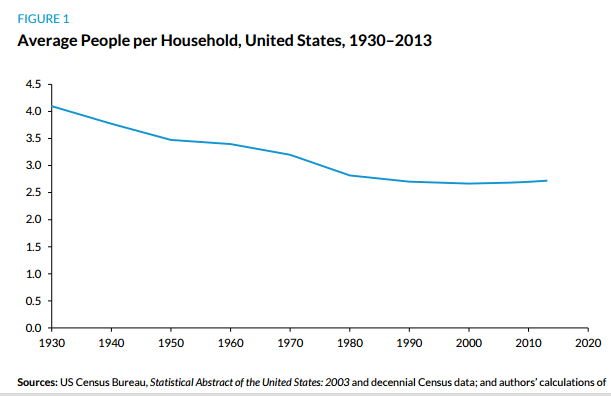 Back in 1940 the typical household had 4 people.  Today it is down to 2.5.  Many of the crap shacks in L.A. County were built in the 1920s, 1930s, and 1940s.  They were built for families and ironically today, many of those that have money are DINKs or hipsters with no kids.  In other words those looking to buy crap shacks are not the majority.
So where is the demand from household formation coming from?  Taco Tuesday baby boomers?  Some of it, yes.  Seniors are leading the way for household formation: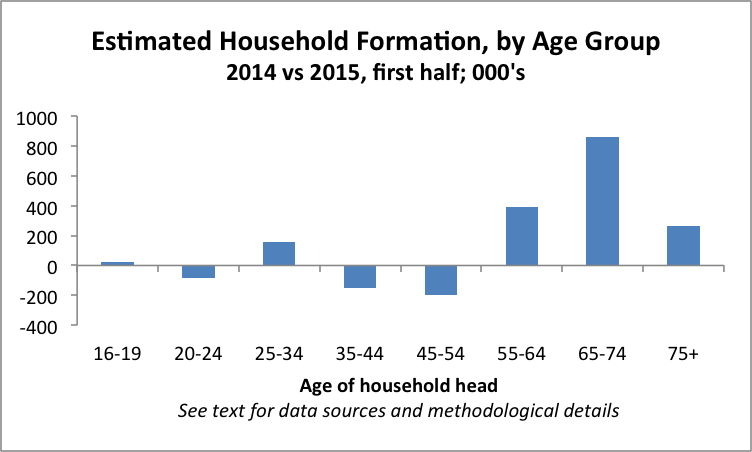 The group creating the most households are those 65 to 74 years of age.  Here is the explanation:
"(Terner Center) What explains why household formation is rising among older adults? The overwhelming reason is that U.S. population is aging, and the fastest-growing age group is 65-74 year-olds, both in percentage and absolute terms. In addition, older adults live in smaller households than younger adults, so population growth among older adults adds more households than population growth among younger adults. The rising headship rate among 65-74 year-olds is a relatively minor factor, accounting for roughly one-sixth of that age group's overall household formation. A possible reason for rising headship among 65-74 year-olds is that the share who are divorced increased in 2015. However, it's unclear without richer data and further analysis whether that is just a continuation of the longer-term increase in the share of this age group that's divorced (while the widowed share has fallen) or, possibly, a bounceback after the decline in divorce rates during the recession."
Some interesting data no doubt.  This is simply more evidence to show that Millennials are not a big factor in creating new households in this market, rentals or buying.  It should also be noted that net household formation in the last decade has been plus 10 million for renting households and virtually neutral for those owning their home.  Households also form for non-owners contrary to house humping logic.  This is why on a block with little sales, most older folks are living in properties they wouldn't be able to afford today.

Did You Enjoy The Post? Subscribe to Dr. Housing Bubble's Blog to get updated housing commentary, analysis, and information.